Turkmen Epic Singing: Köroğlu
Various Artists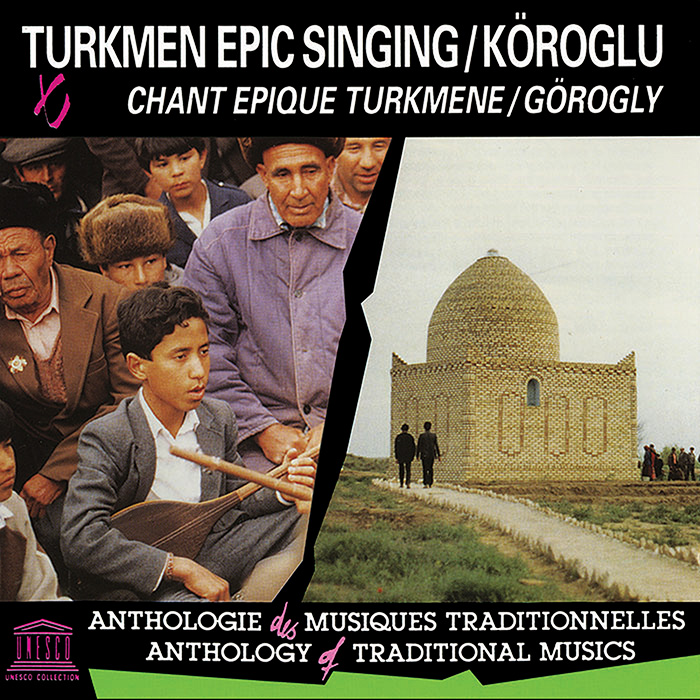 The history of Turkmen music is closely linked with the narration of heroic epics. The ritual recitation of these epics is known as dastan and was the main means of transmission of Turkmen cultural heritage for several centuries, conveying behavioral patterns, elements of daily life, and shamanic and religious customs and beliefs. Those who perform the dastan are known as bakhshi.
The main character in the Köroğlu epic is a legendary hero—evolving over time—who defends his clan or tribe against all dangers. The Turkmen version of the Köroğlu tale consists of 13 chapters, or shahas. According to the liner notes, no bakhshi has known the entire text of the Köroğlu epic, and the performance of the final shaha (Köroğlu's death) has always been strictly banned. Most of the songs included on this disc are performed by "collectors," the bakhshi-tirmechi, who do not recite the dastan but sing pieces from different dastan and classical Turkmen poems. The liner notes list the order of the performance and performers.
FREE DOWNLOAD
Please enjoy a free download of the song "Mama Seni (To you, grand mother)"
| | | |
| --- | --- | --- |
| Mama Seni (To you, grand mother) | MP3 | FLAC |
This album is part of the UNESCO Collection of Traditional Music. More than 125 albums are being released by Smithsonian Folkways Recordings to make the series publicly available again, including more than a dozen never-released albums of musical traditions from around the globe.
Track Listing
| | | | | |
| --- | --- | --- | --- | --- |
| 101 | Kheiran eiledi (She overwhelmed me with the fire of love) | Tädzhilbai Gurbanov, Edibai Chashemov | 3:42 | |
| 102 | Ovazy geldi (The voice is heard) | Akmämmet Rakhamanov, Yazmyrat Kallyev | 4:19 | |
| 103 | Airylymadymy? (Haven't they split up?) | Akmämmet Redzhebov, Ashyr Berdiev, Khangeldi Bairamov | 4:47 | |
| 104 | Ovezdzhan | Dövranov Khudaiberdi, Övezmyrat Ödaev | 4:43 | |
| 105 | Gümmür-gümmürlendi (Mountains are trembling) | Pirdzhan Moshchyev, Mätzhan Annagulyev | 4:46 | |
| 106 | Getirgin (Bring them here) | Musaguly Yazmyradov, Övezmyrat Ödaev | 3:20 | |
| 107 | Chapar arlaya-arlaya (A horse leaping, neighing) | Yagshygeldi Garashov, Otuz Mätgeldyev | 4:05 | |
| 108 | Soltanym (Your majesty) | Arazdurdy Pirnazarov, Ayitmät Pirnazarov | 4:52 | |
| 109 | Mama seni (To you, grandmother) | Akmämmet Rakhmanov, Yazmyrat Khallyev | 3:19 | |
| 110 | Bar-da, mama dzhan, khabaryng ber (Go grandmother, fetch the word to them) | Dövletgeldi Annadurdyev, Gurbandurdy Annadurdyev, Gylychdurdy Annadurdyev | 3:14 | |
| 111 | Uchup geldim (I came back on wings) | Gylychdurdy Annadurdyev, Gurbandurdy Annadurdyev | 4:04 | |
| 112 | Bezirgen | Ayismämmet Geldimämmedov, Gurbandurdy Annadurdyev | 4:24 | |
| 113 | Agam seni (To you, brother) | Muhammet Redzhebov, Tuvakmuhammet Redzhebov | 6:16 | |
| 114 | Geldingmi? (Are you back again?) | Khayitly Mämmetdurdyev, Allanazar Khudaynazarov, Seyitly Bairamov | 4:52 | |