Uzbekistan: Music of Khorezm
Various Artists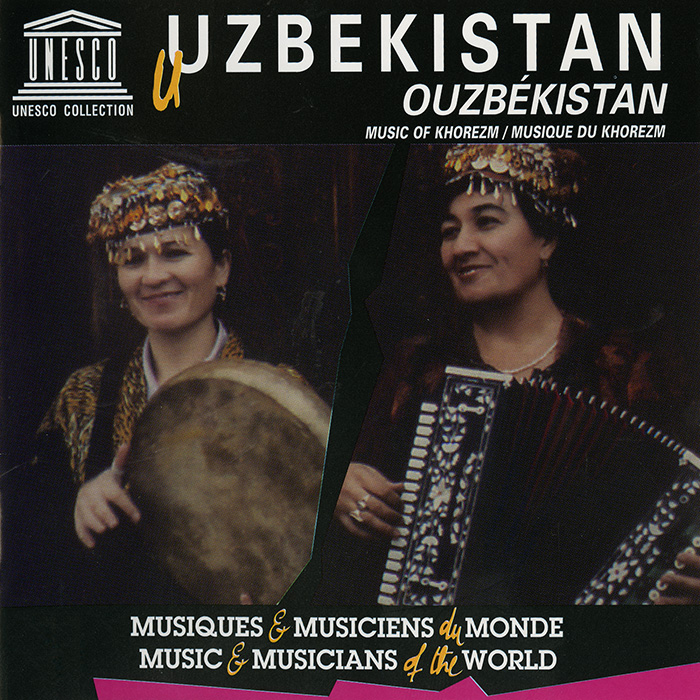 Khorezm, a medieval kingdom located in the heart of Central Asia, is now a culturally autonomous region in the northwest of Uzbekistan. Khorezmians are known for their distinctive traditions of language and oral literature, festivity and celebration, and music and dance. Uzbekistan: Music of Khorezm, recorded between 1991 and 1994, explores the region's traditional sound world through five distinct musical traditions: oral epic, music by and for women, spiritual songs, classical music, and popular music. The expressive cantillations of epic tales, the rigorous and virtuosic performances of maqam suites, and the spiritual song by a professional mourner (guyanda)—whose intense voice reaches a high point of culmination (awj)—all attest the legacy of the venerable cultural tradition of Khorezm.
Theodore Levin, the compiler of this album, also produced a number of Siberian and Central Asian recordings in the Smithsonian Folkways catalog, including the GRAMMY-nominated Music of Central Asia series.
FREE DOWNLOAD
Please enjoy a free download of the song "Yar-yar"
This album is part of the UNESCO Collection of Traditional Music. More than 125 albums are being released by Smithsonian Folkways Recordings to make the series publicly available again, including more than a dozen never-released albums of musical traditions from around the globe.
Track Listing
| | | | | |
| --- | --- | --- | --- | --- |
| 101 | Excerpt from Dastan Bazirgan | Qalandar Baxshi, Nizamaddin Ruzmetov, Qudrat Rahimov, Davran Masharipov | 5:49 | |
| 102 | Yar-yar | Nazira Baïjanova | 4:57 | |
| 103 | Geldim size mehman bölib - Alma pishgende geling | Nazira Baijanova, Ulibibi Baijanova | 6:37 | |
| 104 | Bir Allaim | Nazira Baijanova, Matrasul Matyakubov, San'at Zaripov | 5:30 | |
| 105 | Aqlimni ölib - Sudur janim su böldi | Shirin Jumaniazova, Dilbar Qalandarova | 6:05 | |
| 106 | Chapandaz-i suvara - Sawt-i suvara | Farhad Davlatov, Qazibay Rozmatov | 11:44 | |
| 107 | Muqaddima-i segah | Azad Ibragimov, Ulugbek Kurbanbaev, Maxsud Yeshchanov | 6:23 | |
| 108 | Hafif-i Segah | Matrasul Matyakubov, Abad Latipov | 4:48 | |
| 109 | Qaradali | Shuxrat Razakov | 2:44 | |
| 110 | Dayra rhythms | Saidnazar Otajanov | 1:37 | |
| 111 | Araziban | Ensemble Araziban | 9:01 | |