Music of Central Asia Vol.10: Borderlands: Wu Man and Master Musicians from the Silk Route
Wu Man and Master Musicians from the Silk Route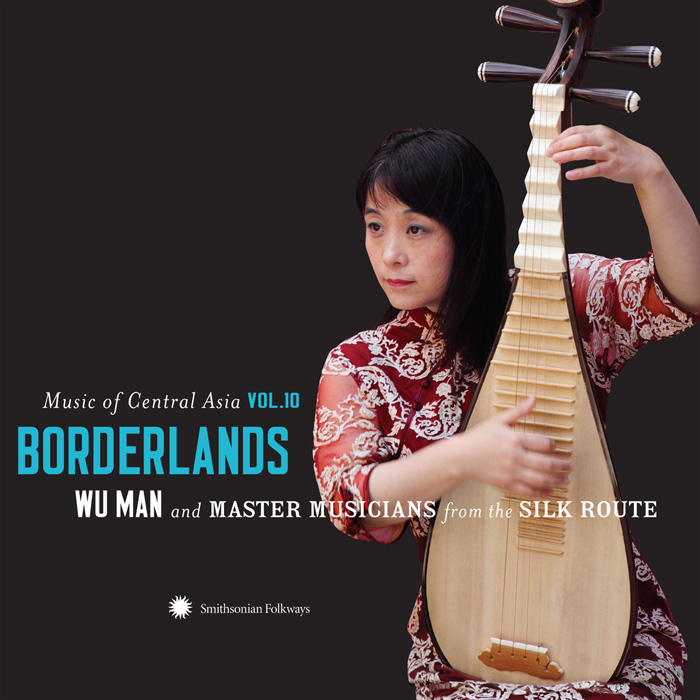 In these exuberant recordings, pipa master Wu Man and her Uyghur, Tajik, and Hui collaborators explore connections between the musical worlds of China and Central Asia. Featuring the stirring vocals of Sanubar Tursun and Abdulla Majnun along with newly arranged and composed instrumental pieces, Borderlands is a masterful blending of kindred traditions. 14 tracks, 72 minutes, 48-page color booklet, and photos; DVD contains series introduction, 2 documentary films, interactive glossary, and map.
Music of Central Asia is a co-production of the Aga Khan Music Initiative in Central Asia, a program of the Aga Khan Trust for Culture, and the Smithsonian Institution Center for Folklife and Cultural Heritage. The aim of the series is to present leading exponents of Central Asia's rich and diverse musical heritage to listeners outside the region.
本专辑多首歌曲当中,琵琶乐师吴蛮与她的维吾尔族,塔吉克族,回族音乐夥伴,一同探索中国与中亚音乐的关联。本专辑以山奴巴涂尔逊和阿卜杜拉曼吉奴的动人歌声为特色,【边境之地】另收录最新安排和创作的演奏曲,不啻是混合汉族和其他民族音乐的经典之作。本专辑有14首曲目,72分钟,48页彩色的简介和照片; DVD中包含本专辑系列的介绍,2部纪录片,互动式的术语表和地图。
中亚音乐公司是中亚阿迦汗音乐发起公司的联合制作团队,也是阿迦汗文化信任公司以及史密斯博物馆民俗与文化继承部门共同执行的计画。这一系列的音乐制作旨在向中亚以外的地方,展现中亚丰富多元文化遗产的傲人之处。
FREE DOWNLOAD
Please enjoy a free download of "Shadiana (Celebration)"
| | | |
| --- | --- | --- |
| Shadiana (Celebration) | MP3 | FLAC |
RELATED VIDEOS
Music of Central Asia Vol. 10: Borderlands: Wu Man and Master Musicians from the Silk Route
Wu Man — "Kazakh Song"
Music of Central Asia Overview
Track Listing
| | | | | |
| --- | --- | --- | --- | --- |
| 101 | Improvisation for Three and a Half Instruments | Abduvali Abdurashidov, Sirojiddin Juraev, Wu Man | 6:48 | |
| 102 | Chebiyat | Abdulla Manjnun, Wu Man | 3:57 | |
| 103 | Kurt Naxshisi (Song of the Kurds) | Sanubar Tursun, Hesenjan Tursun, Wu Man | 5:31 | |
| 104 | Ademler Ulugh (People are Glorious) | Sanubar Tursun | 4:05 | |
| 105 | Shadiana (Celebration) | Abdulla Majnun, Wu Man | 3:41 | |
| 106 | Bidering (The Only Pain) | Sanubar Tursun, Hesenjan Tursun | 2:24 | |
| 107 | Ushshaq | Abdulla Majnun | 6:56 | |
| 108 | Kazakh Song | Wu Man | 3:59 | |
| 109 | Hezhou Erling | Ma Ersa, Wu Man | 2:40 | |
| 110 | Woy Bala (Hey Kid) | Hesenjan Tursun | 5:26 | |
| 111 | Yaru (Darling) | Sanubar Tursun | 4:16 | |
| 112 | Hanleylun | Sanubar Tursun, Hesenjan Tursun, Wu Man | 4:22 | |
| 113 | Navo | Abduvali Abdurashidov, Wu Man | 4:27 | |
| 114 | Charigah | Abdulla Manjnun, Yasin Yakup | 13:50 | |