Afghanistan: Female Musicians of Herat
Various Artists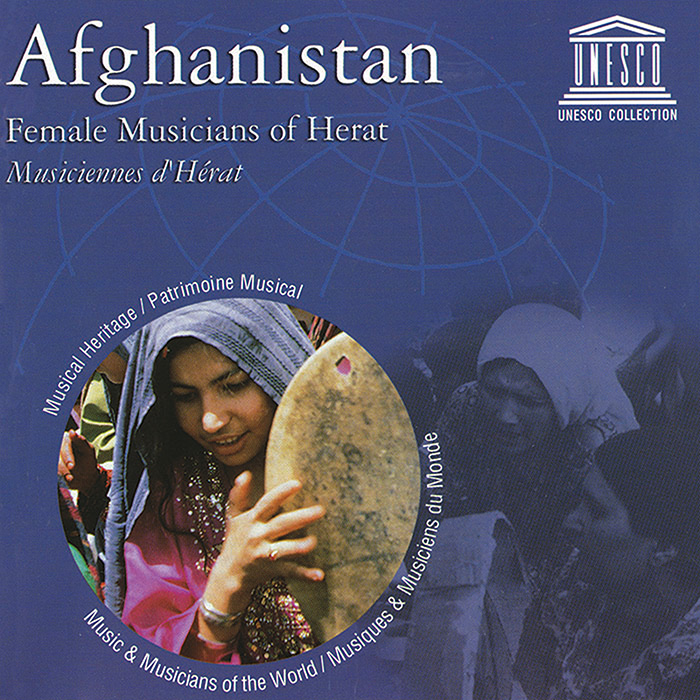 In Afghanistan, gender ideology profoundly affects musical life, as nearly all musical activity is segregated between women and men. Women perform primarily in small groups in domestic contexts, especially at private gatherings, weddings, and other rites of passage. The city of Herat was known for its professional female musicians, who had no parallels elsewhere in the country.
These 1970s recordings of women and children singing love songs, lullabies, and melodies based on traditional quatrains (chahârbeit), accompanying themselves on large frame drums (dâireh), tabla, and Indian portable harmonium, capture a time before the civil wars and ongoing political unrest that severely disrupted Afghani music-making.
Veronica Doubleday recorded this music during ethnomusicological fieldwork in Herat. John Baily, her husband, produced Afghanistan: The Traditional Music of Herat as a result of that same trip, documenting Afghanistan's male-dominated classical music tradition.
Track Listing
| | | | | |
| --- | --- | --- | --- | --- |
| 101 | Bibi Gol Afruz | Zainab Herawi, Anar Gol | 4:41 | |
| 102 | Galeh dokhtar | Adeh | 2:02 | |
| 103 | Girls' music: clapping and drumming / O bacheh aughân / Anâr dâneh nadâre | n/a | 2:35 | |
| 104 | Chahârbeiti sâbeqeh / Chahârbeiti Siâh Mu o Jalâli | Zainab Herawi, Anar Gol | 9:14 | |
| 105 | Lullaby | Madar-e Zahir | 3:00 | |
| 106 | Adam Khân | Adeh | 3:00 | |
| 107 | Urban band dance music: Logâri / Mustafa / Shishkebâb | Zainab Herawi, Anar Gol, Urak, Halimeh | 3:54 | |
| 108 | Dâireh dance pieces: Chahârtâi and Bâjekhâneh | Madar-e Abdul | 1:46 | |
| 109 | Hawâbeh jân Hawâbeh / Ghu ghu balg-e chenâr | Mah Gol, Shah Gol | 0:57 | |
| 110 | Alâ zan-e biweh / Sar-e pul-e Mâlân | Nassimeh Massieh | 3:02 | |
| 111 | Asp-e khâseh zin konum | Madar-e Zahir | 1:28 | |
| 112 | Yâr-e hamdam chere nemiyâyi? | Bobo | 1:21 | |
| 113 | Tambaku / Arus gham nakhor | n/a | 1:53 | |
| 114 | Processional drumming on the dâireh | Shah Gol | 0:44 | |
| 115 | Wedding ritual sequence: Olang olang and Shelengi / Bâdâ bâdâ / Logari | Lagha, Gohar, Zuleikha | 6:33 | |
| 116 | Bibi gol arus | Zainab Herawi, Anar Gol | 1:32 | |
| 117 | Shâh dokhtar shekar dokhtar | Zainab Herawi, Anar Gol | 2:32 | |
| 118 | Chahârbeiti | Hawa | 2:58 | |
| 119 | Chahârbeiti barâye khodâhâfez | Madar-e Zahir | 1:44 | |
| 120 | Najibeh gom shode | Zainab Herawi, Anar Gol | 4:26 | |
| 121 | Leilâ Leilâ Leilâ | Adeh | 2:21 | |
| 122 | Sefid kheimeh siâh kheimeh khorâmân | Zainab Herawi, Siah | 2:30 | |