South India: Ranganayaki Rajagopalan—Continuity in the Karaikudi Vina Style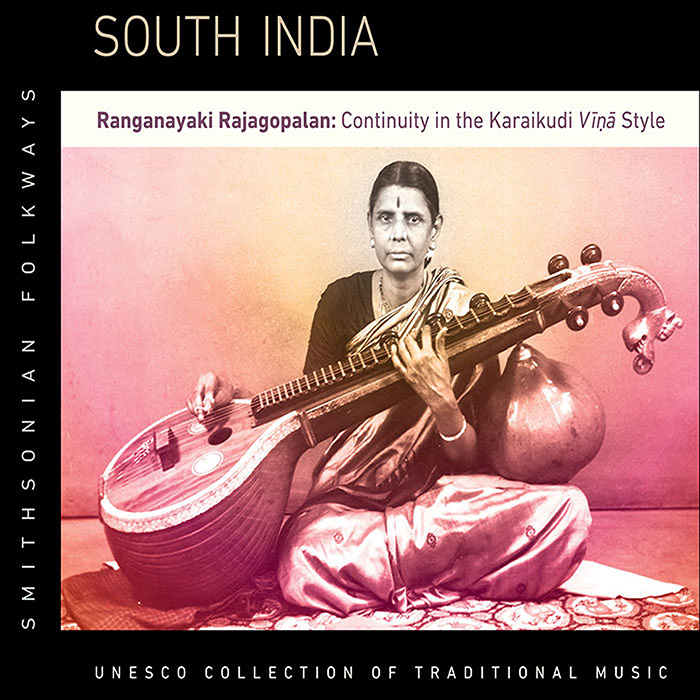 Vīṇā player Ranganayaki Rajagopalan (b. 1932) is a much-honored master of a South Indian classical (Karnatak/Carnatic) instrumental style named after the town of Karaikudi in Tamil Nadu, South India. She apprenticed from early childhood with Karaikudi Sambasiva Iyer, a prominent member of a long lineage of court musicians. In this two-disc set, she is brilliantly accompanied by the eminent mridangaṃ (double-headed barrel drum) player Srimushnam Raja Rao. This album includes a complete concert cycle of rāgam and tānam expositions and compositions by much beloved composers Tyāgarāja, Muthuswamy Dikshitar, and others. The subtleties and complexities are illuminated by extensive explanatory notes by Richard K. Wolf. 2 discs, 2 hours 17 minutes, 24 pages of notes.
This album is part of the UNESCO Collection of Traditional Music. More than 125 albums are being released by Smithsonian Folkways Recordings to make the series publicly available, including a dozen never-released albums of musical traditions from around the globe.
Track Listing
| | | | | |
| --- | --- | --- | --- | --- |
| 101 | Rāga: Gauḷa / ālāpana | Ranganayaki Rajagopalan | 0:56 | |
| 102 | Kriti: "Śri Mahāgaṇapati" / pallavi | Ranganayaki Rajagopalan, Raja Rao | 1:15 | |
| 103 | Kriti: "Śri Mahāgaṇapati" / anupallavi | Ranganayaki Rajagopalan, Raja Rao | 0:55 | |
| 104 | Kriti: "Śri Mahāgaṇapati" / madhyamakāla sāhitya (1) | Ranganayaki Rajagopalan, Raja Rao | 0:29 | |
| 105 | Kriti: "Śri Mahāgaṇapati" / colkaṭṭu svara | Ranganayaki Rajagopalan, Raja Rao | 1:39 | |
| 106 | Kriti: "Śri Mahāgaṇapati" / caraṇam | Ranganayaki Rajagopalan, Raja Rao | 1:24 | |
| 107 | Kriti: "Śri Mahāgaṇapati" / svara kalpana | Ranganayaki Rajagopalan, Raja Rao | 1:10 | |
| 108 | Kriti: "Śri Mahāgaṇapati" / svara kalpana, second speed | Ranganayaki Rajagopalan, Raja Rao | 3:10 | |
| 109 | Kriti: "Śri Mahāgaṇapati" / madhyamakāla sāhitya (2) | Ranganayaki Rajagopalan, Raja Rao | 0:27 | |
| 110 | Kriti: "Śri Mahāgaṇapati" / colkaṭṭu svara, third speed | Ranganayaki Rajagopalan, Raja Rao | 0:51 | |
| 111 | Rāga: Valaji / ālāpana | Ranganayaki Rajagopalan | 5:16 | |
| 112 | Kriti: "Jālandhara" / pallavi | Ranganayaki Rajagopalan, Raja Rao | 1:13 | |
| 113 | Kriti: "Jālandhara" / anupallavi | Ranganayaki Rajagopalan, Raja Rao | 1:32 | |
| 114 | Kriti: "Jālandhara" / caraṇam | Ranganayaki Rajagopalan, Raja Rao | 1:55 | |
| 115 | Kriti: "Jālandhara" / svara kalpana | Ranganayaki Rajagopalan, Raja Rao | 5:52 | |
| 116 | Rāga: Pūrvikalyāṇi / ālāpana | Ranganayaki Rajagopalan | 8:07 | |
| 117 | Kriti: "Mīnākṣi Me Mudam" / pallavi | Ranganayaki Rajagopalan, Raja Rao | 1:46 | |
| 118 | Kriti: "Mīnākṣi Me Mudam" / anupallavi | Ranganayaki Rajagopalan, Raja Rao | 1:41 | |
| 119 | Kriti: "Mīnākṣi Me Mudam" / madhyamakāla sāhitya (1) | Ranganayaki Rajagopalan, Raja Rao | 1:16 | |
| 120 | Kriti: "Mīnākṣi Me Mudam" / caraṇam | Ranganayaki Rajagopalan, Raja Rao | 2:02 | |
| 121 | Kriti: "Mīnākṣi Me Mudam" / madhyamakāla sāhitya (2) | Ranganayaki Rajagopalan, Raja Rao | 1:56 | |
| 122 | Kriti: "Mīnākṣi Me Mudam" / niraval | Ranganayaki Rajagopalan, Raja Rao | 4:58 | |
| 123 | Kriti: "Mīnākṣi Me Mudam" / svara kalpana | Ranganayaki Rajagopalan, Raja Rao | 6:44 | |
| 124 | Rāga: Bēgaḍa / ālāpana | Ranganayaki Rajagopalan | 4:35 | |
| 125 | Kriti: "Nādōpāsana" / pallavi | Ranganayaki Rajagopalan, Raja Rao | 2:47 | |
| 126 | Kriti: "Nādōpāsana" / anupallavi | Ranganayaki Rajagopalan, Raja Rao | 2:38 | |
| 127 | Kriti: "Nādōpāsana" / caraṇam | Ranganayaki Rajagopalan, Raja Rao | 3:29 | |
| 201 | Rāga: Hamsavinōdhini / ālāpana | Ranganayaki Rajagopalan | 0:35 | |
| 202 | Kriti: "Caraṇam Bhava" / pallavi | Ranganayaki Rajagopalan, Raja Rao | 1:15 | |
| 203 | Kriti: "Caraṇam Bhava" / anupallavi | Ranganayaki Rajagopalan, Raja Rao | 1:43 | |
| 204 | Kriti: "Caraṇam Bhava" / caraṇam | Ranganayaki Rajagopalan, Raja Rao | 2:15 | |
| 205 | Kriti: "Caraṇam Bhava" / svara kalpana | Ranganayaki Rajagopalan, Raja Rao | 2:31 | |
| 206 | Rāga: Kharaharapriya / ālāpana | Ranganayaki Rajagopalan | 7:49 | |
| 207 | Rāga: Kharaharapriya / rāgamalika tānam | Ranganayaki Rajagopalan | 4:59 | |
| 208 | Rāga: Nāṭā / tānam | Ranganayaki Rajagopalan | 3:04 | |
| 209 | Rāga: Gauḷa / tānam | Ranganayaki Rajagopalan | 2:14 | |
| 210 | Rāga: Arabhi / tānam | Ranganayaki Rajagopalan | 2:14 | |
| 211 | Rāga: Varāḷi / tānam | Ranganayaki Rajagopalan | 1:53 | |
| 212 | Rāga: Srī / tānam | Ranganayaki Rajagopalan | 3:14 | |
| 213 | Rāga: Kharaharapriya / tānam | Ranganayaki Rajagopalan | 1:05 | |
| 214 | Kriti: "Ĉakkanirāja" / pallavi | Ranganayaki Rajagopalan, Raja Rao | 6:05 | |
| 215 | Kriti: "Ĉakkanirāja" / anupallavi | Ranganayaki Rajagopalan, Raja Rao | 3:26 | |
| 216 | Kriti: "Ĉakkanirāja" / caraṇam | Ranganayaki Rajagopalan, Raja Rao | 3:52 | |
| 217 | Kriti: "Ĉakkanirāja" / niraval | Ranganayaki Rajagopalan, Raja Rao | 4:25 | |
| 218 | Kriti: "Ĉakkanirāja" / svara kalpana | Ranganayaki Rajagopalan, Raja Rao | 5:08 | |
| 219 | Kriti: "Ĉakkanirāja" / tani āvartana (drum solo) | Raja Rao | 5:07 | |
| 220 | Bhajan: "Krīḍata Madhubana" | Ranganayaki Rajagopalan, Raja Rao | 3:18 | |
| 221 | Mangaḷam: "Pavamāna" | Ranganayaki Rajagopalan, Raja Rao | 1:03 | |