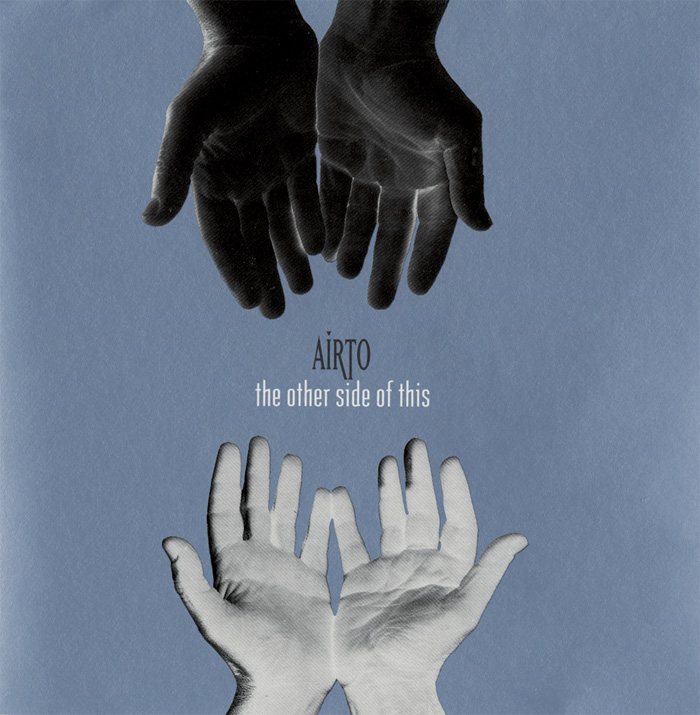 The Other Side of This was recorded at Grateful Dead drummer Mickey Hart's home studio in 1991. The album's 13 selections are inspired by the Afro-Brazilian traditions of Airto Moreira's heritage and take the listener on an aural tour of imaginary landscapes. The liner notes provide guided visualizations intended to transport the listener step-by-step through an array of emotions ranging from reflection to celebration. "The spirit body can travel to places that the material body cannot," says Moreira. "It is these places I speak of when I say 'the other side of this.'" The album features a variety of sounds including stomping, vocals, tree branches, surdo (a large Brazilian bass drum), shakers, cowbell, rattles, and bullroarer. The Other Side of This was issued in 1992 as part of "THE WORLD" series (now part of the Mickey Hart Collection made available by Smithsonian Folkways).
Visit mickeyhart.net for additional photos and videos from this album
EN ESPAÑOL
Al otro lado de esto se grabó en el estudio casero de Mickey Hart, baterista de Grateful Dead, en 1991. Trece selecciones del álbum son inspiradas en las tradiciones afro-brasileñas de la herencia de Airto Moreira y llevan al oyente a un viaje sonoro de paisajes imaginarios.
Las notas proporcionan visualizaciones guiadas planeadas para transportar al oyente paso a paso a través de una serie de emociones que van desde la reflexión a la celebración. "El cuerpo espiritual puede viajar a los lugares que el cuerpo material no puede", dice Moreira. "Son estos lugares de los que hablo cuando digo al otro lado de esto'"
El álbum cuenta con una variedad de sonidos incluyendo zapateos, voces, ramas de árboles, surdo (un gran bombo de Brasil), maracas, cencerros, cascabeles y "bullroarer". Al otro lado de esto fue publicado en 1992 como parte de la serie "EL MUNDO" (ahora parte de la colección Mickey Hart puesta a disposición por Smithsonian Folkways).
Visita mickeyhart.net para fotos y videos adicionales de este album
Track Listing
| | | | | |
| --- | --- | --- | --- | --- |
| 101 | Endless Cycle | Airto Moreira | 4:00 | |
| 102 | Tumbleweed | Airto Moreira, Mickey Hart, Zakir Hussain, Babatunde Olatunji, Kitaro, T.H. "Vikku" Vinayakram | 5:20 | |
| 103 | Back Streets Of Havana | Airto Moreira, Frank Colon, Giovanni Hidalgo, Diana Moreira | 2:44 | |
| 104 | Healing Sounds | Verna Yater | 2:42 | |
| 105 | The Underwater People | Airto Moreira, Zakir Hussain, Diana Moreira, T.H. "Vikku" Vinayakram | 8:30 | |
| 106 | Old Man's Song | Airto Moreira | 2:04 | |
| 107 | Hey Ya | Airto Moreira, Mickey Hart, Kitaro, Flora Purim, Diana Moreira, Caryl Ohrbach, Rose Solomon, Cheryl McEnaney | 4:06 | |
| 108 | When Angels Cry | Airto Moreira, Flora Purim | 4:17 | |
| 109 | Dom-Um (A Good Friend) | Airto Moreira, Zakir Hussain | 5:58 | |
| 110 | Street Reunion | Airto Moreira, Giovanni Hidalgo, Frank Colon, Diana Moreira | 2:57 | |
| 111 | Mirror Of The Past | Airto Moreira | 6:12 | |
| 112 | Sedonia's Circle | Sedonia Cahill, Flora Purim, Diana Moreira, Caryl Ohrbach, Justine Toms, Margaret Barkley, Margie Clark, Leah Martino, Amrita Blain, K.C. Ross, Jana H | 3:31 | |
| 113 | Terra E Mar | Airto Moreira, Mickey Hart, Diana Moreira | 6:03 | |