Mickey Hart / Airto Moreira / Flora Purim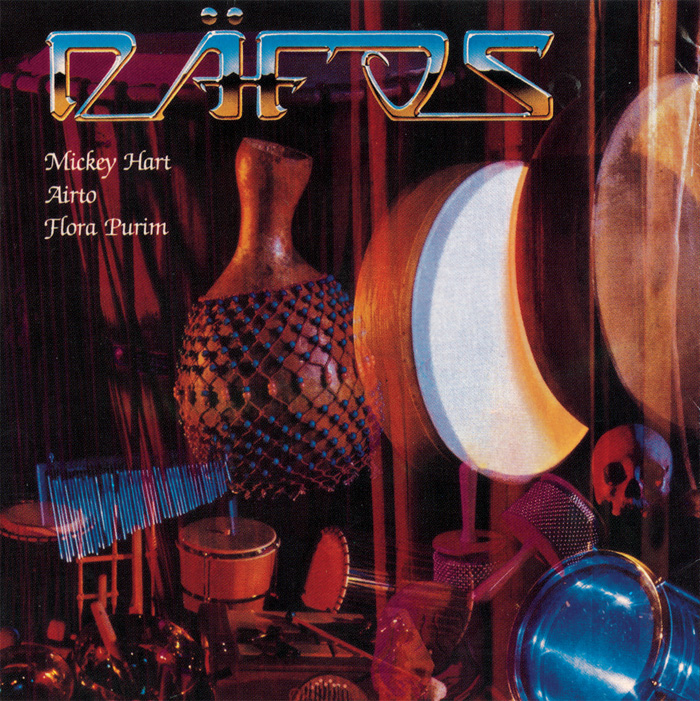 Däfos is a musical ethnography of an imaginary country created by Mickey Hart and Airto Moreira. The album was recorded live in San Francisco as a celebration of percussion music with the help of Jose Lorenzo and his Brazilian percussion group Batucaje. Originally released in 1983 and later reissued as part of "THE WORLD" series (now part of the Mickey Hart Collection made available by Smithsonian Folkways), the album was produced without the use of overdubs. The songs lead listeners on a journey across deserts and icecaps, through the fictional geography and mythology of Däfos, and features traditional Brazilian, Indonesian and African instruments, woodwinds and electric bass guitar.
Visit mickeyhart.net for additional photos and videos from this album
EN ESPAÑOL
Däfos es una etnografía musical de un país imaginario creado por Mickey Hart y Airto Moreira. El álbum fue grabado en vivo en San Francisco como una celebración de la música de percusión con la ayuda de José Lorenzo y su grupo de percusión brasileña Batucaje.
Originalmente fue lanzado en 1983 y más tarde reeditado como parte de la serie "EL MUNDO" (ahora parte de la colección Mickey Hart puestos a disposición por Smithsonian Folkways), el álbum fue producido sin el uso de sonidos sobrepuestos.
Las canciones llevan a los oyentes a un viaje a través de desiertos y casquetes polares, a través de geografías de ficción y la mitología de Däfos, además cuenta con instrumentos tradicionales brasileños, indonesios y africanos, instrumentos de viento y bajo eléctrico.
Visita mickeyhart.net para fotos y videos adicionales de este álbum
Track Listing
| | | | | |
| --- | --- | --- | --- | --- |
| 101 | Dry Sands Of The Desert | Mickey Hart, Steve Douglas, Shabda Khan, Hamza El Din | 5:05 | |
| 102 | Ice Of The North | Mickey Hart, Jody Diamond | 1:20 | |
| 103 | Reunion I / Reunion II / Reunion III | Bobby Vega, Flora Purim, Airto Moreira, Mickey Hart | 9:52 | |
| 104 | Saudaçao Popular | Mickey Hart, Airto Moreira, Flora Purim, José Lorenzo, Batucaje | 5:12 | |
| 105 | Psychopomp | Mickey Hart | 4:57 | |
| 106 | Subterranean Caves Of Kronos | Mickey Hart | 2:12 | |
| 107 | The Gates Of Däfos | Mickey Hart | 3:55 | |
| 108 | Passage | Mickey Hart, Airto Moreira, Flora Purim, José Lorenzo | 10:55 | |