Algeria: Sahara - Music of Gourara
Various Artists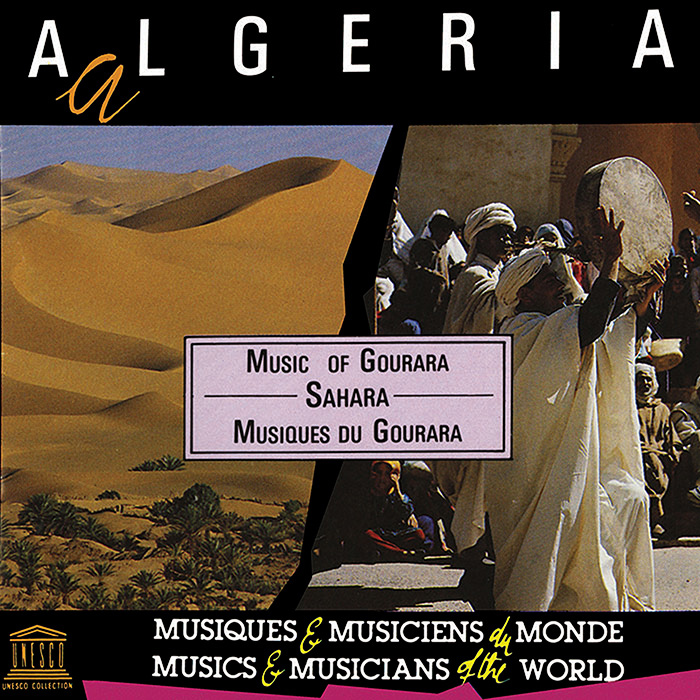 Little is known about the history of the Gourara region of the Algerian Sahara. In 1987 it was home to over 60,000 Zenete, Bedouin, and Sudanese peoples in about one hundred oasis settlements. Whereas these ethnic groups retain distinct cultural identities, their musical styles show mutual influences, such as the use of polyphonic rhythms and religious subject matter.
This recording illustrates both the diversity and shared characteristics of Gourara music, from the maraboutism, an Islamic ritual piece sung to pray for the fertility of the palm flowers, to the ahellil, music for religious feasts often performed over the course of an entire night. The liner notes provide a brief history about the region and background of each of the seven musical selections.
FREE DOWNLOAD
Please enjoy a free download of the song "Song for the insemination of the date palm"
| | | |
| --- | --- | --- |
| Song for the insemination of the date palm | MP3 | FLAC |
This album is part of the UNESCO Collection of Traditional Music. More than 125 albums are being released by Smithsonian Folkways Recordings to make the series publicly available, including a dozen never-released albums of musical traditions from around the globe.
Track Listing