Byelorussia: Musical Folklore of the Byelorussian Polessye
Various Artists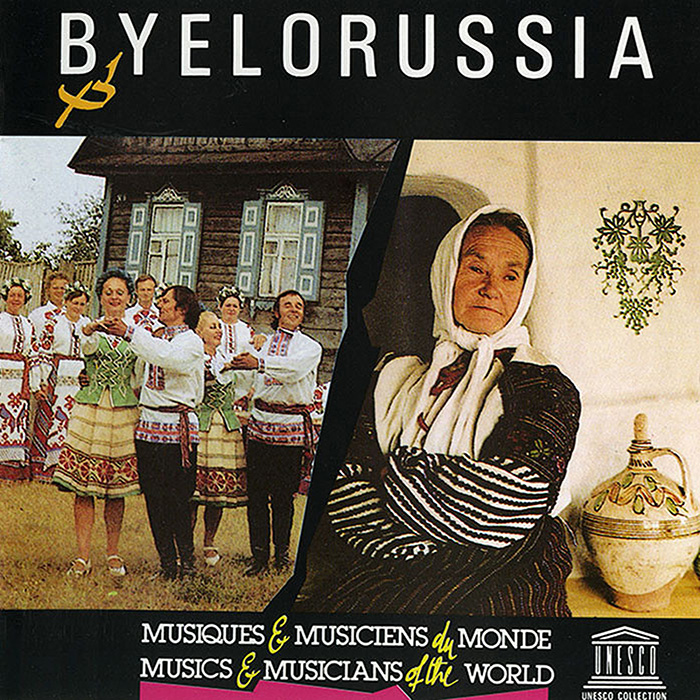 Covering southern Belarus and northern Ukraine, the region of Polessye is known as "the land of legends, fairy tales, and songs." Influenced by a landscape filled with forests and meadows, the traditional music from this area often revolves around seasonal changes, harvests, and related festivities. The vast terrain also inspired the practice of open-air group singing, which can be heard throughout the album. These spirited songs are colored by polyphonic chants around instruments including the fife, violin, and, on one track, the dulcimer—rare in Polessye music.
The liner notes provide full details on instruments and the cultural significance of each track.
FREE DOWNLOAD
Please enjoy a free download of the song "Harvest Songs"
This album is part of the UNESCO Collection of Traditional Music. More than 125 albums are being released by Smithsonian Folkways Recordings to make the series publicly available again, including more than a dozen never-released albums of musical traditions from around the globe.
Track Listing
| | | | | |
| --- | --- | --- | --- | --- |
| 101 | Christmas carols and New Year's songs | Anna Vengoora, Christina Doroshevich, Tatiana Safronova, Serafina Petrova, Aksinya Targonya; Olga Vakoolchyk, Anna Roosack, Nadeshda Roosack, Lubov Sl | 4:10 | |
| 102 | Violin play | Michail Shkadoon | 0:43 | |
| 103 | Round | Tatiana Orlenin, Nadeshda Shogol | 2:08 | |
| 104 | Dancing tune on the fife | Ivan Petshooha | 0:38 | |
| 105 | Harvest songs | Fayna Olesich, Watalya Adreykoviets, Heema Doroshevich, Tatiana Fedorova; Olga Vakoolchyk, Anna Roosack, Nadeshda Roosack, Lubov Sleesh; Katerina Doro | 4:12 | |
| 106 | Reed-pipe solo | Ivan Petshooha | 1:10 | |
| 107 | Wedding Songs and Instrumental tunes | Anna Vengoora, Christina Doroshevich, Tatiana Safronova, Serafina Petrova, Aksinya Targonya; Vasily Shved; Olga Vakoolchyk, Anna Roosack, Nadeshda Roo | 6:02 | |
| 108 | Housewife | Ivan Petshooha | 0:34 | |
| 109 | Comic love songs | Anna Vengoora, Christina Doroshevich, Tatiana Safronova, Serafina Petrova, Aksinya Targonya | 2:59 | |
| 110 | Ballad | Fayna Olesich, Watalya Andreykoviets, Heema Doroshevich, Tatiana Fedorova | 3:58 | |
| 111 | Poetic Song | Fayna Olesich, Watalya Andreykoviets, Heema Doroshevich, Tatiana Fedorova | 2:10 | |
| 112 | Lyrical Polyphonic Song | n/a | 2:14 | |
| 113 | Preemac | Olga Vakoolchyk, Anna Roosack, Nadeshda Roosack, Olga Masalskaya, Ysef Roosack, Adam Masalsky | 2:52 | |
| 114 | Dramatic Song | Olga Vakoolchyk, Anna Roosack, Nadeshda Roosack, Lubov Sleesh, Yusef Roosack, Alexander Korenchuck, Adam Sleesh | 1:22 | |
| 115 | Peoples' songs from the time of World War II | Anna Vengoora, Christina Doroshevich, Tatiana Safronova, Serafina Petrova, Aksinya Targonya; Olga Vakoolchyck, Anna Roosack, Nadeshda Roosack, Olga Ma | 6:52 | |
| 116 | Love Songs | Christina Doroshevich | 3:42 | |
| 117 | Festive Songs and Dances | Vasily Shved, Nikolay Leshchinsky, Ygnat Shookalov, Pavel Shookalov, Olga Vakoolchyk, Anna Roosack, Nadeshda Roosack, Lubov Sleesh, Yusef Roosack, Ale | 7:46 | |