Music of New Mexico: Native American Traditions
Various Artists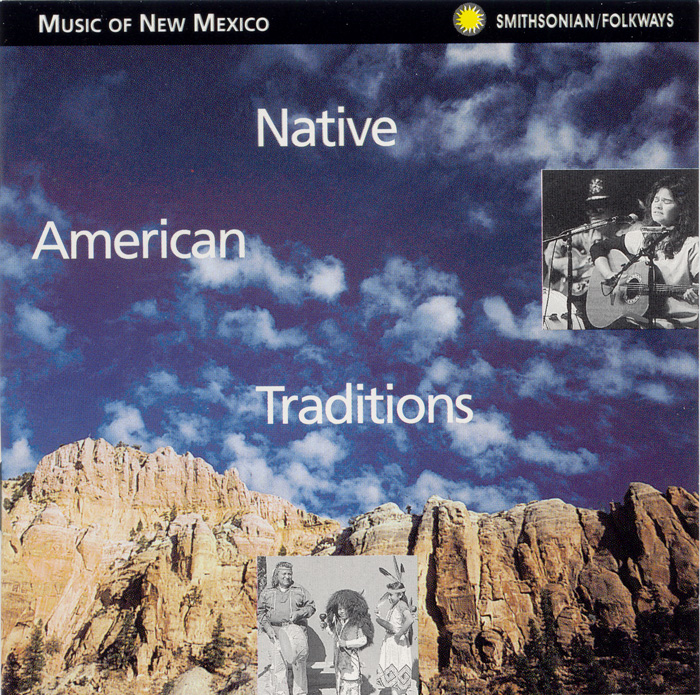 This portrait of Pueblo, Navajo, and Mescalero Apache music from New Mexico (recorded in 1992) reveals a remarkable breadth of Native American song, from a traditional San Juan Pueblo Cloud Dance song to modern Navajo songs. 68 minutes. Produced by Howard Bass. Annotated by Edward Wapp Wahpeconiah. "The purpose, phrasing, and structure of these tribal pieces are often unique, intricate, and powerfully evocative." — Washington Post.





EN ESPAÑOL

Este retrato de Pueblo Navajo y la música Mescalero Apache de Nuevo México (grabada en 1992) revela una notable amplitud de la canción nativa estadounidense -de la Danza Nube como canción tradicional del Pueblo San Juan- a modernas canciones de Navajo. 68 minutos.

Producido por Howard Bass. Anotado por Edward Wapp Wahpeconiah. "El propósito, el fraseo y la estructura de estas piezas tribales son a menudo únicos, complejos y poderosamente evocadores&ldquo - Washington Post.
Track Listing
| | | | | |
| --- | --- | --- | --- | --- |
| 101 | Rainbow Dance Song | Fernando Cellicion, Alton Nastacio, and Florentine Johnson | 6:09 | |
| 102 | Captive Dance Song | Bernard Duran | 3:37 | |
| 103 | Two-Step Dance Song | Bernard Duran | 4:46 | |
| 104 | Cloud Dance Song | Peter, Cipriano and Jerry Garcia | 13:21 | |
| 105 | Two-Step Dance Song | Carl Tsosie | 1:24 | |
| 106 | Two-Step Dance Song | Carl Tsosie | 1:17 | |
| 107 | Round Dance Song | Ruben Romero, Ernest Martinez, and Juan O. Lujan | 2:20 | |
| 108 | Taos Pueblo Round Dance Song | Ruben Romero, Ernest Martinez, and Juan O. Lujan | 2:41 | |
| 109 | New Two-Step Dance Song: Enjoy our Lives Together Forever | The Turtle Mountain Singers | 2:12 | |
| 110 | New Skip-Dance Song: It's Your Fault That You're Looking for Your Horses All Night | The Turtle Mountain Singers | 1:54 | |
| 111 | Courting Flute Song | Fernando Cellicion | 1:56 | |
| 112 | The Handshake | A. Paul Ortega | 3:37 | |
| 113 | Moccasin Game Song | A. Paul Ortega and Sharon Burch | 3:50 | |
| 114 | Traveling Song | A. Paul Ortega | 1:35 | |
| 115 | Tsídii-Bird | Geraldine Barney | 1:24 | |
| 116 | Welcome Home | Sharon Burch | 4:35 | |
| 117 | Courting Song | John Rainer, Jr. | 1:49 | |
| 118 | Round Dance Song | John Rainer, Jr., Lillian, Veranda, Howard, and John Rainer, Sr., and P.J. McAffee | 3:12 | |
| 119 | Glitter Nights | Geraldine Barney | 5:48 | |