El Alma de Puerto Rico: Jíbaro Tradition by Ecos de Borinquen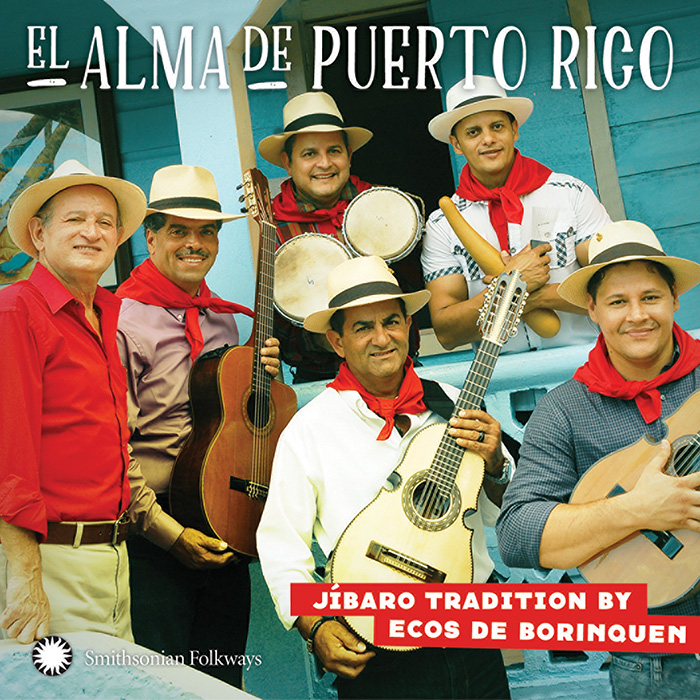 With El Alma de Puerto Rico (the soul of Puerto Rico), the Grammy- and Latin Grammy-nominated ensemble Ecos de Borinquen presents its second Smithsonian Folkways album overflowing with pride in the island's jíbaro creole folk traditions. The soulful, signature sounds of Miguel Santiago Diaz's sung poetry in the ten-line décima verse form are cradled in the progressive instrumental arrangements by Ramón Vásquez Lamboy for two cuatro guitars, six-stringed guitar, güiro rasp, and bongo. The crystal-clear voice of Yezenia Cruz, Santiago's disciple, adds sonoral dimension to this timeless yet contemporary rendition of deep Puerto Rican tradition. 59 minutes, 40-page booklet with bilingual notes.
This album is the 46th in the Smithsonian Folkways Tradiciones/Traditions Series of Latino music albums, produced with support from the Smithsonian Latino Center.
EN ESPAÑOL
Con El Alma de Puerto Rico, el conjunto nominado para Grammy y Latin Grammy, Ecos de Borinquen, presenta su segundo álbum con Smithsonian Folkways, desbordante con orgullo en las tradiciones criollas de la isla. El sonido conmovedor y distintivo de Miguel Santiago Díaz cantando poesía en forma de décima se acuna en arreglos progresivos de Ramón Vásquez Lamboy para dos cuatros, guitarra sexta, güiro y bongó. La voz cristalina de Yezenia Cruz, discípula de Santiago, añade una dimensión sonorosa a esta eterna sino contemporánea interpretación de tradición profunda puertorriqueña. 59 minutos con folleto bilingüe de 40 páginas.
Este álbum es el número 45  de la serie de Folkways Tradiciones/Traditions de álbumes de música latina, producidos con el apoyo del Smithsonian Latino Center.
RELATED VIDEO
"El Alma de Puerto Rico" by Ecos de Borinquen
Track Listing