German Children's Songs, Vol. 1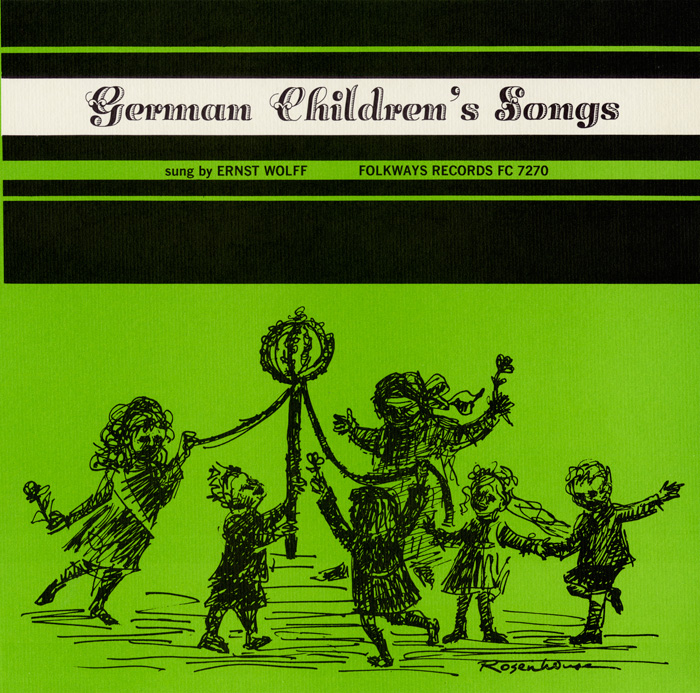 RELATED LESSON PLAN
""Eine Kleine Kindermusik": Children's Songs from Germany"

Ernst Wolff (1905–1991), a classically trained singer of opera and German lieder, recorded a total of five albums of German songs for Folkways from 1959 to 1961. Two of the recordings focus on children's music. Accompanying himself on the piano, he devotes his first volume of the collection largely to animals— a musical menagerie featuring cats, birds, horses, rabbits, and others. The liner notes include the German lyrics along with their English translation.
Track Listing
| | | | | |
| --- | --- | --- | --- | --- |
| 101 | A,B,C Die Katze Lief | Ernst Wolff | 0:48 | |
| 102 | Backe, Backe Kuchen | Ernst Wolff | 0:48 | |
| 103 | Hoppe, Hoppe Reiter | Ernst Wolff | 0:57 | |
| 104 | Das Steckenferd | Ernst Wolff | 1:18 | |
| 105 | Heile, Heile Segen | Ernst Wolff | 0:57 | |
| 106 | Bauerlein, Tick, Tick | Ernst Wolff | 1:28 | |
| 107 | Summ Summ Bienchen | Ernst Wolff | 1:08 | |
| 108 | Hanschen Klein Geht Allien | Ernst Wolff | 1:24 | |
| 109 | Ratsle | Ernst Wolff | 1:02 | |
| 201 | Fuchs, Du Hast die Gans Gestohlen | Ernst Wolff | 1:05 | |
| 202 | Gretel, Pastele | Ernst Wolff | 0:55 | |
| 203 | Kommt, ein Vogel Geflogen | Ernst Wolff | 0:58 | |
| 204 | Hasleins Klage | Ernst Wolff | 2:06 | |
| 205 | Der Wettstreit | Ernst Wolff | 1:22 | |
| 206 | Kuckuck | Ernst Wolff | 0:57 | |
| 207 | Frau Schwalbe ist 'Ne Schwatzerin | Ernst Wolff | 1:30 | |
| 208 | Das Lied Von Den Zwei Hasen | Ernst Wolff | 1:31 | |
| 209 | Alle Vogel Sind Schon Da | Ernst Wolff | 1:51 | |