Capoeira Angola 2: Brincando na Roda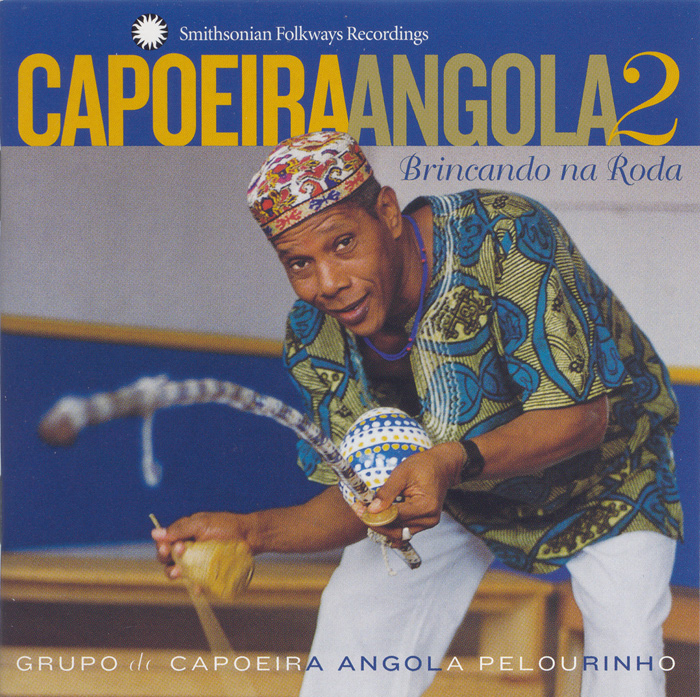 Following Grupo de Capoeira Angola Pelourinho's introduction via their 1996 release Capoeira Angola from Salvador, Brazil, the group returns with an even stronger statement, well worth the wait. Delving deeper into capoeira's mental and physical "poetry in motion," the music on Brincando na Roda brings to life the essence of this graceful art form's self-defense-styled movements. An integral part of capoeira, the music is a complementary 'soundtrack' which resulted from a cross-pollination of African origins and Brazilian culture. Capoeira as a whole continues to flourish and spread exponentially throughout the world today. Extensive notes in English and Portuguese. 45 minutes.
Depois do lançamento de Capoeira Angola em 1996, o Grupo de Capoeira Angola Pelourinho de Salvador, Brasil, retorna com mais força, o que valeu a pena esperar. Cavando mais profundamente no movimento da mente e corpo proporcionados capoeira, a música em "Brincando na Roda" traz para vida a graciosa essência da arte que segue os movementos de auto-defesa. Uma parte integral da capoeira, a música é uma trilha sonora complementar que vem da mistura de origens africanas e cultura brasileira. A capoeira continua um sucesso e se espalhando exponencialmente pelo mundo hoje. Descrição em Português e Inglês. 45 minutos.
AWARDS
2004 GRAMMY Award nominee for Best Traditional World Music Album
RELATED LESSON PLAN
"Capoeira: Martial Arts Meets Music"
EN ESPAÑOL
Tras la presentación del Grupo de Capoeira Angola Pelourinho en su lanzamiento en 1996 del Capoeira Angola de Salvador (Brasil), el grupo regresa con una declaración aún más fuerte, bien vale la pena la espera. Profundizar en la capoeira mental y física "poesía en movimiento", la música de Brincando na Roda (Jugando en la rueda) trae a la vida la esencia de este elegante arte del estilo de movimientos de auto defensa.
Como una parte integral de la capoeira, la música es una "banda sonora" complementaria que resultó de una polinización cruzada de origen africano y de la cultura brasileña. La capoeira en su conjunto continúa creciendo de manera exponencial y se ha extendido por todo el mundo hoy en día. Notas extensas en inglés y portugués. 45 minutos
Track Listing