¡Así Kotama! The Flutes of Otavalo, Ecuador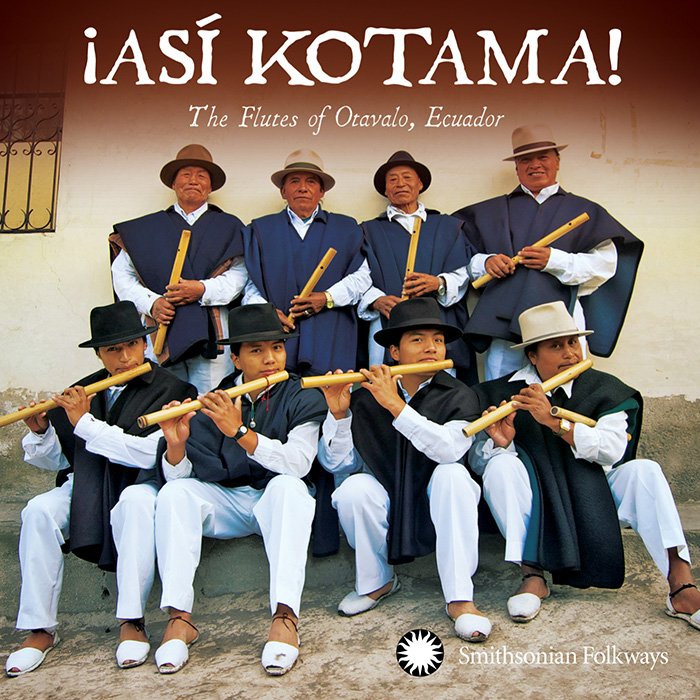 ¡Así Kotama! The Flutes of Otavalo, Ecuador features an Andean indigenous flute tradition unlike any other. It is the soundtrack of a success story that defies globalization, steers tradition in a new direction, and revitalizes a musical practice that was once considered obsolete. The joyful, multigenerational Kichwa flutists of Kotama village in the historic municipality of Otavalo play, chant, and dance their way into a future that upholds their deepest values and customs. 62 minutes, 40-page booklet with bilingual notes and photos.
This album is part of the Smithsonian Folkways Tradiciones/Traditions Series of Latino music albums, produced with support by the Smithsonian Latino Center.
EN ESPAÑOL
¡Así Kotama! The Flutes of Otavalo, Ecuador presenta una tradición de flauta indígena andina como ninguna otra. Es una historia musical exitosa que desafía la globalización, guía la tradición por nuevos caminos, y revitaliza una práctica musical que ha sido considerada obsoleta. Los flauteros Kichwas multigeneracionales y jubilosos del pueblo Kotama, ubicado en el cantón de Otavalo, tocan, cantan, y bailan hacia un futuro que mantiene sus valores y costumbres más preciosos. 62 minutos, librete de 40 páginas con annotaciones bilingües y fotografías.
FREE DOWNLOAD
Please enjoy a free download of "Kashna Kotama / Así Kotama / This is Kotama"
| | | |
| --- | --- | --- |
| Kashna Kotama / Así Kotama / This is Kotama | MP3 | FLAC |
RELATED VIDEOS
Hatun Kotama - The Flutes of Otavalo, Ecuador
Track Listing