Irish Music from Cleveland, Vol. 2: The Community Tradition
Various Artists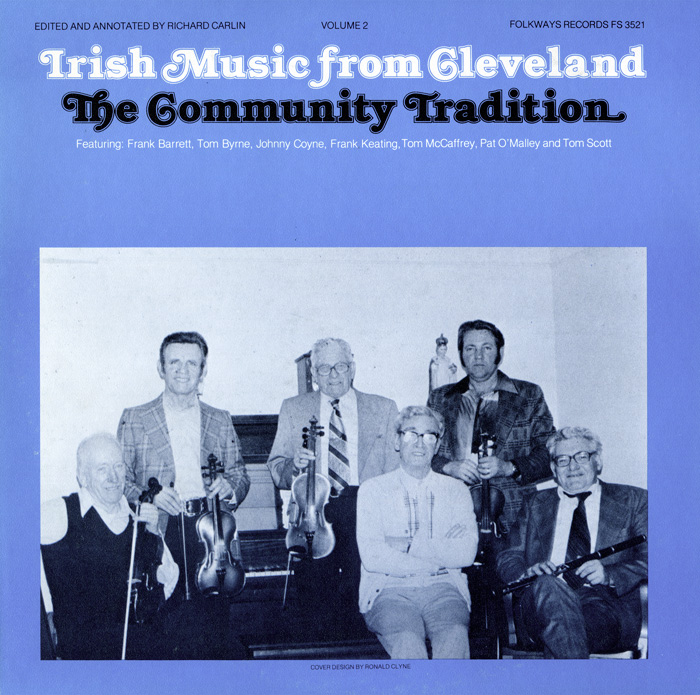 Fiddler Tom McCaffrey and flutist Tom Byrne, both Irish immigrants, met in Cleveland, Ohio in 1957. The pair developed a unique performance style based on their personal musical heritage and the folk music of the southern Appalachians. This album, recorded 22 years after their initial meeting, captures a glimpse of how this duo grew together as musicians, each coming to understand the nuances of the other's style. Ultimately, Irish Music from Cleveland is a powerful testament to the enduring legacy of Irish music in America as McCaffrey and Byrne come together to share their love of dance tunes with the next generation. This album is second in a series of three. Liner notes include information on Irish dance tunes, artist biographies, and commentary for each track.
RELATED LESSON PLAN
"Irish Music: Experiences in Dance, Singing, and Instrument Playing"
"An Introduction to Irish Music"
Track Listing
| | | | | |
| --- | --- | --- | --- | --- |
| 101 | Glen Allen / Music in the Glen (medley) | Tom Byrne, Frank Barrett, Tom McCaffrey | 2:35 | |
| 102 | Cronin's Reel | Tom Byrne and Frank Barrett | 1:54 | |
| 103 | Comb Your Hair and Curl It | Tom Byrne, Frank Barrett, Tom McCaffrey | 1:47 | |
| 104 | Whiskey Island | Pat O'Malley and Frank Keating | 1:37 | |
| 105 | The Mountain Road | Frank Barrett, Tom McCaffrey and Tom Scott | 1:22 | |
| 106 | Christmas Eve | Tom Byrne and Tom McCaffrey | 2:00 | |
| 107 | White Cockade, The / High Caul Cap, The (medley) | Tom Byrne, Frank Barrett, Tom McCaffrey | 2:30 | |
| 108 | Flowers of Ballymote | Tom Byrne | 1:15 | |
| 109 | The Flowers of Edinburgh | Tom Byrne, Frank Barrett, Tom McCaffrey | 1:59 | |
| 201 | Father Kelley's | Pat O'Malley and Frank Keating | 1:52 | |
| 202 | George Wilson's Favorite | Frank Barrett and Tom McCaffrey | 1:52 | |
| 203 | The Wise Maid | Tom Byrne and Frank Barrett | 1:57 | |
| 204 | Barney Bralligan | Tom Byrne, Frank Barrett, Tom McCaffrey | 1:23 | |
| 205 | Paddy's Return / Murray's Jig (medley) | Pat O'Malley, Johnny Coyne, Tom McCaffrey | 2:05 | |
| 206 | Willie Coleman's Jig | Tom Byrne | 1:37 | |
| 207 | London Bridge / Mary Ellen's Fancy (medley) | Pat O'Malley and Frank Keating | 2:12 | |
| 208 | Tobin's Fancy - Tobin's Favorite / Irish Washerwoman, The (medley) | Tom Byrne, Frank Barrett, Tom McCaffrey | 2:16 | |
| 209 | The Shaskeen | Tom Byrne, Frank Barrett, and Tom McCaffrey | 2:04 | |