Japan: O-Suwa-Daiko Drums
Various Artists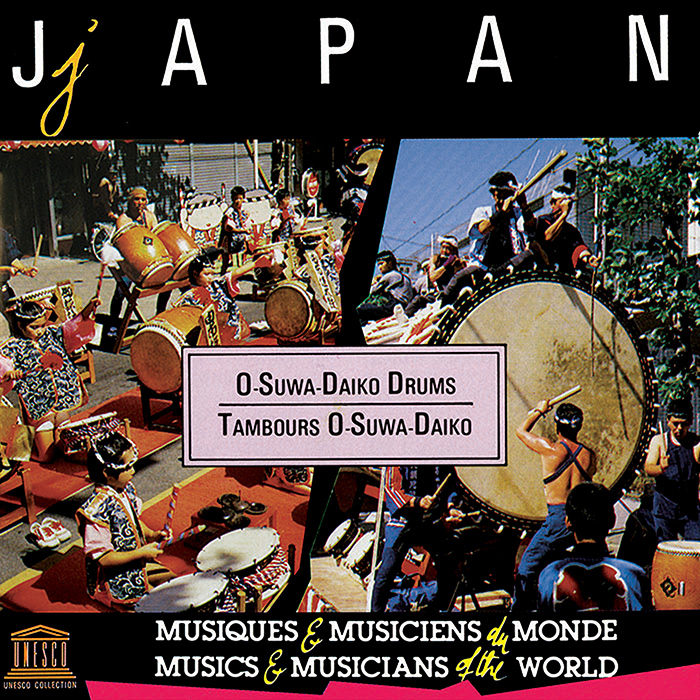 In one Japanese Shinto myth, the goddess of sunlight is angered by her brother, the god of storms, and shuts herself in a cave. The world goes dark. Facing death and decay, another goddess attempts to lure her out. She overturns a sake barrel outside the cave, jumps and stomps on it, and shouts. The other gods are so moved by the rhythmic percussion that they join in, singing and dancing. Hearing such joyous noise, the curious sunlight goddess finally emerges, bringing light back to Earth. Taiko is born.
The O-Suwa Daiko Society is a seminal taiko ensemble, among the first to perform outside of the customary festivals and ceremonies. Accompanied only by flute, conch shells, and vocals, the rhythms created by the drums are the centerpiece of this presentation of regional taiko tradition. The liner notes further explore the relationship between Japanese myth and drum.
The creation of the taiko (drum) ensemble, or kumi-daiko, is credited to Daihachi Oguchi who organized his first kumi-daiko ensemble in 1951. Trained as a jazz drummer, Oguchi (misidentified in the liner notes as Oguchi Daihachi) adapted the western concept of using different drum sizes to achieve different sounds to the traditional music form. Oguchi's efforts led to the recovery of the Suwa style of music that had been lost during the last part of the 19th century and the early 20th century. Oguchi led and starred in the performance of drumming and dance at the closing ceremony of the 1998 Nagano Olympics.
FREE DOWNLOAD
Please enjoy a free download of the song "Suwa-Ko-Bayashi"
This album is part of the UNESCO Collection of Traditional Music. More than 125 albums are being released by Smithsonian Folkways Recordings to make the series publicly available again, including more than a dozen never-released albums of musical traditions from around the globe.
Track Listing