Solomon Islands: Fataleka and Baegu Music from Malaita
Various Artists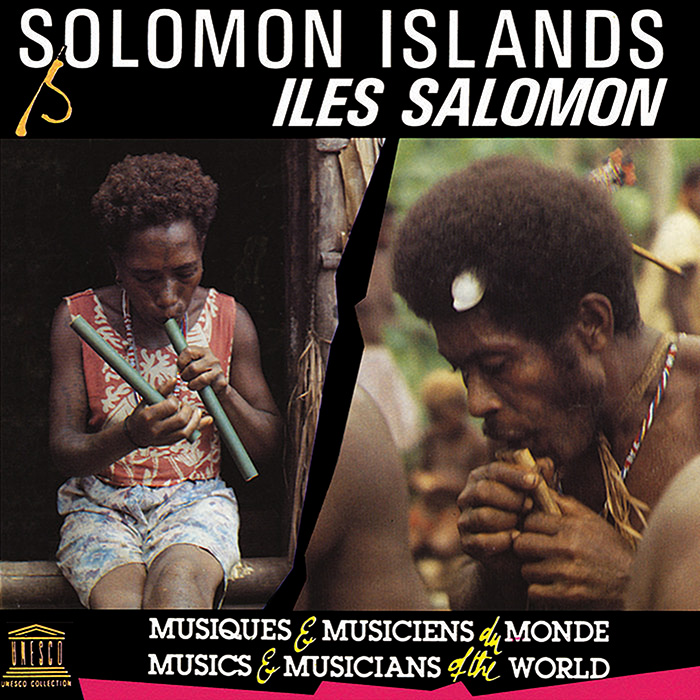 Malaita, the most densely populated of the Solomon Islands, is located about 1,200 miles off the northeast coast of Australia. The island is home to the Fataleka and Baegu peoples, whose music is influenced by the traditional religious beliefs that were practiced before their conversion to Christianity in the 19th century.
This album showcases the varied contexts in which these groups use the ubiquitous bamboo bundle panpipe (susuku). The songs of the maome (funeral rituals) weave together panpipes with clapping sticks and a choir singing with closed mouths in polyphonic harmonies. In other ceremonial songs, dancers become musicians with rattles on their ankles, stomping the ground to create a striking beat. Women play a prominent role on the album singing and playing a two-string bamboo bow.
In 1992, French electronica duo Deep Forest heavily sampled "Rorogwela" (track 8) in their hit song "Sweet Lullaby."
FREE DOWNLOAD
Please enjoy a free download of the song "Sukute"
This album is part of the UNESCO Collection of Traditional Music. More than 125 albums are being released by Smithsonian Folkways Recordings to make the series publicly available, including a dozen never-released albums of musical traditions from around the globe.
Track Listing