Pre-Columbian Instruments of Mexico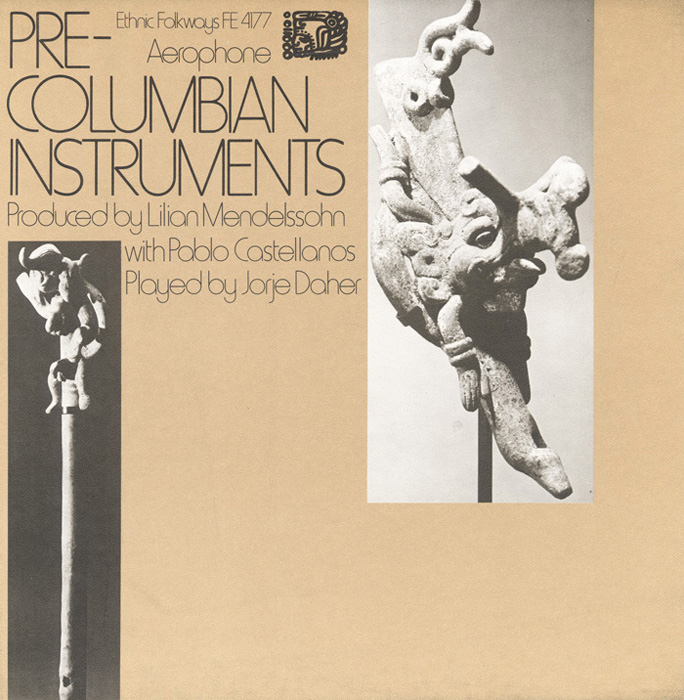 "Scientific research into the use of musical instruments in Pre-Columbian Mexico is only 30 years old. 'Pre- Columbian' referred, originally, to artifacts made by the Indians of the Western Hemisphere prior to the discovery of America. Now the word refers to such artifacts made before the time that Western culture influenced Indian culture in any specific area. Thus, in Mexico, Pre-Columbian refers to anytime prior to 1521, the approximate year when Cortés conquered the Aztecs..."

Lilian Mendelssohn, Pablo Castellanos and Miles Lourie


"La investigación científica sobre uso de instrumentos musicales en el México precolombino se remonta únicamente 30 años atrás. El término 'precolombino' se refería, en un principio, a los artefactos fabricados por los indios del hemisferio occidental previa la llegada de los españoles. Ahora la palabra se refiere a aquellos artefactos hechos antes de que la cultura occidental influenciara la cultura indígena en un área específica. De esta manera, en México, precolombino hace referencia a todo momento anterior a 1521, año aproximado de la conquista de los Aztecas por Cortés..."

Lilian Mendelssohn, Pablo Castellanos y Miles Lourie.



Track Listing
| | | | | |
| --- | --- | --- | --- | --- |
| 101 | Air Drum, Pre-Classic (Colima) | Jorje Daher | 0:30 | |
| 102 | Air Drum (Gulf culture) | Jorje Daher | 0:37 | |
| 103 | Mirliton, transverse (Zapotecean) | Jorje Daher | 0:29 | |
| 104 | Transverse Flute, Two Orifices (Olmecan culture) | Jorje Daher | 0:49 | |
| 105 | Transverse Flute, With Grain and Oral Centralization, Two Orifices | Jorje Daher | 0:46 | |
| 106 | Transverse Flute and Mirliton (Zapotecean) | Jorje Daher | 0:41 | |
| 107 | Peak, No Orifices, One Sound (Gulf culture) | Jorje Daher | 0:31 | |
| 108 | Peak, Two Orifices, Three Sounds (Nayarit) | Jorje Daher | 0:43 | |
| 109 | Peak, Two Orifices, Four Sounds (Maya) | Jorje Daher | 0:39 | |
| 110 | Peak, No Orifices, Two Sounds, Double Chamber (Olmeca) | Jorje Daher | 0:39 | |
| 111 | Peak, No Orifices, Large Airduct, One Sound (Gulf) | Jorje Daher | 0:38 | |
| 112 | Peak, One Orifice, Large Airduct, Two Sounds (Gulf) | Jorje Daher | 0:39 | |
| 113 | Peak, Mirliton (Aztec) | Jorje Daher | 0:37 | |
| 114 | Large Whistle: Voice of Owl (Zapotecean) | Jorje Daher | 0:32 | |
| 115 | Water Whistle: Voice of a Bird (Zapotecean) | Jorje Daher | 0:44 | |
| 116 | Whistle: Call a Young Deer (Gulf culture) | Jorje Daher | 0:35 | |
| 117 | Whistle of Compression: Sound of the Wind (Gulf culture) | Jorje Daher | 0:46 | |
| 118 | Whistle of Compression: Sound of Storm (Gulf culture) | Jorje Daher | 0:55 | |
| 119 | Whistle with Built-In Chickpea: Sound of Flying Bird | Jorje Daher | 0:34 | |
| 120 | Whistling Vessel with Water: Voice of a Chicken (Nayarit) | Jorje Daher | 0:54 | |
| 121 | Whistle with Built-In Rattle: Gulf culture | Jorje Daher | 0:38 | |
| 122 | Great Whistle, Two Orifices, Chinesco (Nayarit) | Jorje Daher | 0:54 | |
| 123 | Double Whistle, No Orifices, Pre-Classic | Jorje Daher | 0:30 | |
| 124 | Double Whistle, Two Orifices (One in Each Chamber): Voice of Macaw, Pre-Classic | Jorje Daher | 0:41 | |
| 125 | Double Whistle, Four Orifices (Two in Each Chamber): Voice of Lizard, Pre-Classic | Jorje Daher | 0:37 | |
| 126 | Double Whistle, Built-In Chickpea, Pre-Classic | Jorje Daher | 0:34 | |
| 127 | Double Whistle, Built-In Grain, Pre-Classic | Jorje Daher | 0:38 | |
| 128 | Triple Whistle (Three Channels): Form of Bird (Gulf culture) | Jorje Daher | 0:22 | |
| 129 | Triple Channel Whistle: Form of Gander (Gulf culture) | Jorje Daher | 0:28 | |
| 130 | Double Whistle (Tlatilco culture) | Jorje Daher | 0:53 | |
| 201 | Ocarine, Transverse, Three Orifices, Tetraphonic Scale (Maya) | Jorje Daher | 1:18 | |
| 202 | Ocarine, Transverse, Three Orifices, Hexaphonic Scale (Gulf) | Jorje Daher | 1:19 | |
| 203 | Ocarine, Transverse, Three Orifices, Hexaphonic Scale (Gulf culture) | Jorje Daher | 1:19 | |
| 204 | Peak, Three Orifices, Tetraphonic Scale (Michoacan) | Jorje Daher | 1:10 | |
| 205 | Peak, Three Orifices, Tetraphonic Scale, Shrill Sound (Michoacan) | Jorje Daher | 1:14 | |
| 206 | Transverse, Four Orifices, Pentaphonic Scale, Pre-Classic | Jorje Daher | 1:18 | |
| 207 | Peak, Two Orifices, Built on Wheels, Five Sounds (Gulf culture) | Jorje Daher | 1:28 | |
| 208 | Peak, Six Orifices, Turtle Form, Heptaphonic Scale (Michoacan) | Jorje Daher | 0:50 | |
| 209 | Four Orifices, Crossed Fingering (Huastecean culture) | Jorje Daher | 0:50 | |
| 210 | Free Intonation in the Manual Control (Gulf culture) | Jorje Daher | 0:52 | |
| 211 | Free Intonation in the Oral Control (Gulf culture) | Jorje Daher | 0:46 | |
| 212 | Peak, Three Orifices, Double Chamber (Olmecean) | Jorje Daher | 1:01 | |
| 213 | Peak, Four Orifices, Pentaphonic Scale (Michaecan) | Jorje Daher | 0:43 | |
| 214 | Peak, Four Orifices, Pentaphonic Scale (Colima) | Jorje Daher | 0:44 | |
| 215 | Peak, Three Orifices, Pentaphonic Scale (Micheacan) | Jorje Daher | 0:35 | |
| 216 | Small, Pentaphonic Scale (Chupicuare culture) | Jorje Daher | 0:33 | |
| 217 | Pentaphonic Scale (Maya) | Jorje Daher | 0:43 | |
| 218 | Pentaphonic Scale (Chupicuare, Micheacan) | Jorje Daher | 0:54 | |
| 219 | Pentaphonic Scale (Micheacan) | Jorje Daher | 0:37 | |
| 220 | Double Ocarine, 2 x 1 Orifice (Gulf culture) | Jorje Daher | 0:33 | |
| 221 | Double Ocarine, 2 x 2 Orifice (Chupicuare, Micheacan) | Jorje Daher | 0:35 | |
| 222 | Double Ocarine, 2 x 3 Orifice, Pre-Classic | Jorje Daher | 0:39 | |
| 223 | Double Ocarine, 2 x 3 Orifice (Olmeca) | Jorje Daher | 0:48 | |
| 301 | Flute, Pentaphonic Scale with Harmonics (Colima) | Jorje Daher | 0:54 | |
| 302 | Flute, Pentaphonic Scale, Narrow Outlet (Teothiuacan) | Jorje Daher | 0:49 | |
| 303 | Flute, Three Orifices, Jade, Quena (Olmeca) | Jorje Daher | 0:42 | |
| 304 | Flute, Aeolian Sound (Aztec) | Jorje Daher | 0:41 | |
| 305 | Flute, Double Orifices, Heptaphonic Scale (Jalisco) | Jorje Daher | 1:06 | |
| 306 | Flute, Five Orifices, Black Clay (Tarascean) | Jorje Daher | 0:56 | |
| 307 | Flute, Pentaphonic Scale, Mixquic (Aztec) | Jorje Daher | 0:41 | |
| 308 | Flute, Pentaphonic Scale, Mirliton (Aztec) | Jorje Daher | 0:48 | |
| 309 | Flute, Heptaphonic Scale, No Harmonics (Gulf culture) | Jorje Daher | 1:01 | |
| 310 | Flute, One Orifice, Transverse, Pentaphonic (Gulf culture) | Jorje Daher | 0:41 | |
| 311 | Flute, One Orifice, Straight, Pentaphonic (Gulf culture) | Jorje Daher | 0:40 | |
| 312 | Flute, With Piston (Gulf culture) | Jorje Daher | 0:28 | |
| 313 | Flute of Bone, Pentaphonic, Lingual Mouthpiece (Jaina) | Jorje Daher | 0:37 | |
| 314 | Flute, Octaphonic Scale (Jaina) | Jorje Daher | 1:10 | |
| 315 | Flute, Chromatic Scale (Jaina) | Jorje Daher | 0:55 | |
| 316 | Flute, Chromatic Scale (Tolteca) | Jorje Daher | 0:50 | |
| 317 | Flute, Compression (Maya) | Jorje Daher | 0:36 | |
| 318 | Flute, Compression, Shrill Sound (Maya) | Jorje Daher | 0:22 | |
| 319 | Flute, Free Intonation, Hand Movement (Nayarit) | Jorje Daher | 0:47 | |
| 320 | Flute, Pentaphonic Scale, No Harmonics, Harsh (Colima) | Jorje Daher | 0:31 | |
| 321 | Flute, Tetraphonic, Small (Nayarit) | Jorje Daher | 0:41 | |
| 401 | Double Flute, 2 x 2 Orifices (Colima) | Jorje Daher | 1:16 | |
| 402 | Double Flute, 3 x 3 Orifices (Colima) | Jorje Daher | 0:54 | |
| 403 | Double Flute, 4 x 4 Orifices (Colima) | Jorje Daher | 0:46 | |
| 404 | Double Flute, Piston (Gulf culture) | Jorje Daher | 1:19 | |
| 405 | Triple Flute (Maya) | Jorje Daher | 1:51 | |
| 406 | Triple Flute (Gulf culture) | Jorje Daher | 0:57 | |
| 407 | Triple Flute (Gulf culture) | Jorje Daher | 1:59 | |
| 408 | Trumpet, Clay (Teothiuacan) | Jorje Daher | 1:04 | |
| 409 | Trumpet, Clay (Guerrero) | Jorje Daher | 0:53 | |
| 410 | Trumpet, Vessel (Maya) | Jorje Daher | 0:59 | |
| 411 | Sea Shell (Colima) | Jorje Daher | 0:56 | |
| 412 | Shell, Clay (Colima) | Jorje Daher | 0:56 | |
| 413 | Shell, Clay, Variable Sound (Veracruz) | Jorje Daher | 0:57 | |
| 414 | Shell, Clay (Veracruz) | Jorje Daher | 0:54 | |
| 415 | Sea Shell (Colima) | Jorje Daher | 1:03 | |