Chinese Poems of the Tang and Sung Dynasties: Read by Lo Kung-Yuan in Northern Chinese, Peking Dialect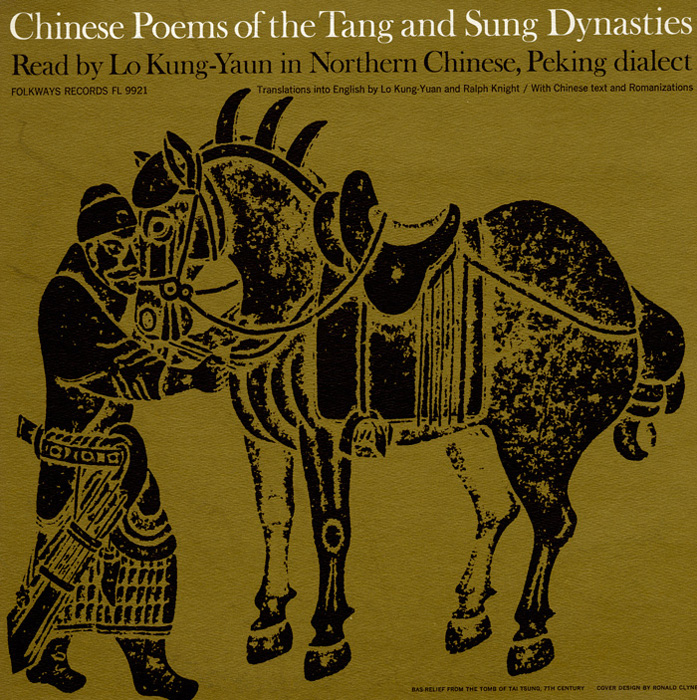 In this recording, Lo Kung-yuan, a teacher of the Chinese language at St. John's University, New York, in the 1960s, reads 31 Chinese poems in the Peking dialect of Northern Chinese, better known as Mandarin. The album is a remarkable collection of outstanding poems written in the Tang Dynasty (618-907)—the high point of classical Chinese poetry from which around 50,000 poems created by over 2,200 poets have survived—and in the Sung Dynasty (960-1279), another high point when a new form of poetry called ci flourished.
Liner notes include the Chinese calligraphy of the poems, the Romanization, and the English translations.
这张专辑共收录了31首唐宋时期的杰出诗作,由1960年代在纽约圣约翰大学教授中文的罗公远先生用京味十足的国语朗读。唐朝(618-907)是中国古典诗歌发展的巅峰,由超过2200位诗人所作的约50000首诗歌流传至今。宋朝也是一个繁荣昌盛的时代,一种叫做"词"的诗歌形式在此期间也得到了蓬勃发展。唱片内页含有诗词原文、对应的罗马拼音及英文翻译。
Track Listing