China: Chuida Wind and Percussive Instrumental Ensembles
Various Artists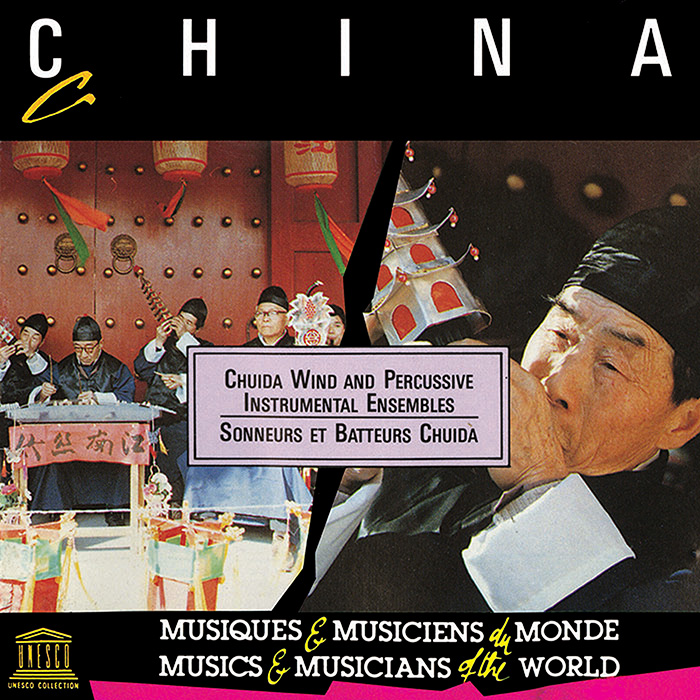 The music of China is as varied as its enormous population, but chuida is one of several styles of traditional folk music that is widespread. Chuida literally means "breathing-striking" and refers to wind and percussion ensembles rooted in rural communities, often played outdoors and sometimes as a procession. Flutes, oboes, gongs, and drums produce a harmonic mix of percussive and melodic sounds. Songs are tied to daily activities and special occasions, such as weddings, funerals, and birthdays.
This album documents the chuida traditions of three provinces on China's east coast: Shanghai, Zheijiang, and Fujian provinces. François Picard, who recorded the tracks and wrote the liner notes, is France's first full-time ethnomusicology professor, and he continues to teach at the Sorbonne in Paris.
中国的音乐因其庞大的人口而包罗万象,而吹打乐是几种传统民俗音乐中型态中较普遍的一种。吹打的字面意思是"吹-打",指的是根植於农村社群常见的风和打击组合,这种组合经常可在户外见到,有时候在遊行中使用。其中笛子,双簧管,锣和鼓一起形成和谐的节奏和旋律的组合。这些歌曲都与日常活动和特殊节庆有关,譬如婚礼,葬礼和生日。
本专辑记录了中国东部沿海叁省上海、浙江以及福建的吹打传统。法国第一位全职民族音乐学教授弗朗索瓦•皮卡德录製这些音乐并撰写专辑内页,他目前在巴黎索邦大学教书。
FREE DOWNLOAD
Please enjoy a free download of the song "Taizi You (The Prince's Voyage)"
| | | |
| --- | --- | --- |
| Taizi You (The Prince's Voyage) | MP3 | FLAC |
This album is part of the UNESCO Collection of Traditional Music. More than 125 albums are being released by Smithsonian Folkways Recordings to make the series publicly available, including a dozen never-released albums of musical traditions from around the globe.
Track Listing