The Silk Road: A Musical Caravan
Various Artists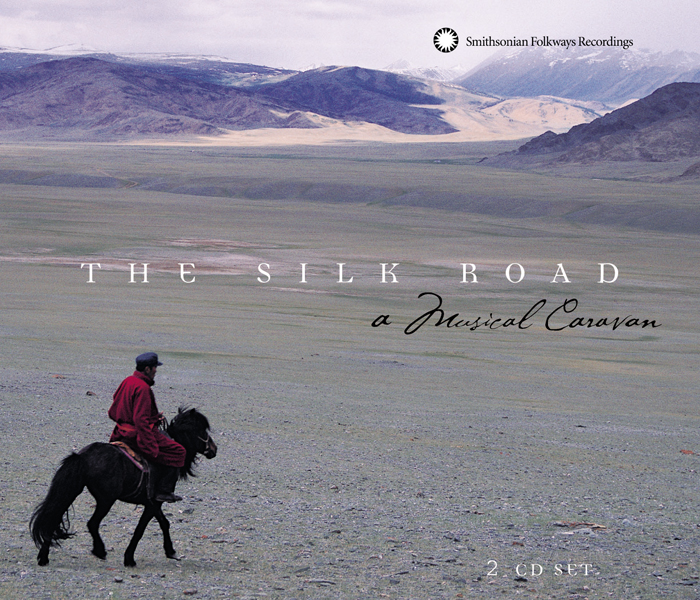 What if Marco Polo had owned a tape recorder? And what if his epic travels along the Silk Road had taken place not at the end of the 13th century, but at the beginning of the 21st? Far-fetched conjectures to be sure, but our compilation The Silk Road: A Musical Caravan offers a glimpse of the rich musical life that an intrepid and curious traveler like Marco Polo might find in the lands of the Silk Road today (During, Levin 2001).

RELATED LESSON PLANS
"Musical Hooves on the Steppes:The Morin Huur of Mongolia"
"An Introduction to the Music of Mongolia"
"Discovering the east of China: Chinese music in Elementary School"
Track Listing
| | | | | |
| --- | --- | --- | --- | --- |
| 101 | Mahur | Dariush Safvat and Bruno Caillat | 3:11 | |
| 102 | Fakhri Havasi | Edalat Nasibov | 3:50 | |
| 103 | Balbyraun (Honey fingers) | Aygul Ulkenbaeva | 1:25 | |
| 104 | Dance of Tamir Agha | Gevorg Dabaghian, Grigor Takushian, and Kamo Khatchuaturian | 2:30 | |
| 105 | Dilkash | Elshan Mansurov | 3:39 | |
| 106 | Uchun Dur | Jurabek Nabiev, Shuhrat Nabiev, Shavkat Nabiev, and Abdurahim Hamidov | 4:20 | |
| 107 | Choban Bayati | Malik Mansurov and Mahmud Salah | 1:52 | |
| 108 | Mokhalef | Hoseyn Qavami and Ali Tajvidi | 3:13 | |
| 109 | Shushtari | Hasan Kasa'i | 4:08 | |
| 110 | Itsuki no Komoriuta (Lullaby from Itsuki) | Kojiro Umezaki | 2:50 | |
| 111 | Ker-Tolgoo | Samara Tokhtakunova | 2:57 | |
| 112 | Xiao Yue Er Gao (High Little Moon) | Wu Man | 2:20 | |
| 113 | Jiu Kuang (Wine Mad) | Yao Bingyan | 2:19 | |
| 114 | Kharagay (The pine tree) | Sabjilar | 3:27 | |
| 115 | Ilme (Hook) | Aygul Ulkenbaeva | 2:13 | |
| 116 | The Gallop of Jonon Khar | Baterdene | 2:19 | |
| 117 | The Nightingale | Ruslan Jumabaev | 2:01 | |
| 118 | The River Herlen | Khongorzul and Baterdene | 4:04 | |
| 119 | Nava | Turgun Alimatov | 3:51 | |
| 120 | Woy Bala (Hey, kid) | Nur Mahammat Tursun | 2:16 | |
| 121 | Meskin II | Abdurahim Hamidov and Shuhrat Razzaqov | 2:45 | |
| 122 | Ufar-e Bayat | Barno Is'hakova, Rama Narkalaev, Sultanali Khudaberdiev, and Zakir-jan Yuusov | 3:54 | |
| 123 | Chabbiyat Tazi Marghul | Uyghur Muqam Ensemble | 3:29 | |
| 124 | Shawm and percussion band from Southern Liaoning | Gongxiao Dasha Ensemble | 2:49 | |
| 201 | Jew's harp melody | Edil Huseinov | 1:49 | |
| 202 | Khai | Evgeni Ulugbashev | 2:11 | |
| 203 | Tepen Kök | Kelek Kumaqay-olu | 1:19 | |
| 204 | Kögmen | Sabjilar | 3:21 | |
| 205 | Excerpt from Alpamish Epic | Jaule Bakhshi | 3:32 | |
| 206 | Beyish Namasi (Melody of Paradise) | Qalbeke Uzaqbergenova | 2:29 | |
| 207 | Terme | Almas Almatov | 3:38 | |
| 208 | Lament | Dordi Torik and Rahman Qilich Yomudi | 4:49 | |
| 209 | Masq-e Javanan | Sirajoddin Juraev | 2:49 | |
| 210 | Kuu | Nurlanbek Nishanov | 1:21 | |
| 211 | Sanam | Abdurashid Nadirev and Abdughani Tukhtiev | 4:38 | |
| 212 | Charzarb | Abdullah, Isma'il, and Davlat Nazriev | 3:53 | |
| 213 | Mizghan-i Siyah (Black eyelashes) | Muhammud Rahim Takhary, Faqir Muhammad, Bahauddin, and Malang Nejrabi | 3:28 | |
| 214 | Love song | Asheq, Sohrab, and Ibrahim Hasan | 3:38 | |
| 215 | Qara Olu | Edil Huseinov | 2:04 | |
| 216 | Kertolghau | Sayan Aqmoldaev | 2:21 | |
| 217 | Dargilik | Ensemble from Khorog | 3:32 | |
| 218 | Madh | T. Soltan Qalebov and S. Tawarov | 4:25 | |
| 219 | Zikr (Remembrance) | Naqshbandi Afaqi Brotherhood | 3:45 | |
| 220 | Kyrgyz Wisdom Song | Akil Sekebaev | 2:31 | |
| 221 | Allah Madad | Abdollah Sarvar and M. Salar Ahmadi | 3:22 | |
| 222 | Alevi Song | Ashiq Faizullah Chinar | 4:05 | |
| 223 | Sufi Hymn | Jarrahi Dervishes and others | 4:38 | |