Los Reyes de Albuquerque en Washington, DC - 1992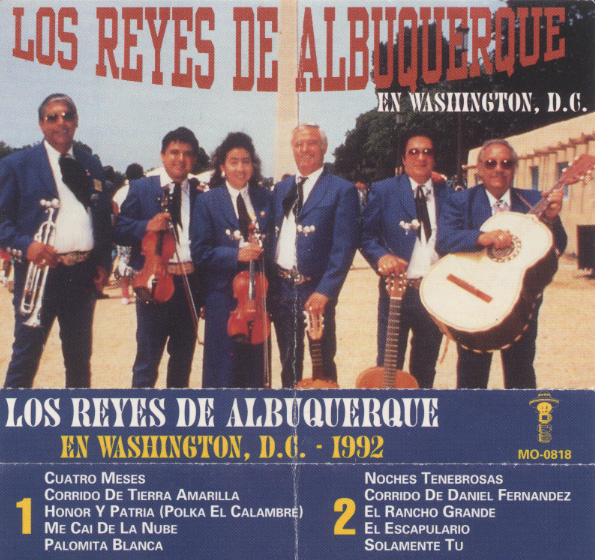 "We want to keep the flavor of what our ancestors did at their danzas," says Roberto Martínez, founder of M.O.R.E. (Minority Owned Record Enterprises) and director of Los Reyes de Albuquerque (The Kings of Albuquerque), a musical group formed in the early sixties in Albuquerque, New Mexico. In this album, they perform a variety of traditional genres such as corridos, polkas and canción ranchera from northern New Mexico and southern Colorado, accompanied by trumpet, violins, vihuela, guitar, and guitarrón.
"Queremos mantener el sabor de lo que nuestros antepasados hicieron en sus danzas" Así dice Roberto Martínez fundador del sello disquero M.O.R.E. (Minority Owned Record Enterprises) y director de Los Reyes de Albuquerque, agrupación musical formada a principios de los sesentas en Albuquerque Nuevo México. En este álbum Los Reyes de Albuquerque ejecutan una variedad de géneros tradicionales como corridos, polkas y canción ranchera del norte de Nuevo México y sur de Colorado, acompañados de trompeta, violines, vihuela, guitarra y guitarrón.
Track Listing