Spain: Flamenco Songs and Dances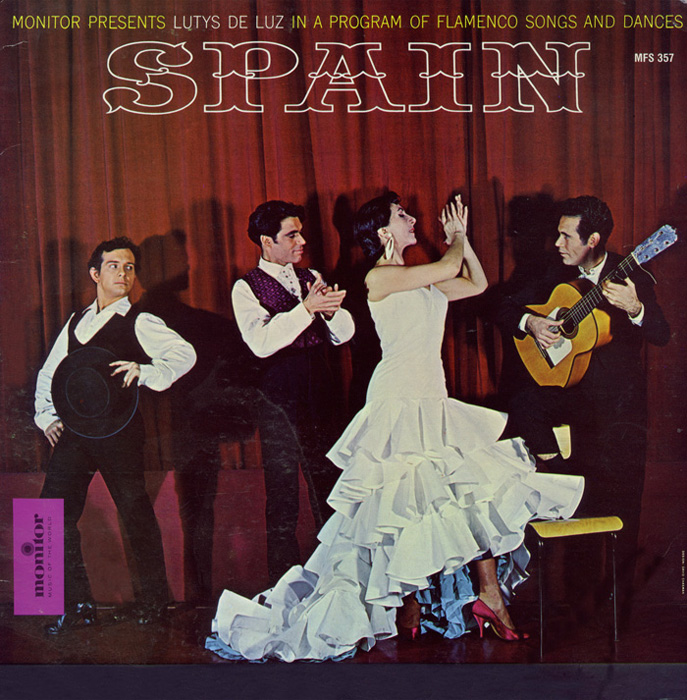 The folk-art performance of flamenco originated in the Andalusia region of Spain and is composed of song (cante) and dance (baile). The song component, which may include singing, is played on a guitar (toque) that differs from its classical cousin in the use of thinner tops to obtain a more percussive sound. The dance component includes handclaps and the rhythmic stamping of feet. The dance may be a solo performed by a male or female dancer, or in pairs or even groups. Female dancers may also play castanets. In 2010, UNESCO declared flamenco one of the Masterpieces of the Oral and Intangible Heritage of Humanity.
This recording of 9 songs features the traditional flamenco form with guitar, singing, the rhythmic stamping of feet, handclaps, and the playing of castanets.
EN ESPAÑOL
La representación del arte popular del flamenco se originó en la región de Andalucía de España y se compone de canto (song) y danza (dance). El componente de la canción, que puede incluir cantos, se toca en una guitarra (toque), que se diferencia de su primo clásico en el uso de tapas más delgadas para obtener un sonido más percusivo. El componente de la danza incluye palmas y el estampado rítmico de los pies.
La danza puede ser un solo realizado por un bailarín masculino o femenino, o en parejas o incluso en grupos. Las bailarinas también pueden tocar las castañuelas. En 2010, la UNESCO declaró el flamenco como una de las obras maestras del patrimonio oral e inmaterial de la humanidad.
Esta grabación de nueve canciones ofrece la forma tradicional del flamenco con la guitarra, el canto, el estampado rítmico de los pies, las palmas y el toque de castañuelas.
Track Listing