Y Que Viva Venezuela! Maestros del Joropo Oriental
Various Artists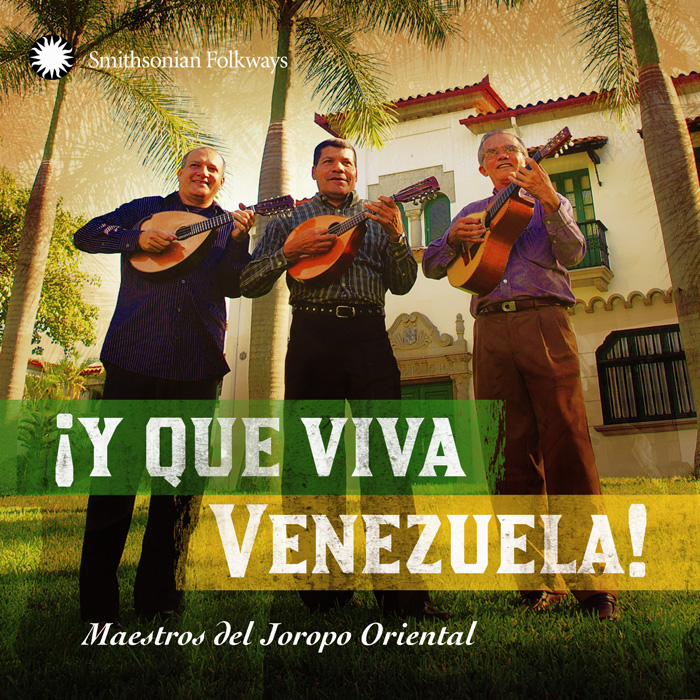 "Music that has roots, that has identity, has a powerful strength," says musician-producer Aquiles Báez about the joropo oriental of eastern Venezuela. Amid the anonymous global musical mix, masters of this string-driven, highly improvised, local music spin out endless threads of artful melody woven into a rich rhythmic fabric. This all-star group of Venezuelan masters applies a rainbow of sounds - guitars unique to the region, button accordion, violin, maracas, bass, and drums—to paint a panorama of a rediscovered, powerful musical tradition on the ascendance. 55 minutes, 14 tracks, 44-page booklet with extensive bilingual notes and photographs.
"La música que tiene raíces, que tiene identidad, tiene una fuerza poderosa," así dice el músico y productor Aquiles Baez acerca del joropo oriental del Este venezolano. En medio de la globalización musical, los maestros de esta música local, rica en improvisación y propulsada por el sonido de sus cuerdas, tejen los hilos inagotables de las hermosas melodías en un mantel rico en ritmo. Este grupo de estrellas y maestros venezolanos aplican un arcoíris de sonidos—guitarras únicas de la región, acordeón de botones, violín, maracas, bajo, y tambores—para pintar un panorama de una tradición musical recientemente redescubierta y en boga. 55 minutos, 14 pistas, librito con fotos y 44 páginas de extensas notas en inglés y en español.
Maestros del Joropo Oriental are participants at the 2009 Smithsonian Folklife Festival, performing on the National Mall in Washington D.C. as part the Las Américas: Un Mundo Musical program.
This album is part of the Smithsonian Folkways Tradiciones/Traditions series of Latino music, produced with support by the Smithsonian Latino Center.

FULL LENGTH STREAM
Please enjoy this free, full-length stream of "La Media Diana".
RELATED VIDEO
Watch a video about violinist Eddy Marcano
Watch a video of the performance "El Violinista Oriental"
AWARDS
2009 Independent Music Award and Fan Voted Independent Music Award for Best Latin Album
Track Listing