Maiteí América: Harps of Paraguay
Various Artists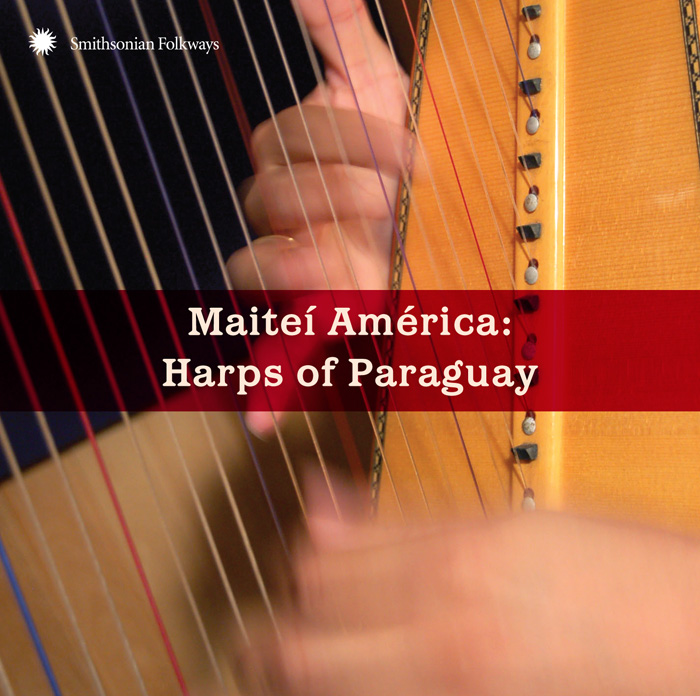 Paraguayan harp music is unique, and stands out as a favorite for harpists the world over-not least for its driving rhythms, compelling melodies and rich ornamentation. "Greetings, America," Maiteí América in the Guaraní Indian language, boasts three generations of Paraguay's best harpists spinning out classic compositions steeped in over four centuries of history. The preeminent, tradition-hewn polca paraguaya musical form is infused with intensely fresh, mind-opening improvisations by master musicians Nicolás Caballero, Martín Portillo, Marcelo Rojas, Miguel Ángel Valdez, and Kike Pedersen. 68 minutes, 20 tracks, 44-page booklet with extensive bilingual notes and photographs.

La música de arpa del Paraguay es única y sobresale como favorita entre arpistas de todo el mundo, no solo por sus ritmos y melodías emotivas sino por su rica instrumentación. Maiteí América (Saludos Ámerica en Guaraní) resalta tres generaciones de los mejores ejecutantes de arpa del Paraguay, interpretando sus versiones a composiciones clásicas con más de IV siglos de historia. La tradición precursora de las formas musicales de la polca paraguaya es incorporada con frescura e improvisación novedosa por los músicos y maestros Nicolás Caballero, Martín Portillo, Marcelo Rojas, Miguel Ángel Valdez, y Kike Pedersen. 68 minutos, 20 pistas, librito con 44 páginas de notas y fotografías en inglés y en español.

RELATED VIDEOS


Harpists Martin Portillo and Marcelo Rojas perform a "dueling harp" version of the classic "Pájaro campana"
Oscar Maldonado discusses harp construction while Marcelo Rojas and Nicolás Caballero perform



FREE DOWNLOAD


Please enjoy as our gift a free download of the traditional polca Paraguarí performed by Marcelo Rojas (harp) joined by Alfredo Gryciuk (guitar) and Ariel Burgos (bass).
Track Listing
| | | | | |
| --- | --- | --- | --- | --- |
| 101 | Llegada (Arrival) | Marcelo Rojas, Alfredo Gryciuk, Ariel Burgos | 3:40 | |
| 102 | Piririta (Piririta) | Martín Portillo, Alejo Benítez, Ariel Burgos | 3:57 | |
| 103 | Isla Saká (Saká Island) | Marcelo Rojas, Alfredo Gryciuk, Ariel Burgos | 3:25 | |
| 104 | Cajita de arpa / El Sueño de Angelita (Little Harp Music Box / Angelita Dreaming) | Martín Portillo, Alejo Benítez, Ariel Burgos | 2:56 | |
| 105 | Ykuá Potrero (Ykuá Potrero) | Miguel Ángel Valdez, Víctor Carlos, José José | 2:09 | |
| 106 | Tres de mayo (The Third of May) | Marcelo Rojas, Alfredo Gryciuk, Ariel Burgos | 3:07 | |
| 107 | Tren lechero (The Milk Train) | Nicolás Caballero, Ariel Burgos | 4:39 | |
| 108 | Jeroky popó (Vivacious Dance) | Martín Portillo, Alejo Benítez, Ariel Burgos | 2:35 | |
| 109 | Pájaro campana (The Bell Bird) | Martín Portillo, Marcelo Rojas, Alfredo Gryciuk, Ariel Burgos | 4:02 | |
| 110 | Caturí Abente (Caturí Abente) | Marcelo Rojas, Alfredo Gryciuk, Ariel Burgos | 3:04 | |
| 111 | Coronel Martínez (Coronel Martínez) | Martín Portillo, Alejo Benítez, Ariel Burgos | 2:52 | |
| 112 | Paraguarí (Paraguarí) | Marcelo Rojas, Alfredo Gryciuk, Ariel Burgos | 2:40 | |
| 113 | Ángela Rosa (Ángela Rosa) | Martín Portillo, Alejo Benítez, Ariel Burgos | 3:00 | |
| 114 | Unión (Unión) | Nicolás Caballero, Sebastián Ortíz | 2:45 | |
| 115 | Ykuá Satĩ (Ykuá Satĩ ) | Miguel Ángel Valdez, "Víctor Carlos" Yrala, "José José" Gayoso | 2:55 | |
| 116 | Maiteí América (Greetings, America) | Kike Pedersen, Alejo Benítez, Ariel Burgos | 3:39 | |
| 117 | Carretaguy (Under the Cart) | Marcelo Rojas, Alfredo Gryciuk, Ariel Burgos | 3:01 | |
| 118 | Cascada (Waterfall) | Nicolás Caballero, Ariel Burgos | 7:07 | |
| 119 | El boyerito (The Little Oxcart Driver) | Martín Portillo, Alejo Benítez, Ariel Burgos | 3:04 | |
| 120 | Recuerdos de Ypacaraí / Mis noches sin ti (Memories of Ypacaraí / My Nights Without You) | Nicolás Caballero, Ariel Burgos | 3:58 | |