Mariachi Los Camperos de Nati Cano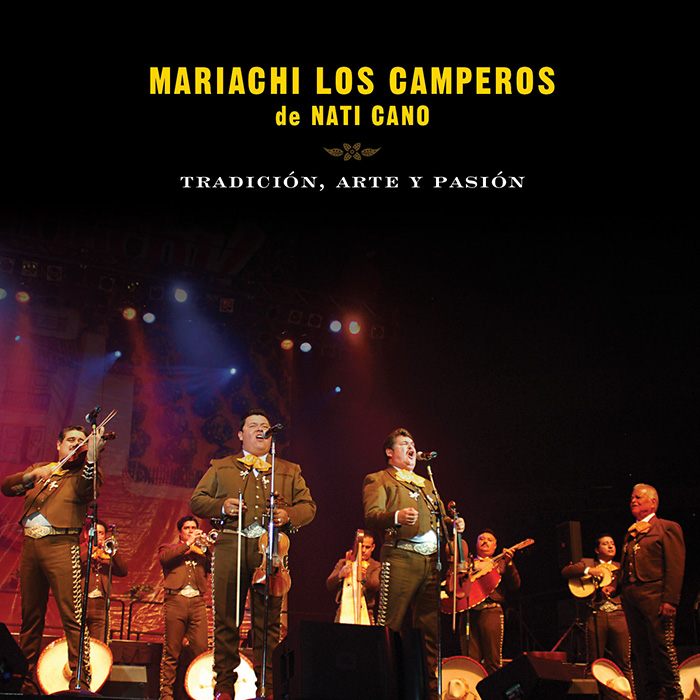 Grounded in tradition, shaped by artistry, and fueled by passion, Grammy-winning Mariachi Los Camperos de Nati Cano made its name by taking its music to a new realm of creativity and audience engagement. Their fifth Smithsonian Folkways title, Tradición, Arte y Pasión drinks from the well of the expansive "golden age" of mariachi music in the 1940s and 1950s to artfully conjure a sound as fresh and contemporary today as it was then. New, yet old, and exploiting the broad, sonorous palette of mariachi instrumentation, the album reflects Cano's musical approach: "love, dedication, discipline, pride—and be aggressive." Further, the album pays tribute to mariachi legend and group founder Nati Cano, who passed away in late 2014. 39 minutes, 36-page booklet with bilingual notes and photos.
This album is the 42nd in the Smithsonian Folkways Tradiciones/Traditions Series of Latino music albums, produced with support from the Smithsonian Latino Center.
EN ESPAÑOL
Fundamentado en la tradición, formado por arte y alimentado por la pasión, el ganador de Grammy Mariachi Los Camperos de Nati Cano hizo su nombre mediante la adaptación de su música a un nuevo ámbito de la creatividad y compromiso con el público. Su quinto título de Smithsonian Folkways, Tradición, Arte y Pasión, tomó del pozo de la expansiva "edad de oro" de la música de mariachi en los años 1940 y 1950 para conjurar ingeniosamente un sonido hoy tan fresco y contemporáneo como lo era entonces. Nuevo, aunque de edad, y explotando la amplia paleta sonora de la instrumentación del mariachi, el álbum refleja el enfoque musical de Cano: "El amor, dedicación, disciplina, orgullo?y ser agresivo." Además, el álbum rinde homenaje a la leyenda del mariachi y fundador del grupo Nati Cano, quien falleció en Octubre de 2014." 39 minutos, folleto de 36 páginas con notas bilingües y fotos.
Este álbum es el número 42 de la serie de Folkways Tradiciones/Traditions de álbumes de música latina, producidos con el apoyo del Smithsonian Latino Center.
FREE DOWNLOAD
Please enjoy a free download of "El súchil (The Marigold)"
Track Listing