The Sounds of Mariachi: Lessons in Mariachi Performance (DVD)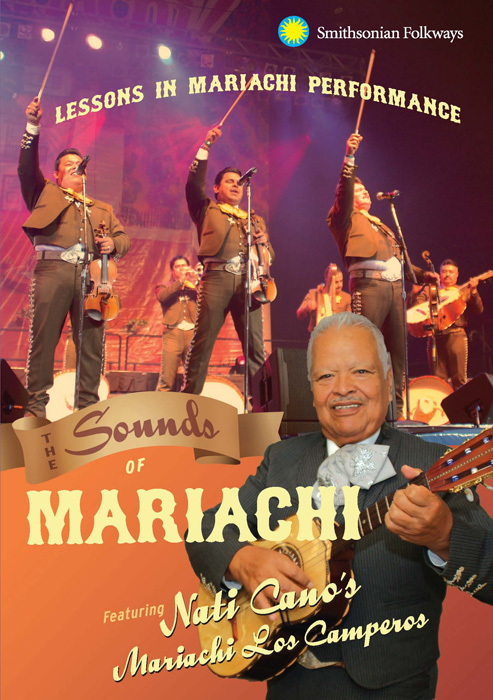 The Sounds of Mariachi: Lessons in Mariachi Performance offers essential lessons in Mexican mariachi performance, given by accomplished, articulate, foremost musicians and educators. American national treasure Nati Cano, honored with the National Endowment for the Arts National Heritage award, takes us to the core of the unique mariachi musical style, just as he has done for thousands of students in hundreds of mariachi school programs across America. Cano, his Grammy-endowed Mariachi Los Camperos, and its music director Jesús "Chuy" Guzmán join female mariachi pioneer Rebecca Gonzales, award-winning educator Mark Fogelquist, and talented students in this collection of mariachi performances and instruction. This master class for teachers and students of all levels offers pointers in ensemble playing, fundaments of mariachi trumpet, violin, vihuela, and guitarrón technique, and insights to key musical genres including son, huapango, ranchera, and bolero. Bonus videos of a third-generation guitar maker, a family guitar string factory, a traje de charro suit tailor, and a mariachi specialty shop round out the world of the accomplished mariachi musician.
Total running time approximately 150 minutes
EN ESPAÑOL
Los sonidos del Mariachi: Lecciones de la interpretación del Mariachi ofrece lecciones esenciales sobre la interpretación del mariachi mexicano, a cargo de los más consumados, articulados y destacados músicos y educadores. El tesoro nacional americano Nati Cano, honrado con el Premio Nacional del Patrimonio del Fondo Nacional para las Artes, nos lleva al corazón del singular estilo de música mariachi, tal como lo ha hecho para miles de estudiantes en cientos de programas escolares de mariachi alrededor de América. Al Mariachi Los Camperos de Cano le fue otorgado el GRAMMY y su director musical Jesús "Chuy" Guzmán se ha unido a la pionera mariachi femenina Rebecca Gonzales, educador premiado Mark Fogelquist, y a estudiantes talentosos en esta colección de interpretaciones e instrucciones del mariachi. Esta clase magistral para profesores y estudiantes de todos los niveles, ofrece indicaciones para actuaciones en conjunto, fundamentos de trompeta, violín, vihuela y técnica del guitarrón de mariachi y conocimientos sobre géneros musicales claves incluídos el son, el huapango, la ranchera y el bolero. Videos extra de la tercera generación de fabricantes de guitarra, una fábrica familiar de cuerda de guitarra, la confección de un traje de charro y una tienda especializada de mariachi completan el mundo de los músicos mariachis consumados.
Total aproximado de tiempo 150 minutos.
SAMPLE VIDEO
From Chapter 3: Play bolero mariachi style

RELATED VIDEOS
Mariachi Los Camperos perform "México Lindo"
Nati Cano on what makes a good mariachi