Pakistan: The Music of the Qawal
Various Artists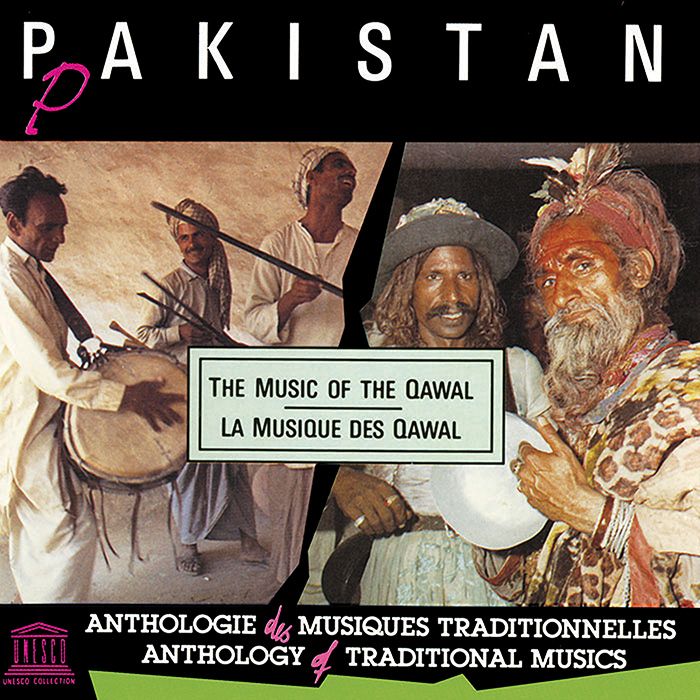 Qawwali is a form of Sufi devotional music popular in the northern regions of present-day Pakistan and India. Although it is thought to have originated in Persia, present-day Iran, and Afghanistan, the form of qawwali performed in this 1977 recording probably dates from the Mughal Empire (approximately 1526–1857) in the Indian subcontinent. Qawwali music became popular in the 20th century through the recordings of Pakistani singer Nusrat Fateh Ali Khan. Other 20th-century performers include Aziz Mian and the Sabri Brothers.
The songs in this recording are performed by an ensemble of ten musicians led by Haji Ghulam Farid Sabri and four of his brothers. The singer/musicians accompany themselves on harmonium (small, hand-pumped, portable organs), flute, tanpura (a long-necked plucked string instrument), and various percussive instruments. The four songs are poems sung in their native Urdu language. The first song describes the anguish of man faced with ever-present death. Two poems, both titled "Nat Sharif," are sung in praise of the Prophet Mohammad, and "Hamd" is a Sufi poem set to music by Hadji Maqbul Ahmed Sabri.
FREE DOWNLOAD
Please enjoy a free download of the song "Nât Sharîf"
This album is part of the UNESCO Collection of Traditional Music. More than 125 albums are being released by Smithsonian Folkways Recordings to make the series publicly available, including a dozen never-released albums of musical traditions from around the globe.
Track Listing