On My Journey: Paul Robeson's Independent Recordings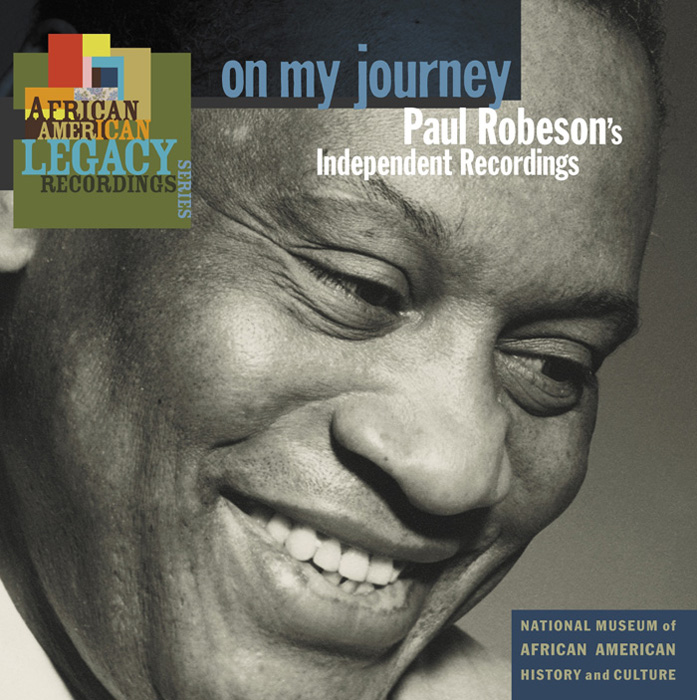 An American giant of 20th-century music, Paul Robeson stood tall against racism, McCarthyism, and blacklisting to proclaim the majesty of African-American culture. Recorded on his own Othello label in the 1950s, Robeson's voice rings out with traditional spirituals and folk melodies from around the globe inspiring international audiences to embrace him as the people's bard of faith, hope, and freedom. 34-page booklet, historic photos, 74 minutes.

This recording is part of the Smithsonian Folkways African American Legacy series, co-presented with the Smithsonian National Museum of African American History and Culture.
Track Listing
| | | | | |
| --- | --- | --- | --- | --- |
| 101 | On My Journey: Mount Zion | P. Robeson, A. Booth | 2:20 | |
| 102 | Scandalize My Name | P. Robeson, A. Booth | 1:59 | |
| 103 | Didn't My Lord Deliver Daniel? | P. Robeson, A. Booth | 1:21 | |
| 104 | Hassidic Chant: Kaddish | P. Robeson, A. Booth | 2:38 | |
| 105 | We Are Climbing Jacob's Ladder | P. Robeson, A. Booth | 2:57 | |
| 106 | Songs My Mother Taught Me | P. Robeson, A. Booth | 2:05 | |
| 107 | The Minstrel Boy | P. Robeson, A. Booth | 1:58 | |
| 108 | The Orphan | P. Robeson, A. Booth | 1:36 | |
| 109 | Swing Low, Sweet Chariot | P. Robeson, A. Booth | 2:08 | |
| 110 | Vi Azoi Lebt der Keyser Keyser (How Lives the Czar) | P. Robeson, Lawrence Brown | 3:12 | |
| 111 | Witness | P. Robeson, Lawrence Brown | 2:11 | |
| 112 | Hammer Song | P. Robeson, Sonny Terry, B. McGhee | 2:05 | |
| 113 | Water Me from the Lime Rock | P. Robeson, A. Booth | 1:36 | |
| 114 | Let Us Break Bread Together on Our Knees | P. Robeson, Judith Rosen | 1:58 | |
| 115 | Amazing Grace | P. Robeson, A. Booth | 3:32 | |
| 116 | Shlof, Mein Kind (Sleep, My Child) | P. Robeson, A. Booth | 3:04 | |
| 117 | Skye Boat Song | P. Robeson, A. Booth | 2:11 | |
| 118 | Wanderer | P. Robeson, A. Booth | 2:23 | |
| 119 | I'm Gonna Let It Shine | P. Robeson, Judith Rosen | 2:29 | |
| 120 | Stand Still Jordan | P. Robeson, A. Booth | 3:17 | |
| 121 | Takin' Names | P. Robeson, A. Booth | 2:30 | |
| 122 | Dans le Printemps de Mes Années ( In the Springtime of My Years) | P. Robeson, A. Booth | 1:30 | |
| 123 | Passing By | P. Robeson, A. Booth | 1:51 | |
| 124 | Mistress Mine | P. Robeson, A. Booth | 1:40 | |
| 125 | Now Sleeps the Crimson Petal | P. Robeson, A. Booth | 2:03 | |
| 126 | Li'l Gal | P. Robeson, A. Booth | 2:45 | |
| 127 | Kevin Barry | P. Robeson, A. Booth | 2:11 | |
| 128 | Zot Nit Keynmol (Song of the Warsaw Ghetto) | P. Robeson, A. Booth | 2:02 | |
| 129 | Joe Hill | P. Robeson, A. Booth | 3:00 | |
| 130 | Zvornost | P. Robeson, A. Booth | 2:12 | |
| 131 | Bear the Burden in the Heat of the Day | P. Robeson, A. Booth | 3:16 | |
| 132 | No More Auction Block for Me | P. Robeson, A. Booth | 2:11 | |