Various Artists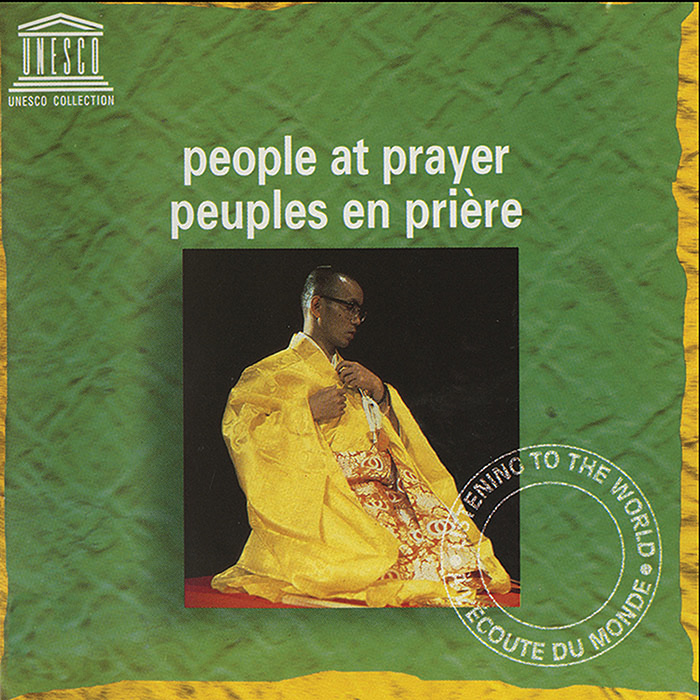 People at Prayer is a 24-song collection of religious ritual, meditation, and devotion. Drawn from the UNESCO Collection of Traditional Music, the selections come from around the world and feature a vast diversity of expression. In addition to songs and prayers from Christian churches, Islamic tradition, and Buddhist ritual, you can hear a ceremony of the Tepehuanes of Mexico, an Aka Pygmy invocation from the Central African Republic, a ceremony performed by the orchestra of the Cambodian Royal Palace, a bhajan (devotional song) sung by a wandering Hindu sadhu (holy man), and a hymn from the Oceania island republic Vanuatu. Liner notes provide an English translation of each title, as well as a brief history for each track.
FREE DOWNLOAD
Please enjoy a free download of the song "Corsica: Sanctus" by Cantarini di Rusiu
This album is part of the UNESCO Collection of Traditional Music. More than 125 albums are being released by Smithsonian Folkways Recordings to make the series publicly available, including a dozen never-released albums of musical traditions from around the globe.
Track Listing
| | | | | |
| --- | --- | --- | --- | --- |
| 101 | Russia: The King of Heaven | The Choir of the Dormition Church of the Novodevichy Convent | 2:23 | |
| 102 | Turkey: Saz Semaï in Makam Usshak (extract) | Kudsi Erguner, Pascal Quesnel, Nourredine Agoumi | 3:24 | |
| 103 | Syrian Orthodox Church: Takhshifto, Sixth Mode (Shtithoyo, extract) | Syrian Orthodox Church | 4:15 | |
| 104 | Syria: Islamic Ritual Zikr (extract) | Rifa'iyya Brotherhood of Aleppo | 3:08 | |
| 105 | Yemen: Tahwîda and Khuwaîb (extract) | Salim Rijab al-Tahhan | 3:13 | |
| 106 | Afghanistan (Herat): Na't | Sufi Abu Bakr | 3:37 | |
| 107 | India: Bhajana | Devdas Raukatse (wandering Sadhu) | 4:26 | |
| 108 | Tibet: Invocation to the Goddess Yeshiki Mamo, part I (extract) | The Lamas of the Nyingmapa Monastery of Dehra Dun | 1:45 | |
| 109 | Cambodia: Pey Kêo | Orchestra of the Royal Palace | 2:46 | |
| 110 | Laos: Pheng Phi Fa (extract) | Phu Thao Tène, Thao Seng, Thao Bunkeud | 5:04 | |
| 111 | Japan: Dai Hannya Tendoku E (extract) | The Buzan Division of the Shingon Sect | 1:13 | |
| 112 | Bali: Pendet | Gong Kebyar of Peliatan | 4:40 | |
| 113 | Solomon Islands: Uunu | n/a | 2:49 | |
| 114 | Vanuatu: Hymn No. 77 | n/a | 3:46 | |
| 115 | Brazil: Roia Kurireu (extract) | The Bororo people | 1:46 | |
| 116 | Chile: Song of the Alféreces and Dances of the Chinos | Guillermo Villalon, Oscar Villaon Vicencio | 2:06 | |
| 117 | Mexico: La Susana | Tepehuanes | 3:07 | |
| 118 | Cuba: Cantos de Altar | n/a | 4:02 | |
| 119 | Madagascar: Zanaka Tromba (extract) | Paul Bert and son | 3:11 | |
| 120 | Central African Republic: Mombimbi (extract) | n/a | 2:51 | |
| 121 | Côte D'Ivoire: Music of a Guardian Spirit | Sakasso village | 3:55 | |
| 122 | Portugal: Misericordia, Meu Deus | n/a | 1:25 | |
| 123 | Corsica: Sanctus (extract of the Mass dedicated to the Blessed Virgin Mary) | Cantarini di Rusiu | 1:56 | |
| 124 | Sicily: Gloria | C. Genco, G. Genco, M. Lombardo, P. Mendola, G. Milazzo, G. Pace, A. Randazzo, C. Randazzo, R. Randazzo | 3:10 | |