How to Play the 5-String Banjo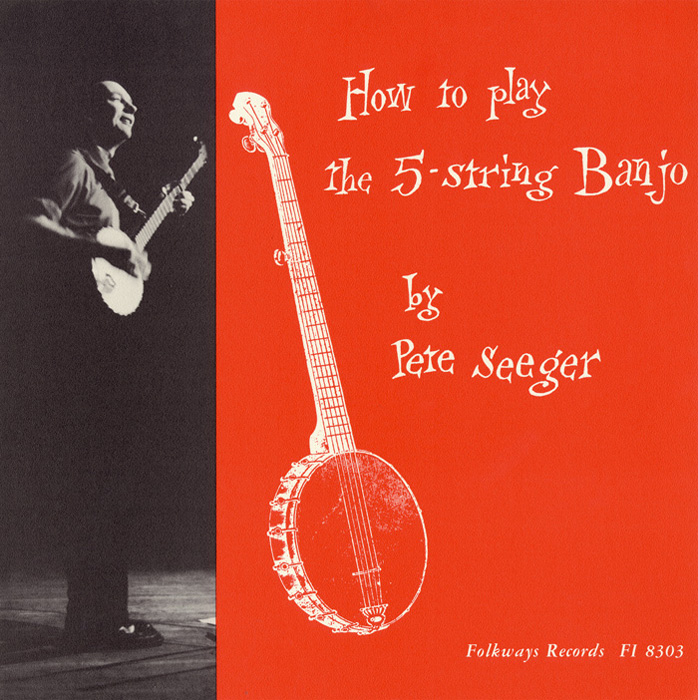 Pete Seeger (1919–2014) was a national treasure who had a long and exceptional career as a folk singer and social activist. Overall, he appears on (or is otherwise associated with) an astonishing total of 123 Smithsonian Folkways recordings.
In 1948, Seeger wrote a manual entitled How to Play the 5-String Banjo (originally self-published, the third edition was reprinted in 2013). Then, in 1954, Seeger recorded an instructional album on playing a 5-string banjo. The manual and the recording have influenced aspiring banjo players for generations.
On the album Seeger explains and provides examples of basic tunings, strums, and techniques such as "hammering on" and "pulling off" and other aspects of playing. He covers the basics of a variety of styles, including "frailing," 3-finger, blues, jazz, Spanish flamenco, and Latin American rumba styles.
Liner notes provide background information, a complete transcript, and musical notation.
Track Listing
| | | | | |
| --- | --- | --- | --- | --- |
| 101 | A Basic Strum | Pete Seeger | 1:09 | |
| 102 | Now with the left hand | Pete Seeger | 0:22 | |
| 103 | Now with the index finger | Pete Seeger | 0:56 | |
| 104 | The Fifth String | Pete Seeger | 0:43 | |
| 105 | Now take that same song | Pete Seeger | 0:25 | |
| 106 | Hammering On | Pete Seeger | 1:16 | |
| 107 | Here's a little bit of the | Pete Seeger | 0:21 | |
| 108 | Pulling Off | Pete Seeger | 1:10 | |
| 109 | Well, now, if you study the | Pete Seeger | 0:46 | |
| 110 | Double Thumbing | Pete Seeger | 0:49 | |
| 111 | Now, for just one more time | Pete Seeger | 0:23 | |
| 112 | Now, not all songs, alfterall | Pete Seeger | 0:55 | |
| 113 | Here's the song. 'Hard Ain't It Hard' | Pete Seeger | 0:28 | |
| 114 | Frailing | Pete Seeger | 0:59 | |
| 115 | In the G tuning, you might try | Pete Seeger | 1:02 | |
| 116 | Now, frailing is the best way | Pete Seeger | 0:50 | |
| 117 | Three-Finger Picking | Pete Seeger | 1:14 | |
| 118 | Here's another devleopment of | Pete Seeger | 1:01 | |
| 119 | Here's the song, "Cindy" | Pete Seeger | 0:21 | |
| 120 | A Loud Strum | Pete Seeger | 0:55 | |
| 121 | Here is a variation of the above | Pete Seeger | 0:48 | |
| 122 | Three Micscellaneous Postscripts | Pete Seeger | 1:06 | |
| 123 | If you ever want to play a | Pete Seeger | 0:46 | |
| 124 | A roll is a special banjo effect | Pete Seeger | 0:24 | |
| 125 | 3/4 and 6/8 Time | Pete Seeger | 0:57 | |
| 126 | Using this method, and a little | Pete Seeger | 0:26 | |
| 127 | For a more sustained effect | Pete Seeger | 1:37 | |
| 128 | Incidentally, this type of | Pete Seeger | 1:13 | |
| 129 | Now 6/8 time is the same | Pete Seeger | 1:05 | |
| 130 | Blues and Jazz | Pete Seeger | 1:04 | |
| 131 | Another common blues guitar | Pete Seeger | 0:38 | |
| 132 | Here's a sample blues passage | Pete Seeger | 0:28 | |
| 133 | Spanish and South American Guitar Techniques | Pete Seeger | 0:50 | |
| 134 | Here's one way to get a rhumba | Pete Seeger | 0:55 | |
| 136 | Here's still another way of | Pete Seeger | 1:36 | |
| 137 | This last pattern can be | Pete Seeger | 1:00 | |