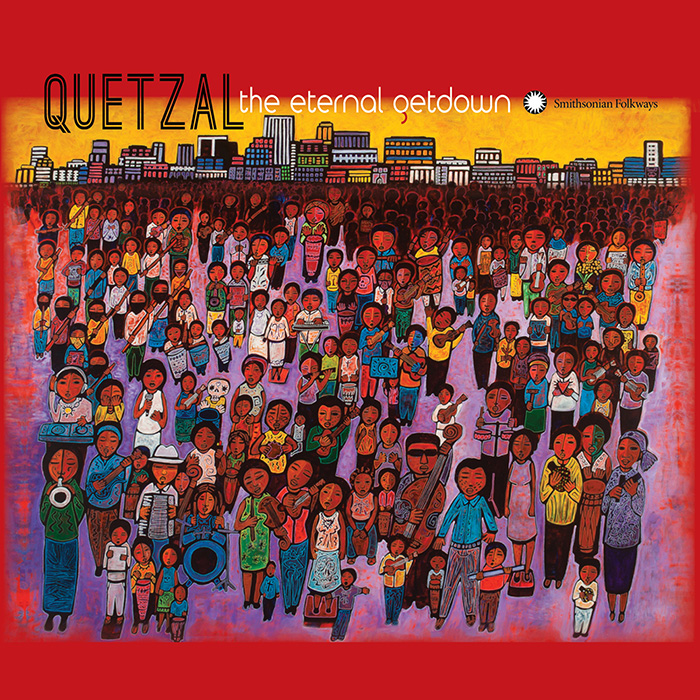 The GRAMMY-winning East L.A. band Quetzal summons a powerful panoply of sounds from its urban palette – rock, R&B, Mexican son jarocho, Japanese taiko, Afro-Cuban batá, and more – to create an ambitious, artful album with a social point of view. The Eternal Getdown, their seventh album, taps Quetzal's extended family of artists, including Aloe Blacc, to affirm the power of music and people to "get down" together in creative harmony. 77 minutes, 44-page bilingual booklet.
This album is the 46th in the Smithsonian Folkways Tradiciones/Traditions Series of Latino music albums, produced with support from the Smithsonian Latino Center.
EN ESPAÑOL
El grupo Quetzal del Este de Los Ángeles y ganador del Grammy convoca una panoplia ponderosa de sonidos de su paleta urbana—rock, R&B, son jarocho mexicano, taiko japonés, batá afrocubano, y más—para crear un álbum ambicioso e ingenioso con un punto de vista social. The Eternal Getdown, su séptimo álbum, aprovecha la familia extendida de artistas de Quetzal, incluyendo a Aloe Blacc, para afirmar el poder de la música y del pueblo para comprometerse juntos en armonía creativa. 77 minutos, folleto bilingüe de 44 páginas.
Este álbum es el número 46  de la serie de Folkways Tradiciones/Traditions de álbumes de música latina, producidos con el apoyo del Smithsonian Latino Center.
RELATED VIDEO
"Get to Knowing" by Quetzal
Track Listing