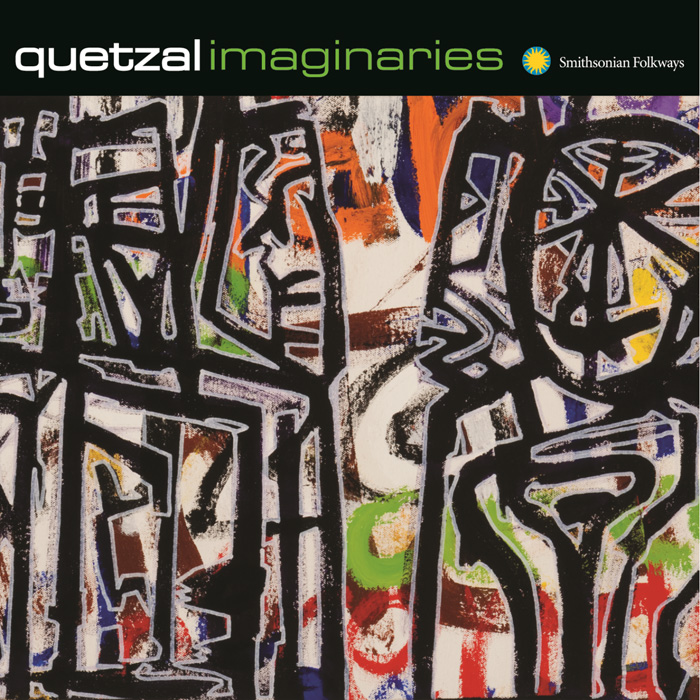 The music of Quetzal is at once visceral and intellectual. It makes you move, it makes you sing, and it makes you think. Sometimes thought of as a rock band, its members draw from a much larger web of musical, cultural, and social engagement. On Imaginaries, they creatively combine shades of East L.A.'s soundscape, traditional son jarocho of Veracruz, salsa, R&B, and more to express the political and social struggle for self-determination and self-representation, which ultimately is a struggle for dignity. 12 tracks, 55 minutes, 40-page booklet with bilingual notes.
This album is part of the Smithsonian Folkways Tradiciones/Traditions series of Latino music albums, produced with support by the Smithsonian Latino Center.
EN ESPAÑOL
La música de Quetzal es a la vez visceral e intelectual. Te hace mover, te hace cantar y te hace pensar. A veces son como una banda de rock, pero sus miembros sacan de una red mucho más amplia de la participación musical, cultural y social. En Imaginaries, combinan las tonalidades del paisaje sonoro de East LA, tradicional son jarocho de Veracruz, salsa, R & B, y más para expresar la lucha política y social para la auto-determinación y auto-representación, que en definitiva es una lucha por la dignidad. 12 canciones, 55 minutos, de 40 páginas con notas bilingües.
FREE DOWNLOAD
Please enjoy a free download of "Imaginaries"
RELATED VIDEOS
"Estoy aqui (I Am Here)"
"Imaginaries"
"Todo Lo Que Tengo (All That I Have)"
Track Listing