¡Canta con Venezuela! Sing with Venezuela!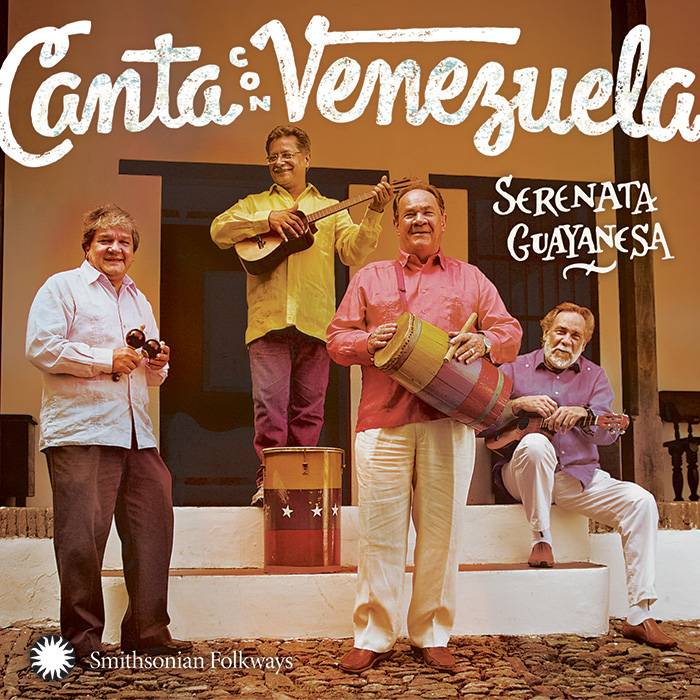 Serenata Guayanesa is a musical ensemble, but much more - it is a living treasure of Venezuela's musical and cultural heritage. Founded in 1971 in Guayana, the southeastern region along the Orinoco River, by four college students who liked to serenade family and friends, the group swiftly rose to national acclaim through its pioneering interpretations of music in many different styles of folk music from across Venezuela. Join these masters of folk song performance, and ¡Canta con Venezuela! Sing with Venezuela! 64 minutes, 40 page booklet with bilingual notes and photos.
This album is part of the Smithsonian Folkways Tradiciones/Traditions Series of Latino music albums, produced with support by the Smithsonian Latino Center.
EN ESPAÑOL
Serenata Guayanesa es mucho más que un conjunto musical: es un tesoro vivo del patrimonio musical y cultural de Venezuela. Fundada en 1971 en Guayana, la región del sudeste que colinda el río Orinoco, por cuatro estudiantes universitarios que le gustaba dar serenatas a familiares y amigos. El grupo fue reconocido rápidamente recibiendo la aclamación nacional gracias a sus interpretaciones musicales, pioneras en diferentes estilos del folclor musical a través de Venezuela. Únete a estos maestros de la canción popular, y ¡Canta con Venezuela! Sing with Venezuela! 64 minutos, folleto de 40 páginas con fotos y notas bilingües.
FREE DOWNLOAD
Please enjoy a free download of "Calipso de El Callao"
| | | |
| --- | --- | --- |
| Calipso de El Callao – Calipso of El Callao (calipso) | MP3 | FLAC |
RELATED VIDEO
Serenata Guayanesa - "Simón, Simón"
Serenata Guayanesa - "Desesperanza" (Despair)
Track Listing