Smithsonian Folkways Anthology Collection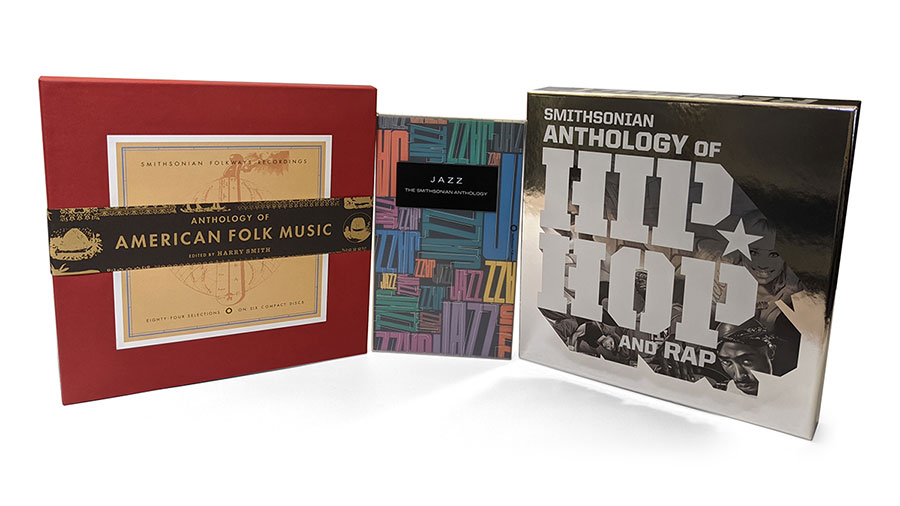 For a limited time, purchase all three Anthology collections from Smithsonian Folkways together for extra savings! The iconic Anthology of American Folk Music, Jazz: The Smithsonian Anthology, and the Smithsonian Anthology of Hip-Hop and Rap are each defining collections documenting the development, influence, and incredible breadth of each of these uniquely American traditions. Each come with extensive liner notes with track annotations written by notable musicians, scholars, and journalists. Details on each Anthology are below.
The Anthology of American Folk Music, edited by Harry Smith (1923–1991), is one of the most influential releases in the history of recorded sound. Originally issued by Folkways Records in 1952, the Anthology brought virtually unknown parts of America's musical landscape recorded in the late 1920s and early 1930s to the public's attention. For more than half a century, the collection has profoundly influenced fans, ethnomusicologists, music historians, and cultural critics; it has inspired generations of popular musicians, including Bob Dylan, Joan Baez, Jerry Garcia, and countless others. Many of the songs included in the Anthology have now become classics, as has Harry Smith's unique "scientific/aesthetic handbook" of song notes and drawings. Reissued by Smithsonian Folkways Recordings in 1997, this deluxe 6-CD collector's boxed set contains a 96-page book featuring Harry Smith's original liner notes and essays by Greil Marcus and other noted writers, musicians, and scholars.
Jazz: The Smithsonian Anthology, a 111-track, 6-CD, 200-page compendium of the great American musical invention, traces the turning points of this 20th-century tale through its legendary innovators and notable styles. The great American musical invention of the 20th century, jazz is an ever-youthful, still evolving music of beauty, sensitivity, and brilliance that has produced (and been produced by) an extraordinary progression of talented artists.
The Smithsonian Anthology of Hip-Hop and Rap is a first-of-its-kind multimedia collection chronicling the growth of the music and culture from the parks of the Bronx to solidifying a reach that spans the globe. The set includes 129 tracks on 9 CDs and a 300–page book with original design by Cey Adams, artist and founding creative director of Def Jam Recordings, as well as essays by some of hip-hop's leading writers and critics and hundreds of photographs spanning decades of history. Through the music, writing, and extensive liner notes, the Anthology reveals the many trends within this multifaceted genre, its social and political implications, and its influence on popular culture.