Various Artists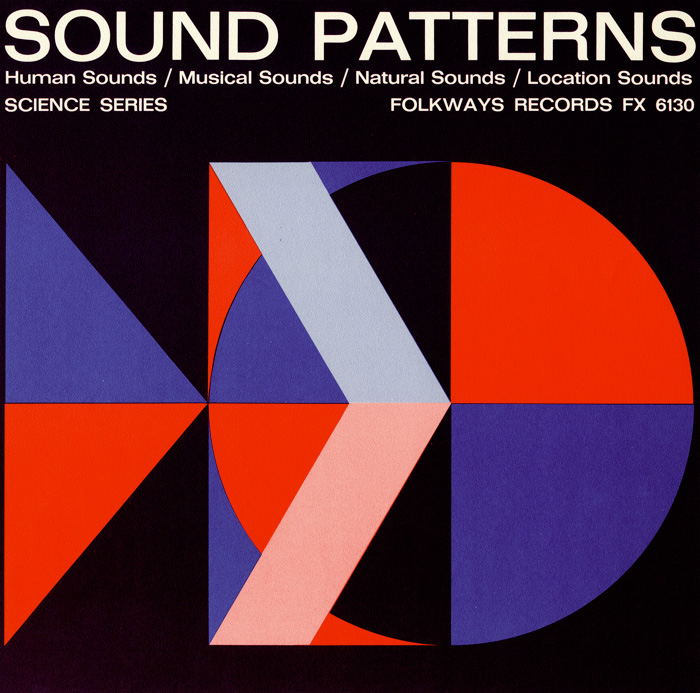 As part of a Folkways Record science series, this compilation is divided into four sections: Natural, Musical, Location and Manmade Sounds. Recorded in 1953, the collection was considered a departure from other similar material: "Like photography and art "annuals," each issue will include the most unusual — and most common — sounds that exist; and through aural interplay, Folkways hopes to be able to establish a mood not unlike that of seeing photographs and pictures." The variety of sounds in this compilation, from birds to cars, paints a vivid image of a very diverse and wondrous world. Liner notes include detailed information of the sounds.
EN ESPAÑOL
Como parte de una serie sobre ciencia elaborada por Folkways Record, esta compilación se divide en cuatro secciones: natural, musical, ubicación y sonidos artificiales. Grabada en 1953, la colección fue considerada como un punto de partida de otro material similar: "como fotografía y arte", los anuarios "cada edición incluirán los sonidos más inusuales -y más comunes- que existen; a través de la interacción sonora, Folkways quiere demostrar un modo no muy diferente de ver las fotografías e imagenes".
La variedad de sonidos en esta compilación, va de las aves a los coches, pinta una imagen vívida de un mundo muy diverso y maravilloso. Las notas internas incluyen información detallada de los sonidos.
Track Listing
| | | | | |
| --- | --- | --- | --- | --- |
| 101 | Natural Sounds - Wood Thrush, Natural Speed | n/a | 0:24 | |
| 102 | Natural Sounds - Wood Thrush, Slowed Down to 1/2 Speed | n/a | 0:30 | |
| 103 | Natural Sounds - Wood Thrush, Slowed Down to 1/4 Speed | n/a | 0:58 | |
| 104 | Natural Sounds - Crickets (Airplane Motor in Background), Natural Speed | n/a | 0:26 | |
| 105 | Natural Sounds - Crickets, Slowed Down to 1/2 Speed | n/a | 0:40 | |
| 106 | Natural Sounds - Crickets, Slowed Down to 1/4 Speed | n/a | 0:54 | |
| 107 | Natural Sounds - Crickets, Slowed Down to 1/8 Speed | n/a | 1:09 | |
| 108 | Natural Sounds - Thunder Storm (with Toad and Bird) | n/a | 1:38 | |
| 109 | Natural Sounds - Alligator Chorus (American and One Asiatic) | n/a | 1:00 | |
| 110 | Natural Sounds - Two Lions (Atlanta, Ga. Zoo) | n/a | 0:29 | |
| 111 | Natural Sounds - Monkey (Happy) | n/a | 0:51 | |
| 112 | Natural Sounds - Monkey (Same Monkey, Angry) | n/a | 0:34 | |
| 113 | Natural Sounds - Tortoise Mating Call | n/a | 1:53 | |
| 114 | Musical Sounds - Musicians Tuning-Up | n/a | 0:55 | |
| 115 | Human Sounds - Animal Imitations by an Eskimo | n/a | 2:06 | |
| 116 | Human Sounds - Heartbeats | n/a | 0:34 | |
| 201 | Location Sounds - Chorcha, Honduras | n/a | 1:06 | |
| 202 | Location Sounds - Talking Drums, African | n/a | 1:20 | |
| 203 | Location Sounds - Taxi Trip, through Traffic to Airport | n/a | 2:05 | |
| 204 | Location Sounds - Street Cries, N.Y.C. Lineman | n/a | 0:38 | |
| 205 | Location Sounds - Street Cries, N.Y.C. Gardenias! | n/a | 0:38 | |
| 206 | Location Sounds - Street Cries, Hot Dogs in Times Square | n/a | 0:51 | |
| 207 | Location Sounds - Street Cries, Charleston, S.C. Flower Vendor | n/a | 0:54 | |
| 208 | Location Sounds - Cow Ceremony in Yugoslavia | n/a | 0:54 | |
| 209 | Location Sounds - Dawn Chorus, East Africa | n/a | 1:23 | |
| 210 | Man Made Sounds - Jet Flight | n/a | 0:17 | |
| 211 | Man Made Sounds - Railroad to Atlantic City | n/a | 3:02 | |
| 212 | Man Made Sounds - Short Wave Radio | n/a | 3:31 | |
| 213 | Man Made Sounds - Pump Drill | n/a | 1:06 | |
| 214 | Man Made Sounds - Electronic Feedback, 7 1/2 Inches Tape | n/a | 1:26 | |
| 215 | Man Made Sounds - Electronic Feedback, 15 Inches Tape | n/a | 1:06 | |