Tajik Music of Badakhshan
Various Artists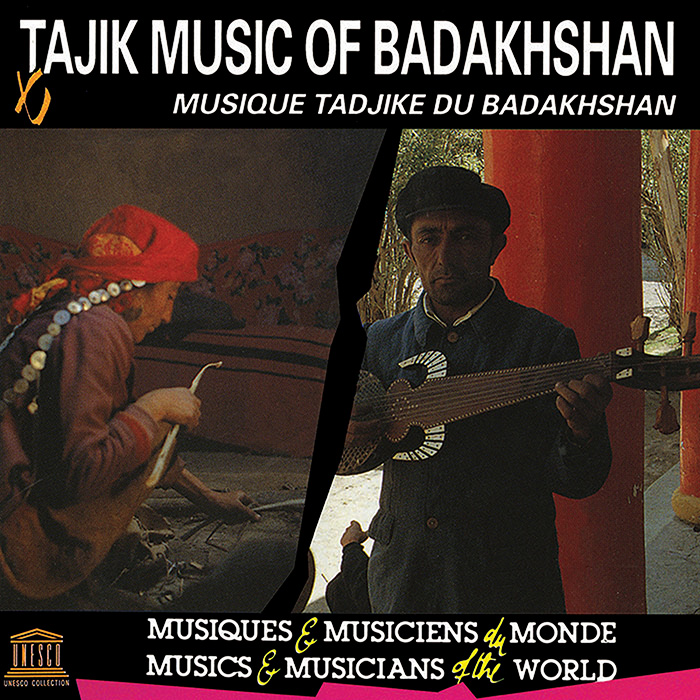 The traditional homelands of the Tajik people cover parts of modern-day Tajikistan, Afghanistan, and Uzbekistan. The Tajiks of the Badakhshân region of northeast Afghanistan and southwestern Tajikistan are Ismaili Muslims, and their particular religious faith has helped preserve their highly original musical forms.
The large setâr lute, the rebâb, and the tanbur feature prominently in Tajik Badakhshân music, and the musical pacing is generally slower and more meditative than that of the surrounding region. Other distinctive features include intricate rhythmic patterns as well as the use of the chromatic scale, which is rarely heard in Eastern music. The recordings on this album, made by ethnomusicologist Jean During, showcase a variety of song styles typical of the region, performed by master Tajik musicians.
FREE DOWNLOAD
Please enjoy a free download of the song "Wedding air and dance"
This album is part of the UNESCO Collection of Traditional Music. More than 125 albums are being released by Smithsonian Folkways Recordings to make the series publicly available again, including more than a dozen never-released albums of musical traditions from around the globe.
Track Listing
| | | | | |
| --- | --- | --- | --- | --- |
| 101 | Suite of songs from the Heydari and Setâyesh maqâm | The troupe of the Cultural Centre of Khârog | 6:49 | |
| 102 | A song (robâyât-i khalqi, popular quatrains) | The Rôshân troupe | 7:48 | |
| 103 | A series of lullabies: dardilik, lala'ik, dodo'ik and robâ'i | M. Tavalaev | 7:26 | |
| 104 | Falak song on the setâyesh rhythm | The troupe of Kh. Berdov (Khârog) | 6:18 | |
| 105 | Instrumental suite in three movements: Navâzesh, Sedâyi del, ancient air | The troupe of the Cultural Centre of Khârog | 7:04 | |
| 106 | Navâzesh-i Falak in three movements: falak, heydari, setâyesh | K. Karakhânov (Khârog) | 3:29 | |
| 107 | Bâd-i-Rôshân, a song in the Rôshân dialect | Manjigol Khojat and the male voice choir of the M. Minakov group | 2:50 | |
| 108 | Falak-i talqin | M. Tavalaev | 3:00 | |
| 109 | Mystic songs: Ode to Imam 'Ali (end of the poem) followed by another poem by Jâmi | T. Soltân-Qâlebov, S. Tavarov | 6:09 | |
| 110 | Monâjât, maqâm-i setâyesh, falak "khod sefid", lala'ik, dardilik | Kaladar Rahmatbekov (Khârog) | 8:36 | |
| 111 | Wedding air and dance, maqâm-I rapo'i dance | Mamad Aziz, Samin (Tashkorgan) | 2:29 | |
| 112 | Songs by the troupe of Ge wu tuan | The troupe of Ge wu tuan from Tashkorgan, Teyqun, Bâ namak | 2:53 | |
| 113 | Volvolakik, Tombak suz, Oynasin | Kanchi Bek, his wife and daughter | 4:54 | |
| 114 | Uyman tartur, Oyimcha, Takanja dandun nars | Kanchi Bek | 2:43 | |
| 115 | Shingan Gul, Oynasin, Tilumijun, Gulbate | Chupân Bey | 6:01 | |