Taquachito Nights: Conjunto Music from South Texas
Various Artists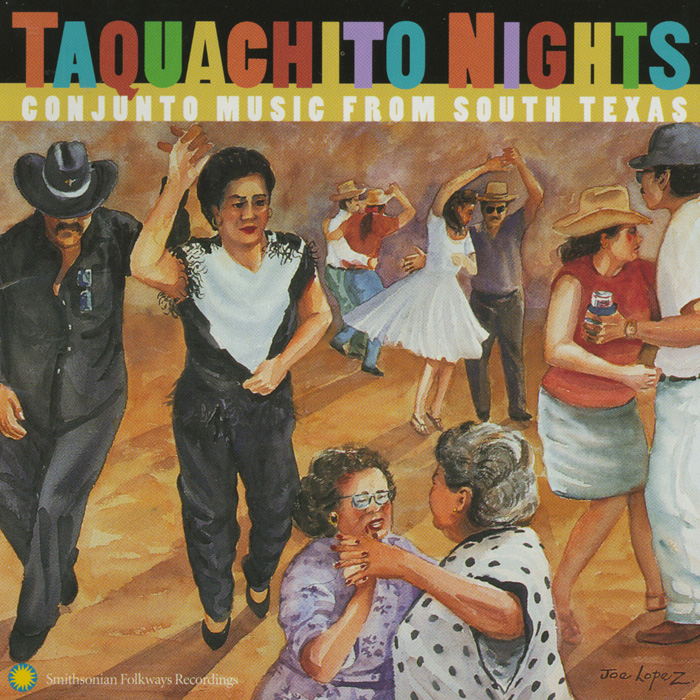 Recorded live at the 1998 16 de Septiembre Conjunto Festival of the Narcisco Martinez Cultural Arts Center in San Benito, Texas, these powerful recordings reveal the historical roots of conjunto and show new directions taken by some conjunto bands today. This lively dance music, played by some of conjunto's best-known performers, features accordions, bajo sexto and stirring vocals. 36-page booklet with English translations of Spanish song texts, photographs, maps. Produced in collaboration with the Narciso Martinez Cultural Arts Center, with the support of the Harlingen Area Chamber of Commerce.
LYRICS
Lyrics in Spanish available here
Esta vigorosa grabación, captada en vivo en 1998 durante el Dieciséis Festival del Conjunto del Centro Cultural para las Artes Narciso Martínez en San Benito, Texas, revela las raíces históricas del conjunto y muestran las nuevas tendencias de algunas bandas hoy en día. Esta enérgica música para bailar, tocada por algunos de los más conocidos intérpretes de conjunto, emplea acordeones, bajo sexto y vibrantes voces. Cuadernillo de 36 páginas, con traducciones de las letras al inglés, fotografías y mapas. Producido en colaboración con el Narciso Martínez Cultural Arts Center, con el apoyo del Harlingen Area Chamber of Commerce.
AWARDS
2001 South Texas Conjunto Association Conjunto of the Year Awards: Album of the Year
RELATED LESSON PLAN
"Conjunto Music from South Texas"
Track Listing