Various Artists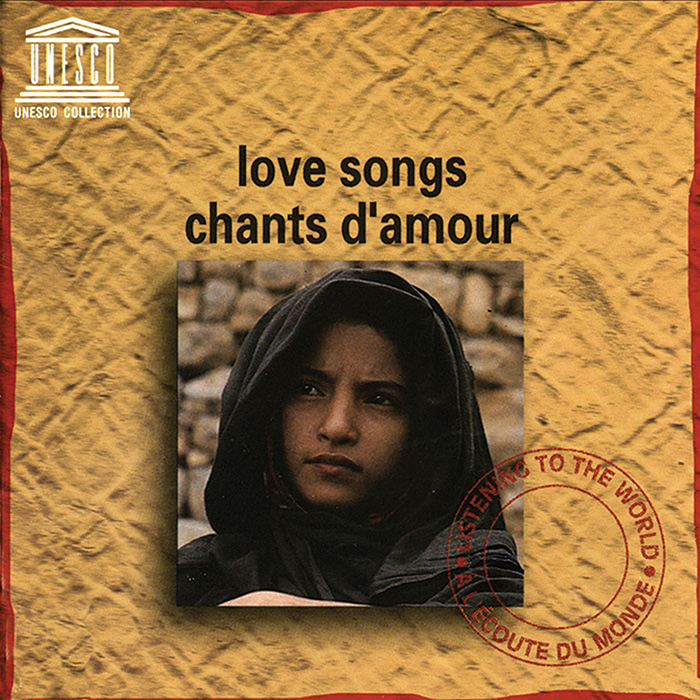 This album, compiled in 1996, features 17 love songs from the UNESCO Collection of Traditional Music. Expressing many hues of this universal emotion, the musical performances range from solo voice to instrumental, and include traditional forms that have all but vanished, as well as those that have been influenced by modern technology.
Consider three tracks to illustrate: "Lam Sithandone" (track 1) is a courtship song performed in southern Laos. Lams feature one set of singers challenging another set and can last for hours; the excerpt on this recording is only the end of one lam. "Bar'ah" ("Dance of Youth," track 9) is a participatory dance popular among the young people of southern Oman. Although a traditional music style, this performance reflects the influence of television and electronic technology. From Greece, "Ali kaimeni mu kardia" ("My Poor Heart," track 11) documents a vocal tradition whose carriers have since passed away.
FREE DOWNLOAD
Please enjoy a free download of the song "Bar'ah"
This album is part of the UNESCO Collection of Traditional Music. More than 125 albums are being released by Smithsonian Folkways Recordings to make the series publicly available again, including more than a dozen never-released albums of musical traditions from around the globe.
Track Listing
| | | | | |
| --- | --- | --- | --- | --- |
| 101 | LAOS: Lam Sithandone | Thao Sikhone, Nang Sikhone, Thao Salitat | 4:29 | |
| 102 | CAMBODIA: Phléng Néang Lot | Pinpeat Orchestra | 1:46 | |
| 103 | HONG KONG: Chiang ho shui | n/a | 5:16 | |
| 104 | JAPAN (Ainu Songs): Chisi-sinotcha | n/a | 2:18 | |
| 105 | MONGOLIA: Oudzesghelent Altaï | Darsüren Möntöö | 2:52 | |
| 106 | BYELORUSSIA: Comic love songs | n/a | 1:57 | |
| 107 | UKRAINE: Oh, thou with the curly locks, do not leave me | Uliana Kot | 1:40 | |
| 108 | AFGHANISTAN (HERAT): Âsheq manam Laili | Gholâm Nabi Zendadel, Gada Mohammad | 3:16 | |
| 109 | OMAN: Bar'ah | Firqat Khalfan | 3:48 | |
| 110 | KURDISH MUSIC: Lo delal sherin hayat | Said Hassan, Mohammaed Ali Te'djo | 3:52 | |
| 111 | GREECE: Ali kaimeni mu kardia | Dimitris Kufas (Barba Mitsos) | 2:50 | |
| 112 | NORWAY: Homslien, gangar | Vidar Lande | 2:29 | |
| 113 | PORTUGAL: A Nossa Rua | Maria Teresa de Noronha, Raul Nery, Joaquim do Vale, Joel Pina | 3:35 | |
| 114 | MOROCCO: Ya Hbibi malek sahi | Abdeslam Cherkaoui | 5:12 | |
| 115 | MALAWI: Mazoma-Mphini | Nyanja, Chingondo Village | 4:35 | |
| 116 | CENTRAL AFRICAN REPUBLIC: Piere | Gbaya men | 3:09 | |
| 117 | NIGER (Region of Tera): Kompule | Djelgobe Fulani | 3:07 | |