The Discoteca Collection: Missão de Pesquisas Folclóricas
Various Artists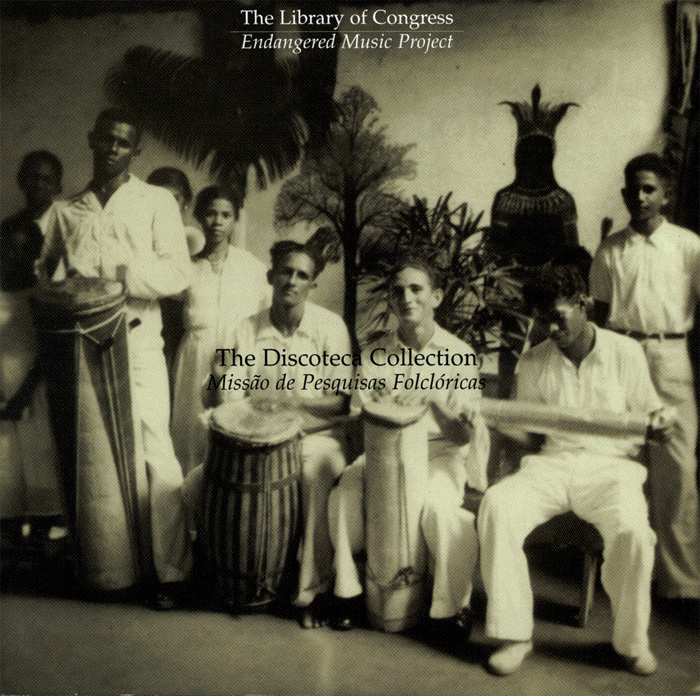 This Endangered Music Project release is a collection of 1938-vintage field recordings culled from the library of the Discoteca Pública Municipal (Municipal Public Recordings Collection) in São Paulo, Brazil. The Discoteca dispatched a team to six states in northern and northeastern Brazil to document regional folklore, ritual music, and dance. The music they collected, much of which accompanied ritual, social, and dramatic dance, is primarily vocal, featuring various types of Brazilian percussion and strings. Tracks include liner notes written by ethnomusicologist Morton Marks. The Discoteca Collection: Missão de Pedquisas Folclóricas was issued in 1997 as part of the Endangered Music Project, a series curated by Grateful Dead drummer Mickey Hart featuring material from the Library of Congress' American Folklife Center (now part of the Mickey Hart Collection made available by Smithsonian Folkways).
Visit mickeyhart.net for additional photos and videos from this album
EN ESPAÑOL
Esta edición del projecto de música en peligro de extinction (Endangered Music Project) es una colección de grabaciones de campo de la época de 1938, sacadas de la biblioteca de la Discoteca Pública Municipal (Colección Municipal de Grabaciones Públicas), en São Paulo, Brasil. La Discoteca envió un equipo a seis estados del norte y noreste de Brasil para documentar el folclor regional, la música ritual y la danza.
La música recogida por ellos -que acompañó en gran parte danzas rituales, sociales y dramáticas- es sobre todo vocal, con diversos tipos de percusión y cuerdas brasileñas. Las canciones incluyen notas escritas por el etnomusicólogo Morton Marks.
La colección de discoteca: Misión de investigaciones folclóricas fue publicada en 1997 como parte del Proyecto de Música en Peligro de Extinción, una serie comisariada por Mickey Hart, el baterista de Grateful Dead, con material del Centro de Folclor Americano de la Biblioteca del Congreso. (ahora parte de la colección Mickey Hart puesta a disposición por Smithsonian Folkways).
Visita mickeyhart.net para fotos y videos adicionales de este album
Track Listing