The Yoruba / Dahomean Collection: Orishas Across the Ocean
Various Artists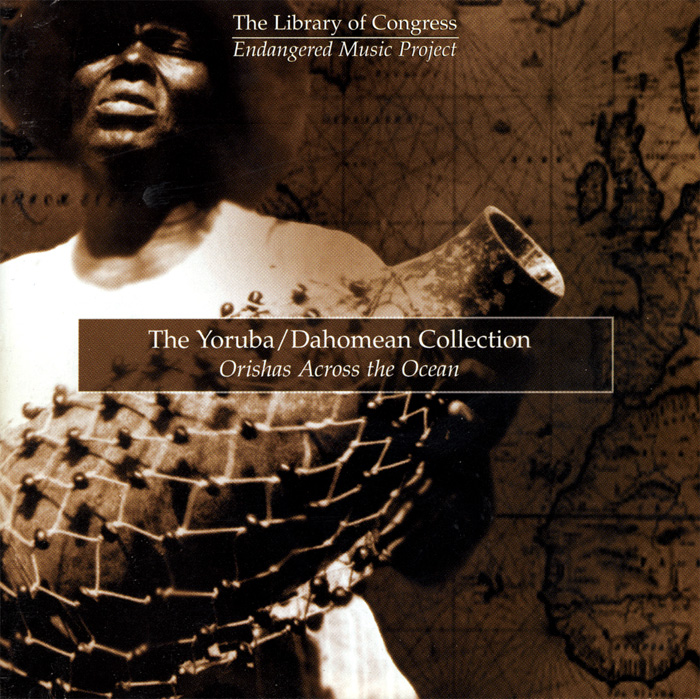 The 24 tracks featured on this Endangered Music Project release are musical snapshots of Haitian vodou, Cuban santería, Trinidadian shango, and Brazilian candomblé rituals recorded between the late 1930s and the mid 1950s. Despite separation by hundreds of miles and differing colonial pasts, the Cubans, Brazilians, Haitians, and Trinidadians heard on this album all sing and drum to orishas (gods) stemming from the Yoruba and Dahomey religions of their West African ancestors brought to the Americas through the slave trade. The album was captured by prolific recordist Laura Boulton and Afro-American scholars Melville Herskovits and Lydia Cabrera. The Yoruba/Dahomean Collection: Orishas Across The Ocean was issued in 1997 as part of the Endangered Music Project, a series curated by Grateful Dead drummer Mickey Hart featuring material from the Library of Congress' American Folklife Center (now part of the Mickey Hart Collection made available by Smithsonian Folkways).
Visit mickeyhart.net for additional photos and videos from this album
EN ESPAÑOL
Los veiticuatro temas que aparecen en este Projecto de musica en peligro de extinción (Endangered Music Project) son un panorama del vudú haitiano, la santería cubana, el Shango de Trinidad y los rituales de candomblé brasileño registrados entre finales de 1930 y mediados de 1950.
A pesar de la separación por cientos de kilómetros y diferentes pasados coloniales, todos los cubanos, brasileños, haitianos y trinitarios que se escuchan, cantan en este album. El tambor de orishas (dioses) se deriva de los Yoruba y las religiones Dahomey de sus antepasados de África Occidental traídos a las Américas a través de la trata de esclavos.
El álbum fue recogido por la prolífica sonidista Laura Boulton y por los estudiosos afroamericanos Melville Herskovits y Lydia Cabrera. La colección: Yoruba / Dahomean Orishas a través del océano se publicó en 1997 como parte del Projecto de musica en peligro de extinción, una serie curada por Mickey Hart, tamborista de Grateful Dead, con el material del Library of Congress' American Folklife Center (Centro de Folclor Estadounidense de la Biblioteca del Congreso) ahora parte de la colección Mickey Hart, está puesta a disposición por Smithsonian Folkways.
Track Listing