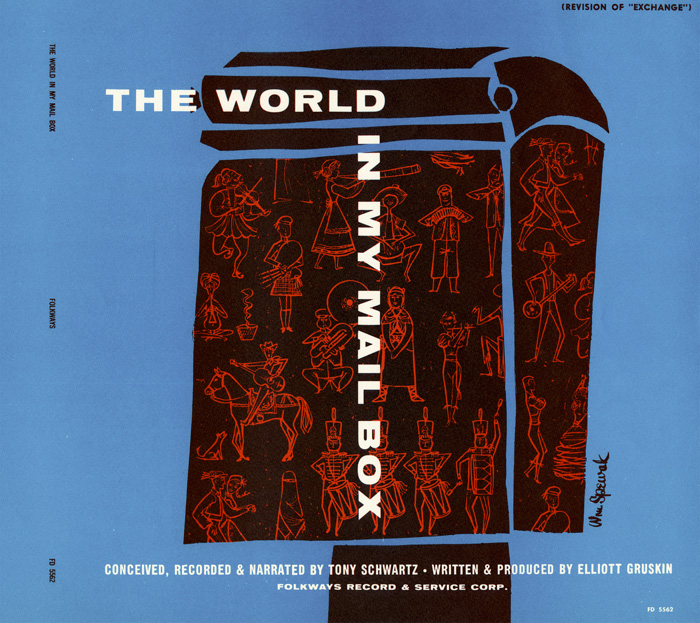 Sound archivist Tony Schwartz spent much of his life documenting the sounds of his New York City neighborhood, largely because his agoraphobia prevented him from traveling far from home. Schwartz nonetheless amassed a large collection of recordings from international musicians through audio exchanges via the mail. The World in My Mail Box features music from this exchange. The collection spans a number of continents and ranges from intimate solo vocal performances ("Norwegian student sings") to live club performances ("Song from African nightspot"). The liner notes include some of Schwartz's correspondence with the performers on the album.

EN ESPAÑOL

El archivero de sonido Tony Schwartz pasó gran parte de su vida documentando los sonidos de su barrio en la ciudad de Nueva York, en gran parte debido a su agorafobia que le impidió viajar lejos de casa. Schwartz, sin embargo acumuló una gran colección de grabaciones de músicos internacionales a través de intercambios de audio a través del correo electrónico.

El mundo en mi buzón contiene la música de este intercambio. La colección abarca varios continentes y rangos de las íntimas interpretaciones vocales solistas ("estudiante noruego canta") para las actuaciones en vivo del club ("Canción del club nocturno de África"). Las notas incluyen algunas de la correspondencias de Schwartz con los artistas del album.
Track Listing