Uzbekistan: Musical Traditions of the Karakalpaks
Various Artists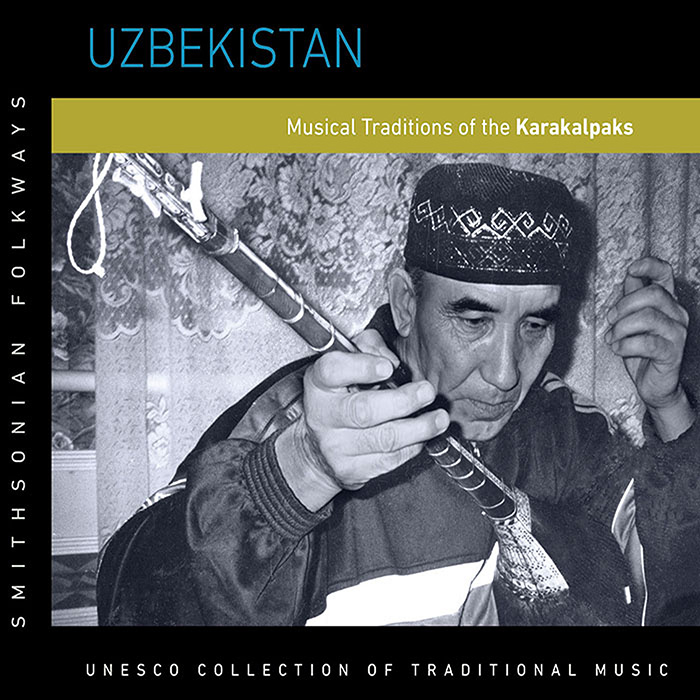 The ancient, orally-transmitted epic tradition of the Karakalpaks, woven with the songs they sing in their everyday lives, forms a rich musical tapestry in the arid land of Karakalpakstan (an autonomous republic in Uzbekistan). From lullabies, Jew's harp solos, wedding tunes to the guttural cantillations of jirow bards, life stories of epic heroes sung by baqsy bards, creative performances on dutar, and instrumental pieces played by small ensembles, these recordings provide a panoramic view of Karakalpak music. They were drawn form 10 hours of field recordings made in 2000 during an expedition conducted under the aegis of the UNESCO office in Tashkent. 73 minutes, 22-page notes.
This is a previously-unpublished volume of the UNESCO Collection of Traditional Music, which was transferred to the Smithsonian to keep the series publicly available.
FREE DOWNLOAD
Please enjoy a free download of the song "Gel Ey Laylim (Come, My Leyli)"
| | | |
| --- | --- | --- |
| Gel Ey Laylim (Come, My Leyli) | MP3 | FLAC |
This album is part of the UNESCO Collection of Traditional Music. More than 125 albums are being released by Smithsonian Folkways Recordings to make the series publicly available again, including more than a dozen never-released albums of musical traditions from around the globe.
Track Listing
| | | | | |
| --- | --- | --- | --- | --- |
| 101 | Hawjar | Jilva Kegeli vocal ensemble | 1:10 | |
| 102 | Jew's Harp Solos | Genjexan Esimbet-qizi | 2:54 | |
| 103 | Hayyu (Lullaby) | Qalbeke Uzaqbergenova | 2:27 | |
| 104 | Kelte Nalysh | Qalbeke Uzaqbergenova | 2:22 | |
| 105 | Qobyz Namasy (Melody on the Qobyz) | Baxtiyar Esemuratov | 1:05 | |
| 106 | Qaytarip Ber Amudariamni (Give Me Back My Amu Darya [River]) | Baxtiyar Esemuratov | 3:15 | |
| 107 | Qoshaq "Sen Yar Gedeli" (Since You Left) | Turghanbay Kalendarov, Jarylkaghan Esjanov | 3:00 | |
| 108 | Kepter Muxallasi | Tengelbay Qalliev, Injegul Saburova | 2:25 | |
| 109 | Siy Perde (Gift Song) | Ghayrat Otemuratov | 3:10 | |
| 110 | Bes Perde | Gulnara Allabergenova, Turghanbay Kurbanov | 3:21 | |
| 111 | Kizlar Uyga Kir (Girls, Come into the House) | Bibigawhar Uzaqbaeva, Turghanbay Kalendarov, Jarylkaghan Esjanov | 3:03 | |
| 112 | Qara Jorgha (The Black Steed) | Turghanbay Kalendarov | 1:31 | |
| 113 | Ne Payda Namasy (What's The Use) | Zulfiya Arzumbetova, Injegul Saburova | 2:54 | |
| 114 | Qara Jorgha (The Black Steed) | Ghayrat Otemuratov | 3:02 | |
| 115 | Aq Ishik (The White Coat) | Ghayrat Otemuratov | 2:37 | |
| 116 | Leylay | Gulbahor Rametova, Injegul Saburova, Azat Turdibayev | 4:28 | |
| 117 | Oramal | Gulbahor Rametova, Injegul Saburova, Azat Turdibayev | 3:25 | |
| 118 | Dembermes | Roza Kutekeeva, Ensemble of the Nukus Philharmonia | 2:11 | |
| 119 | Adingnen | Student ensemble from Sanat Bilim Yurti | 3:30 | |
| 120 | Kelte Nalysh | Turghanbay Kurbanov | 4:28 | |
| 121 | Musa Sen Yary | Turghanbay Kalendarov, Jarylkaghan Esjanov | 3:40 | |
| 122 | Qoshim Palvan Namasy (Melody of Qoshim the Champion) | Turghanbay Kalendarov, Jarylkaghan Esjanov | 3:58 | |
| 123 | Uch Top Namasy | Turghanbay Kalendarov, Jarylkaghan Esjanov | 3:04 | |
| 124 | Gel Ey Laylim (Come, My Leyli) | Turghanbay Kalendarov, Jarylkaghan Esjanov | 3:19 | |
| 125 | Qaradaly | Turghanbay Kurbanov, Ensemble of the Nukus Philharmonia | 3:06 | |