Various Artists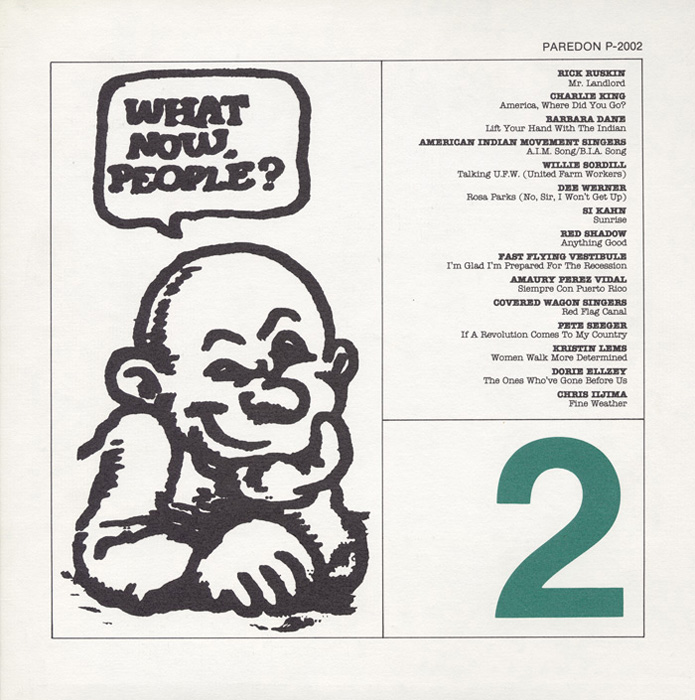 Recorded in 1977 for the "What Now People" series that advocated song as political movement, the songs on this album spans a range of political subjects and issues facing African Americans, American Indians and women, as well as the Vietnam War and revolutions around the world (i.e. the question of Puerto Rico's independence). The songs feature an array of "activist artists" and vary greatly in genre from folk, to blues to classic Rock and Roll. Each song includes a written preface in the liner notes explaining the political context of the song.
EN ESPAÑOL
Grabado en 1977 para la serie "¿Y ahora qué gente?" esa canción es defendida como movimiento político, las canciones de este álbum abarcan una gama de temas políticos y problemas que enfrentan los afro-americanos, los indígenas y las mujeres de América; así como la guerra de Vietnam y la revolución en todo el mundo (es decir, la pregunta de la independencia de Puerto Rico).
Las canciones cuentan con una serie de "artistas activistas" y varían mucho en el género del folclor, a blues, rock clásico y rock and roll. Cada canción incluye un prefacio escrito en notas que explican el contexto político de la canción.
Track Listing