Afghanistan: Music During the Civil War (1979–2001)
Various Artists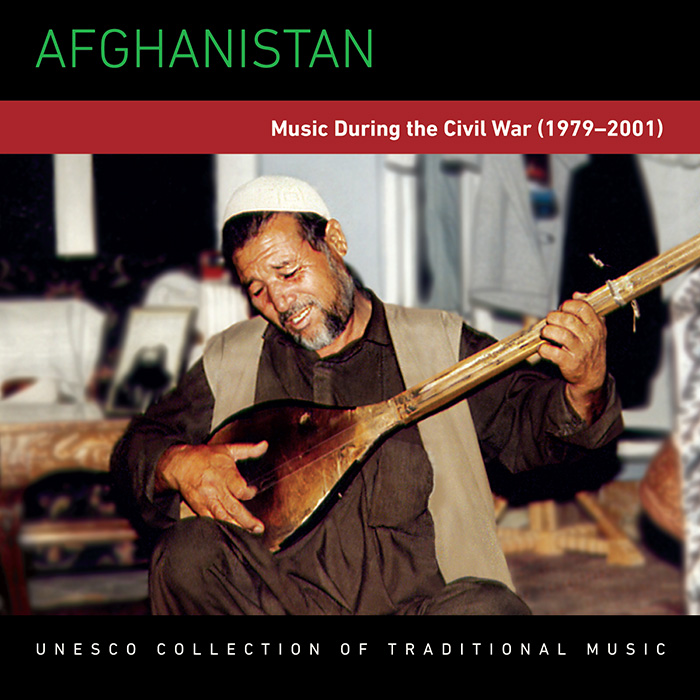 Afghanistan: Music of the Civil War (1979-2001) is one of twelve previously unreleased albums from the UNESCO Collection of Traditional Music.  The album includes music from 1979—the year of the Soviet Union's invasion—to the fall of the Taliban regime in 2001. These 22 years of civil war greatly impacted the cultural life of Afghanistan, with extreme censorship and economic poverty resulting in the deaths of many artists, and an exodus of many others. Although the circumstances have now improved for artists, annotator Jan van Belle states that "it will still take a long time to rebuild the musical infrastructure, create the conditions for the return of musicians and instrument builders in exile." The artists featured on this album are professional musicians once employed by Radio Kabul, living in poor conditions during the time of these recordings.
This album features mostly folk music (musiqi mahalli), with vocals taking a prominent role over other instruments. All of the tracks are sung in Dâri (Fârsi), the main language spoken in North Afghanistan, where most of the recordings took place. The melodies used on this album mainly feature the bairawi mode, which resembles the Phrygian mode in Western classical music. Common characteristics of Afghani folk music include a small vocal range, double and triple rhythms, and asymmetrical meters. Other instruments featured on the album include the rubâb (double-chambered, short-necked lute), ghijak (bowed lute with two or three strings),and the tabla (pair of small kettle drums).
FREE DOWNLOAD
Please enjoy a free download of the song "Hama râ biâzmudam"
This album is part of the UNESCO Collection of Traditional Music. More than 125 albums are being released by Smithsonian Folkways Recordings to make the series publicly available, including a dozen never-released albums of musical traditions from around the globe.
Track Listing
| | | | | |
| --- | --- | --- | --- | --- |
| 101 | Dar khâna dar âyi ki magar zud barâyi (No sooner you came home than you were already gone) | Rahim Takhâri, Malang Nejrabi | 4:49 | |
| 102 | Layli Layli Layli | Mullah Tâj Mohammad, Juma Gul, Nader Shah | 4:56 | |
| 103 | Hama râ biâzmudam | Mohammad Hashim, Khalifa Gul Jan, Kaka, Mohammad Akbar, Yasin, Mohammad Ashraf | 4:18 | |
| 104 | Ay taza bahâr (Oh, new spring) | Hasan Besmil, Mohammad Ibrahim Kamran, Amir Jân, Gul Agha, Amin Jân, Hashim Mir | 4:25 | |
| 105 | Âhesta bero (Walk slowly) | Shamsuddin Masrur, Abdul Rahman, Shirzamân | 6:02 | |
| 106 | Saram qurbânat, ay mâh-e yagâna (I give up everything for you, my one and only moon) | Sayyid Shâh Ewaz | 5:49 | |
| 107 | Henâ beyârid (Bring the henna) | Gul Mohammad Istalifi, Mohammad Zaher, Mohammad Yusuf, Mohammad Rasul, Ustâd Nasim, Abdul Rachid Machinai | 6:59 | |
| 108 | Mahtâb bibin khayma zada dar Jayhun (Look at the moon; she is putting up a tent in the Jayhun River) | Mohammad Hashim, Kaka, Mohammad Akbar, Yasin | 4:20 | |
| 109 | Mullah Mohammad Jân (Dear Mullah Mohammad) | Mohammad Rasul, Ali Jân | 3:29 | |
| 110 | Qad bâla, ay sarw-e rawân Layla (Oh Layla, high and graceful cypress)Yâr-e bewafâ az ma jedâ-i (Unfaithful beloved, you are separated from me) | Aziz Ghaznawi, Mohammad Zaher, Mohammad Rasul, Mohammad Yusuf, Shirin Agha | 7:41 | |
| 111 | Goroghli | Mohammad Rajab ("Goroghli Khan") | 7:58 | |