Afghanistan: The Traditional Music of Herât
Various Artists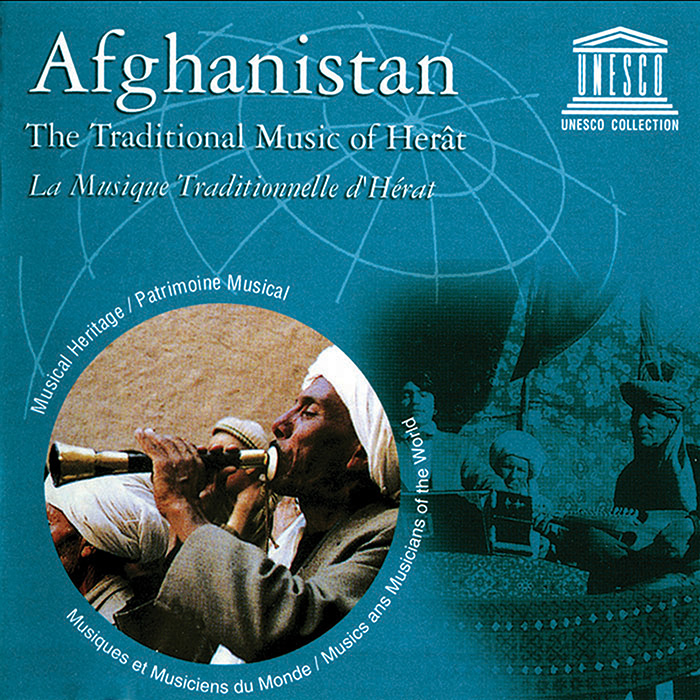 Located in western Afghanistan and a center of Islamic culture during the 15th century, the city of Herat has produced vocal and instrumental music uniquely identified as "Herati."
The 14 tracks in these field recordings, made between 1973 and 1977 (prior to the Marxist coup in 1978 and subsequent political turmoil continuing into the 21st century), reveal influences of both Iranian and Indian music. Songs are sung in Dari (the Afghani dialect of Farsi), and accompanied by traditional instruments like the dutâr, a long-necked lute, the hand-pumped Indian harmonium, and tabla (paired, pitched hand drums.). Lyrics often draw upon texts derived from classical Persian poetry. In this collection, some songs have been abstracted from longer performances.
The liner notes detail the recording environments, instrumentation and vocal forms used in each song.
FREE DOWNLOAD
Please enjoy a free download of the song "N'at"
This album is part of the UNESCO Collection of Traditional Music. More than 125 albums are being released by Smithsonian Folkways Recordings to make the series publicly available again, including more than a dozen never-released albums of musical traditions from around the globe.
Track Listing
| | | | | |
| --- | --- | --- | --- | --- |
| 101 | Chahârbaiti Koshki | Gada Mohammad | 7:28 | |
| 102 | Na't | Sufi Abu Bakr | 3:40 | |
| 103 | Shaikh Ahmad-e Jâm | Abdul Shâ'er | 5:31 | |
| 104 | Bâdâ bâdâ | Hawa | 2:06 | |
| 105 | Medley of wedding songs: Olang olang, Mobârak Bâdâ, Bib Gol Arus, Haina ba-Kârhâ | Sharafoddin, Nezâmoddin, Ostâ Mayin, Habibollah Jân | 6:47 | |
| 106 | Shirin châi na khordom | Mâdar-e Zâher | 3:15 | |
| 107 | Dokhtar Amu Jân | Abdurrahmân Saljuqi | 2:53 | |
| 108 | Ai Zamân | Karim Dutâri | 2:34 | |
| 109 | Chahârbaiti | Abdullâh | 2:48 | |
| 110 | Sufi song | Mohammad Yusuf | 2:50 | |
| 111 | Allâh Hu | Zainab Hairawi | 4:09 | |
| 112 | Âsheq manam Laili | Gholâm Nabi Zendadel, Gada Mohammad | 3:17 | |
| 113 | Jâm-e Nârenji | Mohammad Sâdeq Bolbol, Rahim Khushnawaz, Gada Mohammad, Naim Khushnawaz | 6:40 | |
| 114 | Ghazal | Ostâd Amir Jân Khushnawaz, Rahim Khushnawaz, Naim Khushnawaz | 5:45 | |