Afro-Hispanic Music from Western Colombia and Ecuador
Various Artists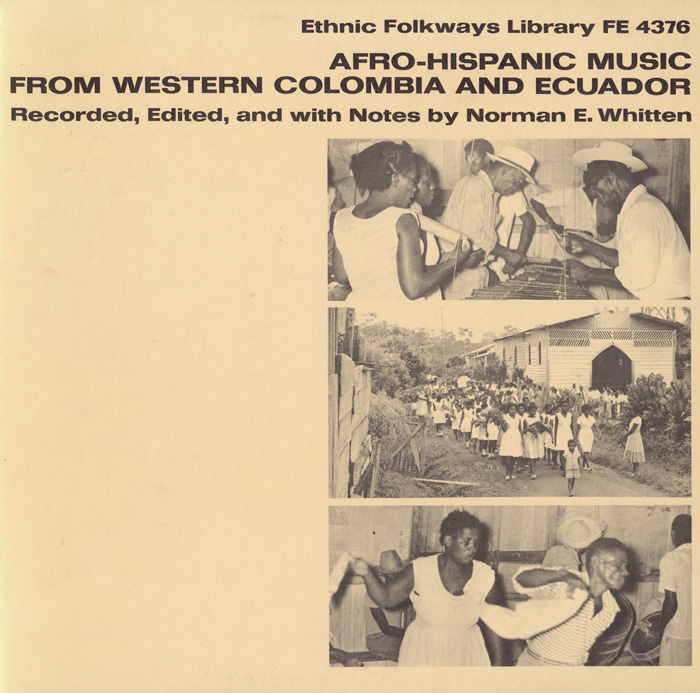 The Pacific Lowlands — the coastal regions of Panama, Colombia, and Ecuador — experienced a mingling of African and Hispanic cultures after Spanish conquest in the 16th century. This cultural blending is exemplified in Afro–Hispanic Music from Western Colombia and Ecuador, in which denizens of the tropical Lowlands perform pieces such as the currulao (marimba dance) and arrullo (spiritual). The music reflects realities of life in this hot, rainy climate, where men move away from their families in search of work and children especially die from malaria and dysentery. Liner notes include a description of Lowlands culture and the dances that accompany each piece.One of the Bambuco tracks also appears as "Adiós, Berejú" on the compilation CD Raíces Latinas: Smithsonian Folkways Latino Roots Collection (SFW40470, 2002).
EN ESPAÑOL
En las regiones costeras del Pacífico, en Panama, Colombia y Ecuador se ha experimentado una mezcla de culturas latinas y africanas después de la conquista española en el Siglo XVI.
Esta combinación cultural está ejemplificada en Música Afro/Latina del Occidente de Colombia y Ecuador, en la cual los habitantes de las tierras bajas tropicales interpretan piezas tales como el currulao (danza marimba) y el arrullo (espiritual).
La música refleja realidades de la vida en este clima cálido y lluvioso, donde los hombres se desplazan lejos de sus familias en búsqueda de trabajo y los niños mueren especialmente de malaria y disentería.
Las notas interiores incluyen una descripción de la cultura y las danzas de esta región que acompañan cada pieza. Una de las pistas de Banbuco también aparece como "Adios, Berejú" en la compilación del CD Raíces Latinas: Smithsonian Folkways Latino
Track Listing
| | | | | |
| --- | --- | --- | --- | --- |
| 101 | Currulao "Bambuco" | Marimberos, musicians from Buenaventura | 3:07 | |
| 102 | Currulao "Bambuco" | Marimberos, musicians from Buenaventura | 3:06 | |
| 103 | Currulao "Bambuco" | Gumercinde Ibarra, marimberos, musicians from San Lorenzo | 3:07 | |
| 104 | Currulao "Agua Grande" | Marimberos, musicians from San Lorenzo | 3:07 | |
| 105 | Currulao "Torbellino" | Petra Caicedo, marimberos, musicians from San Lorenzo | 1:18 | |
| 106 | Alavado "Adios Primo Hermano" | Teófilo Potes | 0:57 | |
| 107 | Alavado "Santa Maria" / "Santo Dios, Santo Fuerte" (medley) | Two Chocoanas from Río Baudó | 2:49 | |
| 108 | Fiesta Song (Improvisation) | Chocó musicians, male singer | 3:30 | |
| 201 | Arrullo "San Antonio" | Petra Caicedo, José Mina, musicians from San Lorenzo | 3:07 | |
| 202 | Arrullo "La Maria Soy" | Female singers, male drummers from Barbacoas | 3:08 | |
| 203 | Arrullo "Aurora de la Mañana" | Female singer and her teenage son from Barrio Venencia | 1:34 | |
| 204 | Arrullo "Falta el Uno" | Female singers, male drummers from San Lorenzo | 1:40 | |
| 205 | Arrullo | Female singers, male drummers from San Lorenzo | 1:30 | |
| 206 | Arrullo "La Golpe de la Cajita" | Teófilo Potes, young boy (son of Margarita Hurtado C.) | 1:09 | |
| 207 | Arrullo "Este Niño Quiere" | Teófilo Potes, young boy (son of Margarita Hurtado C.) | 0:50 | |
| 208 | Arrullo "Me Voy Pa' Belén" | Teófilo Potes, young boy (son of Margarita Hurtado C.) | 1:10 | |
| 209 | Arrullo "Vamos Arrullar" | Singers, drummers from Buenaventura | 2:02 | |
| 210 | Song "A la Mina No Voy" | Teófilo Potes | 2:47 | |