Anthology of Indian Classical Music: A Tribute to Alain Daniélou
Various Artists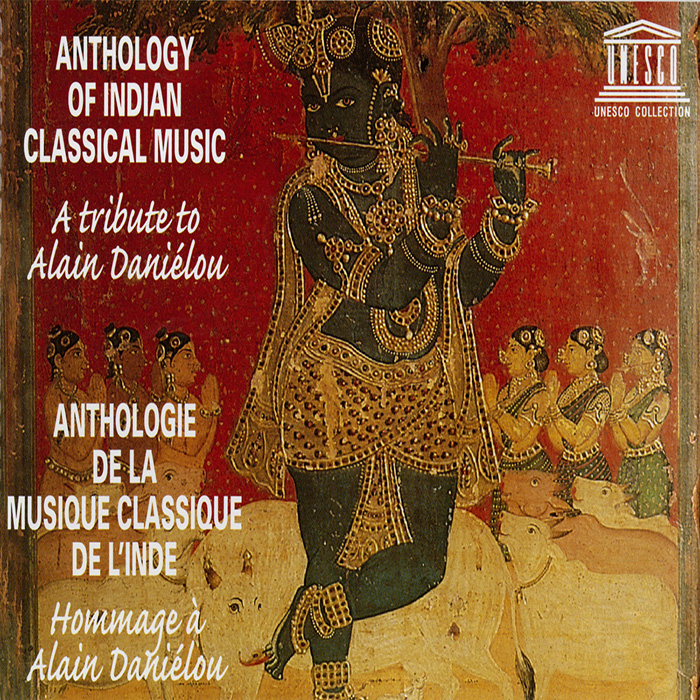 First released in 1955 by Ducretet-Thomson (EMI), the LP anthology is said to be the "first of this music to become available in the West in which the recorded pieces were not presented as 'folklore' but as 'serious' music." In 1997 it was digitally re-mastered and issued by AUVIDIS-NAÏVE as a 3-CD set in homage to Alain Daniélou (1907-1994), the prime mover of the legendary UNESCO Collection of Traditional Music. The set includes the first recordings published in the Western world of Ravi Shankar and Ali Akbar Khan. In addition to a short biography of Daniélou and his influence on Asian music and cultural heritage, liner notes include detailed explanations of the scales, rhythmic ideas, and instrumentation used in each song.
FREE DOWNLOAD
Please enjoy a free download of "Varnum" by Orchestra of Radha Shri Ram
This title, courtesy EMI France, is part of the UNESCO Collection of Traditional Music. The collection is being prepared for re-release by Smithsonian Folkways Recordings to make the series publicly available again, along with more than a dozen never-released albums of musical traditions from around the globe.
Track Listing
| | | | | |
| --- | --- | --- | --- | --- |
| 101 | The Bhairavi Mode | Raghunath Prasanna, Katvaru Lal | 3:17 | |
| 102 | Khyal | Mohin ud din, Amin ud din Dagar | 6:24 | |
| 103 | The Ahiri-Lalita Mode | Ravi Shankar, Chaturlal | 5:40 | |
| 104 | The Malkosh Mode | Mishra Shyam Lal, D.K. Chatterji | 5:56 | |
| 105 | The Todi Mode | Narayan Das Mishra, Shyam Lal | 3:39 | |
| 106 | Gat in the Kamavardhani (or Purvi) mode | Svami D.R. Parvatikar | 3:12 | |
| 107 | Tabla Solo | Chaturlal | 3:26 | |
| 108 | Sitar, Sarode and Tabla | Ravi Shankar, Ali Akbar Khan, Chaturlal | 13:51 | |
| 109 | Alap in the Multani mode | Mohin ud din, Amin ud din Dagar | 3:49 | |
| 110 | The Sindhi-Bhairavi Mode | Ali Akbar Khan | 5:02 | |
| 201 | Thumri in the Tilang mode | Raghunath Prasanna, Motilal | 3:21 | |
| 202 | Svara Mandala in the Brindavani-Tilang mode | Svami D.R. Parvatikar | 3:10 | |
| 203 | Bhajana | Nandan Prasad, Shyam Lal | 5:57 | |
| 204 | The Suha Kamode Mode | Svami D.R. Parvatikar | 12:42 | |
| 205 | Jatisvaram in the Mecha-Kalyani mode | Bala Sarasvati and his Orchestra, Jayammal and Ganeshan, T. Ranganathan, T. Visvanathan | 4:01 | |
| 206 | Alapana in the southern Todi mode | P.R. Balasubrahmanyam | 2:30 | |
| 207 | Alapana in the Kambhoji mode | K.S. Pichiappa, K.M. Dakshinamurti, T. Subrahmanya Pillai, Muthu Kumaram | 3:18 | |
| 208 | Kriti | Kamala Krishnamurti | 5:01 | |
| 209 | Tirmana | K. Ganeshan | 0:59 | |
| 210 | The Varali Mode | D.K. Pattamal, Tiruvallur Subrahmanyam, Palghat Kunjumani, Shiva Pattamal | 9:48 | |
| 211 | Ganesha Kumara | Budalur Krishnamurti Shastri, Varahur Mathusvami Aiyar, Tinniyam Venkatarama Aiyar | 4:34 | |
| 301 | Pallavi | Mudi Kondan C. Venkatarama Iyer, Vellore Gopalachari, M. Chandrashekharan, Karaikudi Mutha Lyer | 6:07 | |
| 302 | Javali in the Khamas mode | T. Visvanathan, T. Ranganathan | 4:04 | |
| 303 | Pallavi | n/a | 9:03 | |
| 304 | Javali in the Paraj mode | D.K. Pattamal, Kalyan Krishna Bhagavatar, Karaikudi Muttu Aiyar | 2:54 | |
| 305 | Sadhincene | Devakotai Narayana Iyengar, Kalyana Krishna Bhagavatar, Karaikudi Muttu Aiyar | 4:59 | |
| 306 | Varnam | Orchestra of Radha Shri Ram | 4:02 | |
| 307 | Varnam in the Kambhoji mode | S. Vidya | 3:11 | |
| 308 | Varnam | Bala Sarasvati and his Orchestra, T. Ranganathan, T. Visvanathan, Jayammal, K. Ganeshan | 7:18 | |
| 309 | Sandehamunu | T. Visvanathan, T. Ranganathan | 4:50 | |
| 310 | Ninyako | D.K. Pattamal, Tiruvallur Subrahmanyam, Palghat Kunjumani, Shiva Pattamal | 4:26 | |
| 311 | Solo on the Mridangam | Muttu Kumaram | 3:35 | |
| 312 | Jnana Vinayakane | Orchestra of Radha Shri Ram | 1:42 | |