Canada: Music of the Inuit - The Copper Eskimo Tradition
Various Artists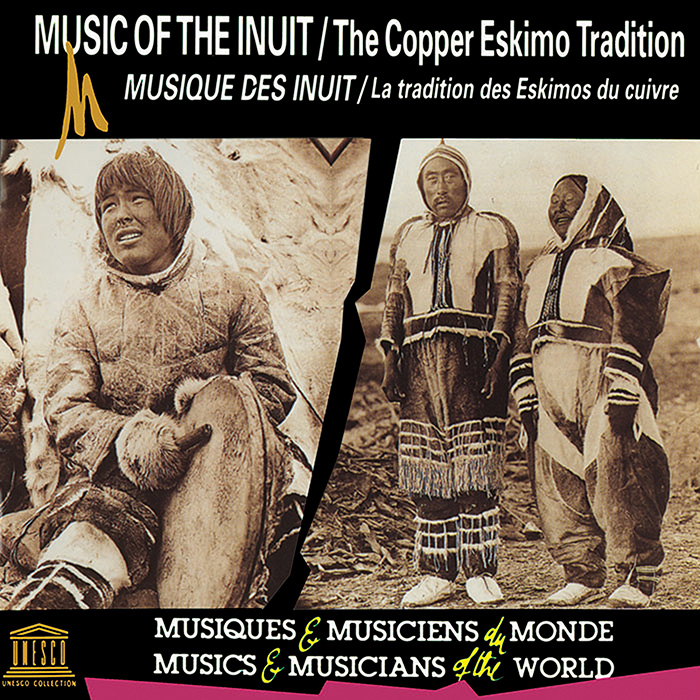 The Inuit of the Canadian Northwest Territories, sometimes known as Copper Eskimos, follow two seasonal social patterns: hunting with families in the summer, and gathering for trade and intense spiritual activities with large communities in the winter. Traditionally, when these groups reunited at the start of the long, dark winter, they exchanged songs. Each person is believed to be a composer and performer; each song is a gift to be reciprocated, and the sharing of songs and dances was a way to strengthen the social fabric.
Many songs on this album are about hunting, but it was forbidden to exchange songs while hunting, or even while outdoors. The Inuit believed that under an open sky, "a spirit could steal the words and by seizing the breath of the singer, rob him of his life."
FREE DOWNLOAD
Please enjoy a free download of the song "The Song Floats Up Within Me"
| | | |
| --- | --- | --- |
| The Song Floats Up Within Me | MP3 | FLAC |
This album is part of the UNESCO Collection of Traditional Music. More than 125 albums are being released by Smithsonian Folkways Recordings to make the series publicly available again, including more than a dozen never-released albums of musical traditions from around the globe.
Track Listing