Chad Gadya: Passover Chant
Various Artists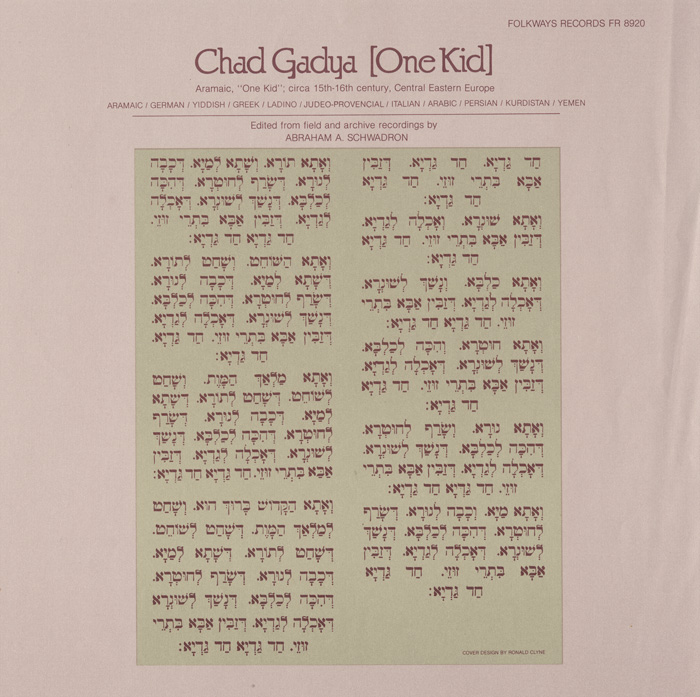 The Jewish holiday of Passover (Pesach) commemorates and celebrates the exodus of the Jews from ancient Egypt. During the Passover meal, a traditional closing song is "Chad Gadya" ("One Young Goat," often translated as "One Kid"), thought to have first appeared in print in 1590. Written in Aramaic (a close relative of ancient Hebrew), it has been sung not only in its original language but in the local vernacular, wherever Jews have lived.
Abraham Schwadron has collected recordings of unaccompanied singers rendering "Chad Gadya." From his collection, he has selected twenty-five renditions in nine languages for this recording, representing a wide variety of tunes and musical styles.
The liner notes include the song's history, a translation, and various allegorical explanations.
Track Listing
| | | | | |
| --- | --- | --- | --- | --- |
| 101 | Aramaic | Abraham Schwadron | 5:00 | |
| 102 | a) Aramaic, b) German, c) Yiddish, d) Yiddish e) Aramaic, f) Aramaic, g) Aramaic | Leo Rosenblüth, Theodore Katz, Harry Abrams, Florence C. Lewis, Myer Fund, Moshe Moskovits, Ruth Rubin | 9:17 | |
| 103 | a) Greek and Aramaic, b) Ladino, c) Aramaic, d) Ladino, e) Ladino | Anonymous, Anonymous, Anonymous, Maurice Hasson, Morris Mizrahi | 7:04 | |
| 201 | a) Russian, b) Judeo-Provençal | Bluma Jarrick | 3:36 | |
| 202 | a) Aramaic and Italian, b) Italian, c) Aramaic | Fernando Belgrado, Colombo Vitaliano, Emanuele Weiss-Levi | 4:08 | |
| 203 | a) Ladino, b) Ladino | Isaac Behar and Edwin Seroussi | 3:22 | |
| 204 | a) Aramaic and Arabic, b) Aramaic, c) Aramaic, d) Aramaic and Ladino, e) Aramaic | Solomon Benchetrit, Bracha Zion, Khakem Ezra Mordekhai, Haim Ha Cohen, Raphael Yair Elnadav | 10:21 | |